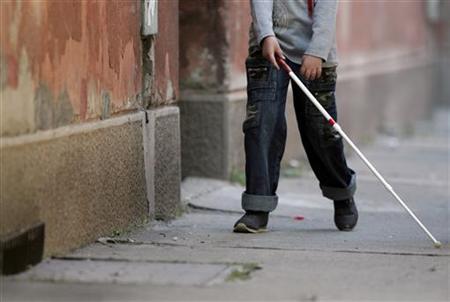 ---
BHAKKAR: Over 100 people are living in darkness in Basti Sohalan, a rural area of Bhakkar, as they suffer from a rare genetic disorder which blinds them as their age progresses.

The genetic disorder has no cure besides enrichment of the gene pool by marrying outside the village to prevent the blindness to take over the lives of the future generation, a local health expert revealed when contacted by The Express Tribune.

Dr Shamshad Ahmed, an ophthalmologist at District Head Quarters Hospital, said the families at the village are suffering from retinitis pigmentosa (RP) a rare genetic disorder which involves breakdown and loss of light sensitive cells in the eyes eventually resulting in blindness.

"The vision fades at night and later people stop seeing in the daytime as well."

He has been treating the village residents for the past 15 years and has come to the conclusion that this endemic has no cure except for stopping cousin marriages.

"However, use of sunglasses, vitamin capsules intake and sunlight avoidance could help retain vision."

The doctor explained further that deficiency of vitamin A occurs in the disease. In normal people cells regenerate but in these individuals these cells do not regenerate, causing blindness.

Speaking to the Express Tribune, the oldest woman in the village said she was born normal and started losing eyesight in her teen years.

"By age 16, I had lost 90% of my vision." She continued that she has witnessed birth of children who were blind.

"We need proper medical treatment so that our children live their lives normally and we are able to get out of poverty."

Most people of the village are employed at a local brick kiln, denied of educational opportunities as there is no specialised school in the vicinity.

"The only special education school in Bhakkar is over 20km away, far from our children's reach," the local woman highlighted.

Another visually impaired person, Malik Ashtar, told the Express Tribune that nearly 100 people are blind in this area. "I, along with my son, suffer from blindness."

"Children with a bit of vision play different games, including volleyball and are also enrolled in nearby schools. The rest are deprived of education."

In 2012, different tests were conducted by the health department but no cure was found to the disease, official sources stated.

Additional Deputy Commissioner (ADC) Syed Abbas Raza Nasir claimed that the social welfare department was looking out for these people.

He said the authorities will provide financial assistance to them after registering them.

"Those blind individuals interested in educating themselves will be provided pick and drop facility by the government," he promised.

Published in The Express Tribune, April 23rd, 2020.