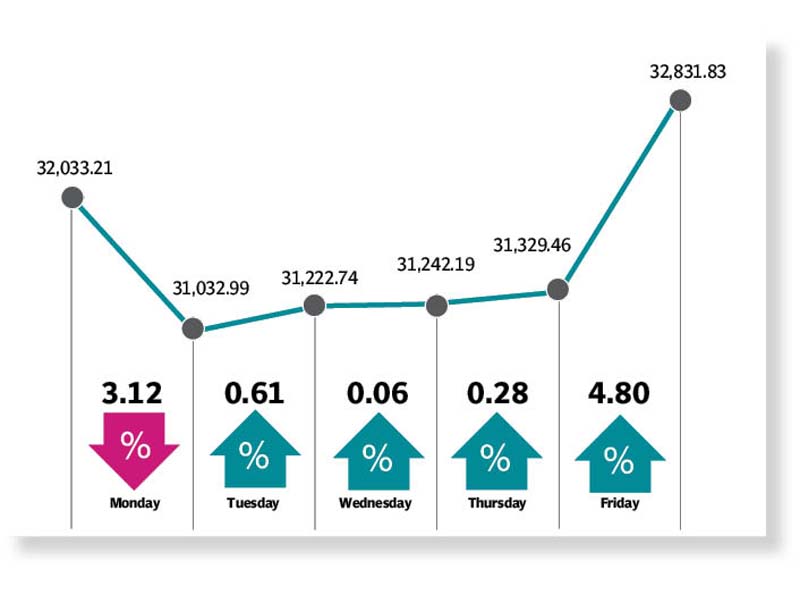 ---
KARACHI: The Pakistan stock market rallied during the outgoing week as a host of positive triggers propelled the KSE-100 index higher as it gained 799 points or 2.5% to settle at 32,832 points.

The week kicked off on a bearish note as the benchmark index dived 1,000 points with investors remaining wary about economic fallout of the coronavirus pandemic. Moreover, a World Bank report anticipating recession in Pakistan also fuelled selling pressure at the bourse. The global lender expected the economy to shrink up to 2.2% and suffer a painful decline in per capita income.

Fuelling the decline, OPEC+ announced a production cut that proved inefficient to offset the expected drop in demand arising from Covid-19 pandemic which led to a decline in international oil prices.

On the other hand, the Sindh government announced a more severe lockdown on account of rising cases in the province, which further dampened investor's sentiments.

Luckily, the negative trend did not last as the KSE-100 managed to post decent gains in the remaining four sessions. Although, trading remained subdued during the next three sessions as the government began easing lockdown restrictions due to a rise in number of virus recoveries the overall trend remained positive. The government partially lifted the lockdown and some businesses were granted permission to operate. However, downward trend in the international crude prices persisted with prices dropping to a 20 year low of $18.05 per barrel which sparked confusion among the investors regarding whether to book profits or cherry pick oil stocks. By mid-week, the International Monetary Fund announced debt relief for Pakistan, a move which failed to woo investors who took cues from international oil and equity markets. The KSE-100 index witnessed a dramatic surge on the last trading day of the week as investors were euphoric over the significant cut in the interest rate.

Late on Thursday, the State Bank of Pakistan decreased the interest rate by 200 basis points to 9% in an emergency meeting as a result of which, the KSE-100 index sky rocketed over 1,500 points on Friday. The announcement, aimed at combating the economic impact of coronavirus, was hailed by investors and acted as the much needed positive trigger for the market participants who made fresh investments. On the other hand, the G20 countries announced debt relief for underdeveloped countries including Pakistan which lent further support to the rally.

Moreover, the International Monetary Fund approved disbursement of $1.4 billion to Pakistan under the Rapid Financing Instrument to address the economic impact of Covid-19. Rupee also made a sharp recovery during mid-session and gave investors further incentive to renew investments.

"We expect the market to hover in the green zone next week as the cabinet has granted approval to an ordinance providing incentives for the construction industry," stated a report from Arif Habib Limited.

Investor participation remained subdued as traded volume declined by 4% week-on-week to 178 million shares while value traded per day declined by 10% week-on-week to $37.8 million. Sector-wise positive contributions came from fertiliser (405 points), cements (170 points), pharmaceuticals (127 points), textile composite (59 points) and automobile assemblers (51 points).

In terms of scrips, positive contributions were led by Dawood Hercules (143 points), Fauji Fertiliser (125 points), Engro (108 points), Lucky Cement (80points), and Searle (43 points). On the other hand, negative contribution was led by Nestle (97 points), UBL (56 points) HBL (55 points), Bank Al Falah (54 points) and Bank AL Habib (32 points).

Foreign selling continued this week clocking-in at $14.24 million compared to a net sell of $16.2 million last week. Selling was witnessed in commercial banks ($5.9 million) and cement ($2.1 million). On the domestic front, major buying was reported by individuals ($9.4 million) and insurance companies ($5 million).

Major selling was witnessed in commercial banks ($3.79 million) and fertilizer ($3.03 million). On the local front, buying was reported by insurance companies ($6.8 million) followed by companies ($4.53 million).

Other major news of the week included SBP reserves rising $252m to $10.97b and car sales falling 47% during July-March FY20.

Published in The Express Tribune, April 19th, 2020.

Like Business on Facebook, follow @TribuneBiz on Twitter to stay informed and join in the conversation.
COMMENTS
Comments are moderated and generally will be posted if they are on-topic and not abusive.
For more information, please see our Comments FAQ