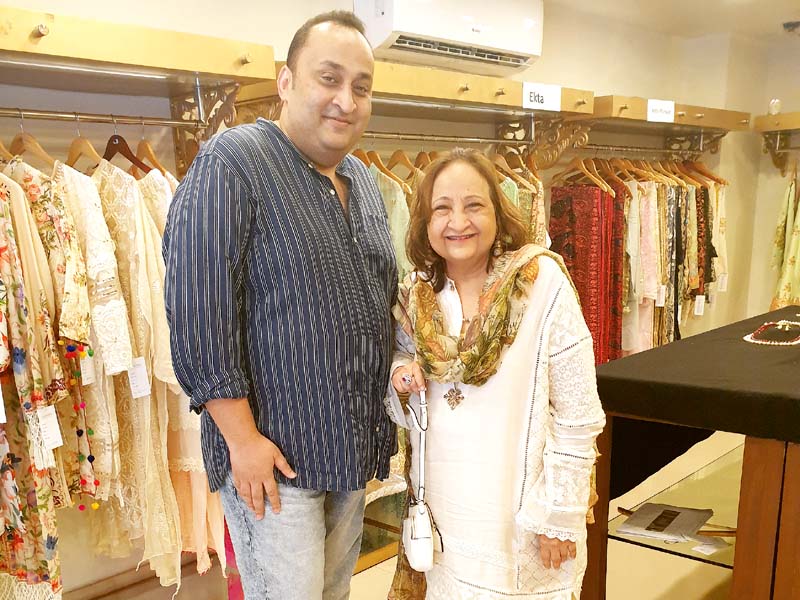 ---
Aamir Mazhar talks about his unbreakable bond with his mother, Nishat Mazhar. Aamir has been involved with events and PR since 2007 and has been doing events worldwide with an office set up in Dubai and Lahore.  He has been dealing with Bollywood celebrities, international events and promoting Pakistani art and fashion worldwide. The two sat down with TEdit and spoke about a life shared together.

What inspires you the most about your son?

Nishat: Aamir's dedication to his profession is something that inspires me every day.

Aamir: Her caring and loving nature and how she believes one should never give up in life which inspires me everyday.

What trait of your mom/son encourages you?

Nishat: Aamir's honesty and hard work encourages me.

Aamir: Ami's forgiving nature and how she encourages everyone to follow their dreams.




What is your favourite memory of each other?

Nishat: My favourite memory of Aamir is when he started going to preschool he used to cry a lot and didn't want to be left alone there so I had to attend the first two weeks in the class with him holding his hand.

Aamir: My favourite memory of Ami is that she has always been there whenever I have needed her and always knew what to cook for me and what will cheer me up. It doesn't matter now even if we are not in the same country at times but one phone call to her can fix my day.

What is the most adventurous thing you have done together?

Nishat: Our first trip to Dubai that we took in 2004 and just the two of us roamed around in souks, malls, ate at restaurants, saw movies and had a lot of fun before joining the rest of the family in London.

Aamir: Every trip with Ami has been an adventure till date but the most adventurous one was when we flew Air France to London and our luggage got left behind in Paris and how it arrived three days later in London but Ami never lost her calm once and was hands on with taking care of all my needs.

What's the best thing about being a part of our family?

Nishat: Our family is very loving and very interconnected.

Aamir: We tell everything to each other and love each other a lot and try staying connected with each other.




Is there anything that you wish had been different between you two or that you would still like to change?

Nishat: There is nothing that we would want to change.

Aamir: Happy with what we have .

What is the one thing you love about each other?

Nishat: Aamir is caring and a loving son.

Aamir: My mom is my superwoman. I love how she can forgive so easily.

Is there anything you wanted to tell your mom/son but never have?

Nishat: There is nothing that I want to tell him that he doesn't know.

Aamir: I don't express my love that often, so Ami I love you.

Describe each other in three words:

Nishat: Caring, loving and affectionate.

Aamir: Loving, emotional and supportive.

How are your personalities similar?

Nishat: We both are very confident people and we both have an extremely caring nature and loving heart.

Aamir: We both love spicy street food and have a similar taste in movies.

Do you think you are your mom favourite child?

Aamir; Yes I am my mom's favourite. Being the youngest, she has spoilt me with her love since my childhood.

Do you have a favourite child?

Nishat: I love all my children the same but my favourite is Aamir as he loves me the most in the family and he always been special to me.

I can't live without my son/my mother because…

Nishat: Because I love him too much.

Aamir: My Ami is my world.
COMMENTS
Comments are moderated and generally will be posted if they are on-topic and not abusive.
For more information, please see our Comments FAQ