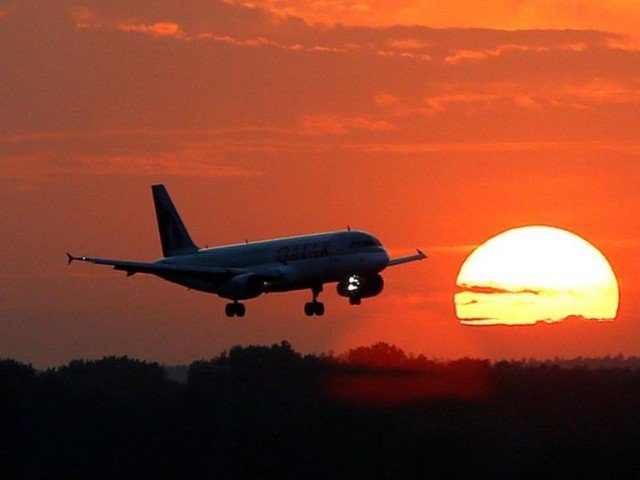 ---
ISLAMABAD: With the novel coronavirus pandemic continuing to exact a heavy toll on Pakistan's aviation sector, the country's national flag on Tuesday announced it would continue special flights to ferry citizens stranded in various parts of the world.

Simultaneously, the Civil Aviation Authority (CAA) also released a list of standard operating procedures for international private airlines are carrying out limited operations over the next five days.

The aviation sector has taken a massive hit due to flight restrictions imposed due to COVID-19 and has lost more than Rs19 billion over the past month and a half. With the government planning to keep flight restrictions in place till the end of the month, aviation officials fear the losses may balloon further by another Rs8 billion at least.

Billions lost

In the past 45 days, PIA has lost more than Rs12 billion and the CAA has lost more than Rs6.9 billion, aviation officials told The Express Tribune. "PIA lost Rs6.24 billion in March and another Rs6.2 billion in the first two weeks of April," one official said. "CAA, meanwhile, lost Rs3.19 billion in March and Rs3.9 billion in the first two weeks of April," he added.

"Everyday, the sector loses more than Rs670 million – PIA loses over Rs416 million and CAA loses almost Rs260 million," the official lamented. "At this rate, we expect aviation sector losses will hit Rs23 billion in a week's time."

Next phase of repatriation

Revealing the schedule of the next set of special flights to repatriate stranded Pakistanis, the Pakistan International Airlines spokesperson on Tuesday said the national flag carried would fly between Islamabad and Manchester on April 17 and 18. The airline would also ferry back citizens stuck in Dubai on April 17.

Another two PIA flights, PK8852 and PK8894, will depart from Islamabad to Seoul South Korea on April 17. A special flight would depart from Karachi to Jakarta on April 18 and two flights would depart for Toronto from Islamabad and Karachi on April 15 and April 19 respectively.

The PIA spokesperson advised Pakistanis stuck abroad who had not been contacted by airline or embassy staff to immediately get in touch with the airline's offices for flight reservations. Reservations can be made at the PIA office or website, or via call centre, the spokesperson said, adding that tickets for the special flights could also be purchased from Pakistan.

PIA has so far conducted 14 special flights, ferrying back 1,750 Pakistan travellers since the operations began on April 3.

SOPs for pandemic

The CAA on Tuesday revealed the list of SOPs for international private airlines conducting limited flights between April 14 and 19. The instructions cover a range of measures to protect crew and passengers, and disinfect aircraft in order to minimise COVID-19 risks.

According to the notification released in this regard, all private international flight operations will be bound to comply with SOPs. In addition to PIA, the government has allowed FlyDubai, Qatar Airlines and Oman's SalamAir to conduct limited flight operations to Pakistan, an aviation official told The Express Tribune.

Under the new SOPs, the CAA will determine the date and time the private flights will be scheduled to arrive in Pakistan. The idea behind this measure is to cluster the maximum number of flights together to ensure necessary personnel are present at the airport, the notification explained.

All incoming aircraft will be disinfected prior to boarding at the airport the flight is departing from and the flight operator will have to present a disinfection certificate. All aircraft must also have an inventory of essential personal protection equipment (PPE), including N95 and surgical masks as well as gloves, protection suits and goggles.

All passengers would have to be screened using thermal scanners prior to boarding the flight and will have to fill a health declaration form before disembarking in Pakistan. The flight operator will also have to seat them in a staggered manner where possible to maintain social distancing.

On-board the flight, passengers will be required to wear surgical masks the entire time and will not be allowed to gather in groups. The cabin crew, meanwhile, will have to wear all PPE throughout the flight. They will also provide hand sanitiser to passengers every hour. After boarding ends, the captain of the aircraft will take a photograph showing all passengers with masks affixed that will be submitted to destination airport health staff.

Flight operators will have to keep a few seats vacant in the aft of the aircraft to isolate passengers that display COVID-19 symptoms. Any passenger who feels the onset of COVID-19 symptoms must promptly inform cabin crew.

Cabin crew would have to use soap, sanitiser and alcohol-based wipes to clean and disinfect their hands. They will also have to disinfect the aircraft lavatory every hour. Upon contact with ill passengers, the cabin attendants will have to wear N95 masks and goggles in addition to PPE they are already wearing.

Upon disembarkation, cabin crew and passengers will be quarantined for a minimum seven days. The quarantine, if necessary, can be extended to 14 days. Passengers who wish to quarantine at a hotel of their own choosing will have to bear the costs of living. Government quarantine facilities will be free of cost. That said, Pakistani authorities will have final say on where passengers are to be quarantined.
COMMENTS
Comments are moderated and generally will be posted if they are on-topic and not abusive.
For more information, please see our Comments FAQ