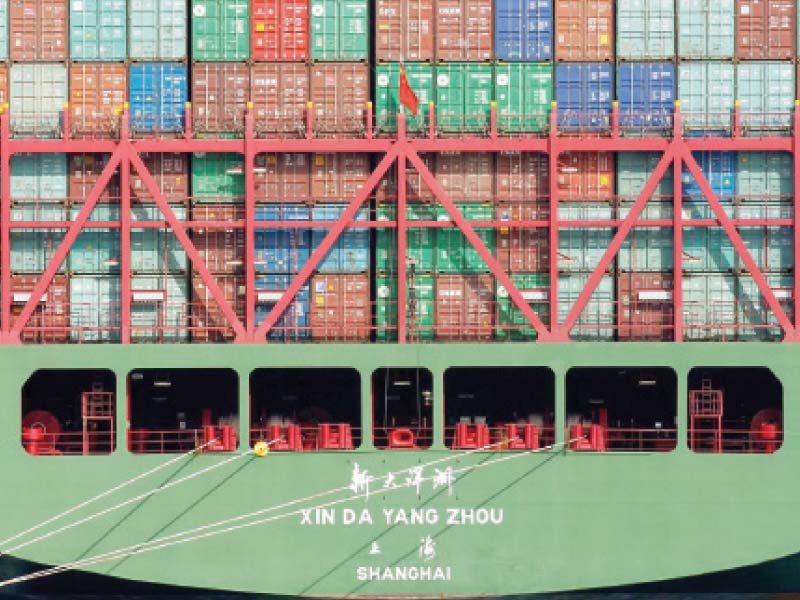 ---
ISLAMABAD: Pakistan's exports fell 8.5% to $1.8 billion in March over a year ago as international trade slowed down due to disruption to economic activities in the wake of the contagious coronavirus.

The disruption also affected Pakistan's imports, which dropped by one-fifth to $3.3 billion last month, resulting in nearly one-third reduction in trade deficit to $1.5 billion, the Pakistan Bureau of Statistics (PBS) reported on Friday.

Overall, Pakistan booked a trade deficit of $17.4 billion in nine months (July-March FY20), down 26.5% or $6.3 billion compared to the same period of last year.

Total exports increased 2.2% to $17.5 billion during July-March of the current fiscal year, according to the national data collecting agency. In absolute terms, exports increased $380 million from July through March.

Imports during the period dropped 14.4% to $34.8 billion. In absolute terms, imports contracted $6.2 billion, which provided relief to the government.

Exports during nine months of the current fiscal year equaled to 65% of the annual target of $26.8 billion while imports accounted for 67% of the target of $51.7 billion.

Compared to March last year, exports decreased 8.5% to $1.8 billion in March 2020, a net reduction of $167 million. In March 2020, imports fell to $3.3 billion compared to $4.1 billion in the same month of last year, which reflected contraction of over 20% or $817 million.

The trade deficit in March contracted 30.4% to $1.5 billion over the same month of previous year due to import compression.

On a month-on-month basis, exports fell 15.6% in March over February while imports contracted 21.2%. The month-on-month trade deficit shrank 27%.

The global economy has almost come to a standstill as governments across the world are enforcing lockdowns to stop the spread of the deadly virus. Pakistan started closing its markets in the last 10 days of March and global buyers also began cancelling export orders.

Various estimates suggest 10-60% contraction in exports and imports in the remaining period of current fiscal year. The government also expects a sharp slowdown in trade activities.

There will be an expected sharp slowdown in imports from 35-60% depending on severity of the crisis, according to an assessment of the Ministry of Planning and Development. Exports could potentially decline by up to 10% in dollar terms in the fourth quarter (April-June).

"Impact of trade contraction only on GDP (gross domestic product) can be up to 4.6% if imports and exports both go down by 20%," Planning Commission deputy chairman said on Thursday.

Preliminary estimates show in case of 2% decline in imports and no decline in exports, GDP for the fourth quarter will contract by 0.3 percentage point, which translates into Rs45 billion.

If both exports and imports drop by 10% each, the fourth-quarter GDP will take a hit of 2.3% or Rs345 billion.

A 20% decline in imports and exports in the fourth quarter will cause a loss of 4.7% of GDP or Rs700 billion.

Under the government's Rs1.2-trillion stimulus package announced by the prime minister on March 27, it released Rs100 billion for the industry in tax refunds on April 2, 2020.

Adviser to Prime Minister on Finance and Revenue Dr Abdul Hafeez Shaikh noted that unprecedented steps were taken by the government to support business and employment in difficult times.

He stated that the government's stimulus package was aimed at addressing the liquidity challenges faced by the industry. "Improved cash-flow position of companies will ensure that workers get their salaries on time."

Published in The Express Tribune, April 4th, 2020.

Like Business on Facebook, follow @TribuneBiz on Twitter to stay informed and join in the conversation.