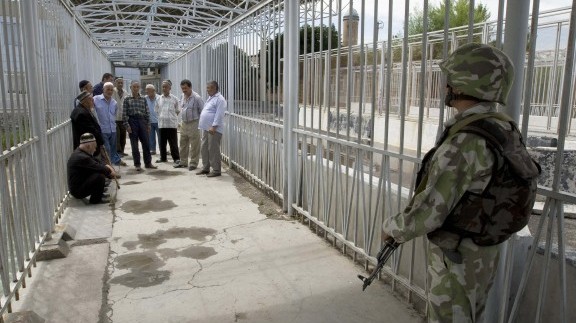 ---
OSH: The Kyrgyz government gave a three-day ultimatum, on Thursday, to 300 Pakistani students stranded in the country to return home.

Family of Umer Ayub , a medical student at the International University of Kyrgyzstan, lamented the ultimatum  as no flights from Kyrgyzstan to Pakistan are currently available.

Only two flights come to Pakistan every week, so there is a severe shortage of tickets.

Parents have appealed to the government to make efforts for the safe return of their children from the violence-hit country.


Woman with 2 children missing




Meanwhile, a woman along with her two children have gone missing after landing at the Chaklala airbase. Officials said the names of the woman and her children are included in the immigration list. But they have now disappeared after landing at Chaklala base.




The family had left for Kyrgyzstan 20 days ago to meet relatives, but intense ethnic violence forced them to pack up and leave. They have been identified as Dr Arif's wife and children and are all residents of Shabqadar.




More than a quarter million people have fled


The UN refugee agency says more than a quarter million people have fled ethnic fighting in the country's south.

Clashes between ethnic Uzbeks and Kyrgyz around the southern cities of Osh and Jalalabad have claimed at least 178 lives.

A spokesman for the office of UNHCR said 200,000 people had been displaced within the country.

This is in addition to the 75,000 ethnic Uzbeks who have  managed to cross the border into neighbouring Uzbekistan.

UNICEF, reported that 90 percent of the refugees from the fighting were children, women and the elderly.

The UN has warned that the continuing ethnic violence in Kyrgyzstan could spread to neighbouring countries if it is not stopped soon.
COMMENTS (3)
Comments are moderated and generally will be posted if they are on-topic and not abusive.
For more information, please see our Comments FAQ