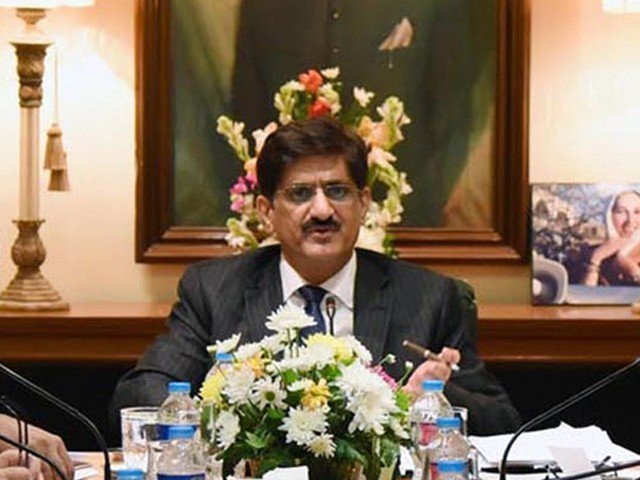 ---
KARACHI:


As three more coronavirus patients passed away on Friday, Sindh Chief Minister Syed Murad Ali Shah sounded alarm bells over the drastic rise in the number of coronavirus cases in Sindh.

At the same time, he stressed that the shortage of personal protective equipment (PPE) for medical staff and testing kits in the province added to the severity of the crisis.

Keeping in view this shortage, the CM directed all district headquarters (DHQ) hospitals to deliver any extra ventilators and other equipment they might have to tertiary care hospitals, to assist in the treatment of COVID-19 patients.


Addressing a video-link meeting called by Prime Minister Imran Khan, the CM pointed out that over the past two weeks, the coronavirus tally in Sindh had risen by 87 per cent, which, he said, "is alarming and calls for putting in more focused, collective efforts to control the pandemic."


Sindh govt's order of 'complete lockdown' defied by some mosques


The meeting was told that as of noon on April 3, 783 coronavirus cases, including 438 of local transmission, were reported in Sindh.

Of this, 342 belonged to Karachi, 151 to Hyderabad, 273 to Sukkur, seven to Larkana, two to Ghotki, one to Jacobabad, one to Dadu and six to Shaheed Benazirabad.

Meanwhile, Sindh Health Minister Dr Azra Fazal Pechuho confirmed the deaths of two more coronavirus patients in Karachi and one in Hyderabad, bringing the death toll in Sindh to 14.

The deceased from Karachi, aged 82 and 60 respectively, both tested positive on Wednesday and had contracted the disease through local transmission. Both also had underlying medical conditions.

In Hyderabad, the patient who passed away was 54 years old and had tested positive the same day as he died. He reportedly had a pre-existing neurological disorder causing paralysis.

Sehat Hospital in Latifabad, where he had initially been taken before being referred to Liaquat University Hospital, was sealed.

PPE shortage

Drawing attention to the shortage of PPE available to medical staff in Sindh during the meeting with the PM, Shah said that the Sindh government was running out of PPE kits and more were required.
'Low testing rate leaves Pakistan, India blindfolded in dealing with COVID-19'


"It is imperative for medical professionals to wear PPE while treating coronavirus patients to avoid the risk of infection," he insisted.

At this, the Provincial Disaster Management Authority (PDMA) director-general said that PDMA had already given kits to Sindh but would arrange for more if required.

The CM, though, responded that the kits provided by the PDMA were not being used as they had accuracy issues, as pointed by the experts working with the Sindh government.

PM Khan directed the PDMA to coordinate with the provincial government on the matter, so as to resolve the problems pertaining to the kits.

Directives for DHOs, DCs

At a separate meeting, the CM directed DHQ hospitals to provide any surplus ventilators and other equipment to tertiary care hospitals so as to help in the treatment of COVID-19 patients.

Besides those in Karachi, the province had six tertiary care hospitals in Hyderabad, Sukkur, Gambat, Khairpur, Larkana and Nawabshah, he said, where the provincial government had established the best possible facilities for COVID-19 patients, especially those in critical condition.




Hence, he stated, he had ordered all district health officers to shift any extra ventilators and other equipment from DHQ hospitals to tertiary care facilities, adding that the equipment would be returned once the pandemic ended.

The CM also directed the deputy commissioners (DCs) of all districts to quarantine all members of the Tableeghi Jamaat who had returned after attending a religious gathering at Raiwind, saying that of those tested among them, most had tested positive.

Estimating that they were 4,500 in number, the CM instructed the DCs to quarantine the family members of those of who had tested positive, as well as persons they had come in close contact with, at their residences. However, if the condition of any of them became critical, they were to be shifted to a hospital, he said.

He also ordered the DCs to provide food, water, fruits, tea, prayer mats and copies of Holy Quran to the quarantined members of the Tableeghi Jamaat and ensure that lockdown orders were being followed.

The CM further said, that as per the standard operating procedures for the coronavirus testing, only those persons having a travel history or showing symptoms were to be tested.

Dr Pechuho informed Shah that 14 experts would visit different districts in Sindh to train others in collecting samples for testing and dispatching to Hyderabad or Karachi.

Thalassaemia patients

The CM further said that he had directed the Sindh Health Department to instruct regional blood banks to provide blood to thalassaemia patients.

"I am worried about thalassaemia patients, particularly children," he said, adding that they must be given blood transfusions as they required.

Medical experts have highlighted a shortage of blood amid the ongoing lockdown, saying that fewer people have been willing to donate blood.