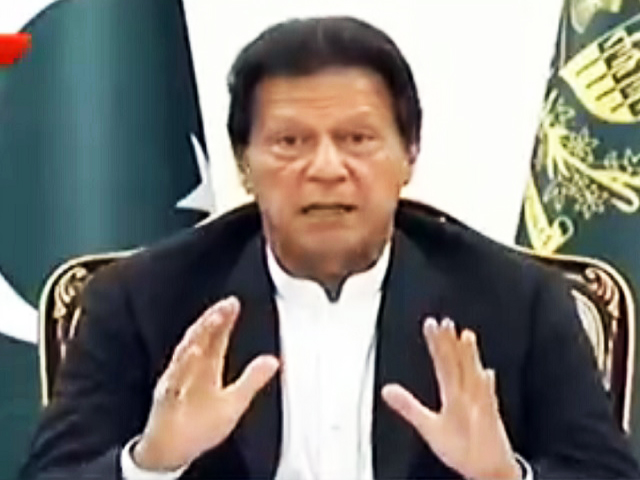 ---
March 27: COVID-19 restrictions won't affect transportation of food items, says PM Imran
With 11 casualties, Pakistan's COVID-19 tally crosses 1,350
---
QUETTA/ PESHAWAR/ ISLAMABAD/ LAHORE/ KARACHI: The novel coronavirus – which originated in the central China city of Wuhan towards the end of December 2019 – has spread to all continents excluding Antarctica. The COVID-19 respiratory illness caused by the mysterious contagion has so far killed thousands of people and infected tens of thousands of others across the globe.

Though the deadly infestation has been contained by the Chinese government in Wuhan, the virus has now spread elsewhere, especially in Europe and the United States, with the World Health Organisation declaring Europe as the new epicentre of the viral disease.

Pakistan, despite its close proximity with China, remained unscathed until February 26 when a young man from Karachi tested positive for the novel coronavirus. He had returned from Iran - one of the worst-hit countries.

After a brief pause following the first case, COVID-19 cases witnessed a sharp surge as more pilgrims returning from Iran tested positive.

The nationwide tally of COVID-19 patients has crossed 1,350 with 442 cases in Sindh, 490 in Punjab, 131 in Balochistan, 180 in Khyber-Pakhtunkhwa, 103 in Gilgit-Baltistan, 27 in Islamabad and two in Azad Jammu and Kashmir.

The virus has claimed 11 lives in Pakistan. On the other hand, 25 patients have fully recovered.

Since the situation remains fluid, the stats are changing fast and we're updating them accordingly.

Follow The Express Tribune's live coverage of the pandemic here.


Lockdown

On March 23, the federal government green-lighted military in aid of civil power under Article 245 read with Section 131(A) of CrPc across the country. DG ISPR Maj-Gen Babar Iftikhar briefed media on the guidelines of the lockdown in a news conference.

The decision came a day after PM Imran Khan categorically ruled out lockdown owing to the economic situation and urged citizens to self-quarantine.

Much of the country was already under lockdown as part of sweeping measures to prevent the spread of the virus.

Sindh announced a 15-day lockdown from March 23 with Punjab, G-B and AJK following suit. Balochistan and K-P were under a partial lockdown with minimum movement while Section 144 was imposed in Islamabad.

Educational institutions, shopping malls, markets, restaurants, and other private business remained closed while inter-provincial and inter-city transport was also suspended. Factories, banks and the financial sector was directed to reduce work hours.




12:30am: Punjab CM confirms 5th casualty as provincial tally of COVID-19 cases soars to 490

Punjab Chief Minister Usman Buzdar has confirmed the fifth casualty of novel coronavirus in the province, taking the country's death toll to 11.

The chief minister, through his official Twitter handle early on Saturday, also shared that total number of confirmed COVID-19 cases has risen to 490.

"With heavy heart, I am confirming that we have lost a 22 years old patient in Faisalabad. Total loss of lives is at 5 now. Currently we have 490 confirmed cases across Punjab. This is a global health emergency and everybody needs to act responsibly and help us save lives," he wrote.

"Details: DGK quarantine 207 cases, Multan quarantine 46, Lahore 115, Gujrat 48, Gujranwala 9, Jhelum 19, Rawalpindi 14, Multan 3, Faisalabad 10, DGK 5, Mandibahuddin 3,  Sargodha 2, Nankanasahib 2 & Mianwali 2 and Narowal, RYK, Attock, Bahawalnagar & Khushab have one case each," he said in another tweet.


Details: DGK quarantine 207 cases, Multan quarantine 46, Lahore 115, Gujrat 48, Gujranwala 9, Jhelum 19, Rawalpindi 14, Multan 3, Faisalabad 10, DGK 5, Mandibahuddin 3, Sargodha 2, Nankanasahib 2 & Mianwali 2 and Narowal, RYK, Attock, Bahawalnagar & Khushab have one case each.

— Usman Buzdar (@UsmanAKBuzdar) March 27, 2020


11:30pm: Police officer contracts coronavirus in Sindh

A 49-year-old police officer of Sindh Police has been tested positive of novel coronavirus, bringing the provincial tally to 442 on Friday.

The patient was taken to Indus Hospital a few days ago with complains of fever and cough, where his samples were sent for testing and results came positive today.

All his contacts, including family members and colleagues are being monitored.

The Sindh inspector general has directed authorities to take all possible measures to screen out his contacts and ensure all precautionary measures for the purpose.




11:00pm: Fourth COVID-19 case surfaces in Hyderabad, raising Sindh's tally to 441

Fourth coronavirus positive case has been confirmed in Hyderabad, raising Sindh province's tally to 441 on Friday.

The 19-year-old patient had been visiting Noor Masjid located in Wahdat Colony for tableegh after arriving from Raiwand a week ago. He was admitted at Kohsar Government Hospital in Latifabad before eventually taken to Liaquat University Hospital after being tested positive.




9:45pm: Balochistan reports two new COVID-19 cases, raising tally to 133

The Balochistan has confirmed two new coronavirus cases, raising the provincial tally to 133 on Friday.

There are currently 1,635 suspected COVID-19 cases in the province, according to the spokesperson of proincial health directorate.




9:00pm: Punjab overtakes Sindh as coronavirus tally rises to 448 with 23 new cases

The Punjab government has confirmed 23 new COVID-19 cases, bringing the provincial tally to 448 and overtook Sindh that has reported 440 cases so far.

According to the spokesperson of primary and secondary healthcare, there are 207 confirmed coronavirus patients among pilgrims at DG Khan quarantine centre, 46 in Multan and 105 in Lahore.




8:30pm: Two COVID-19 patients recover in Balochistan

Two of the total 131 coronavirus patients have fully recovered and discharged from hospital, Balochistan government's spokesperson Liaquat Shahwani said on Friday.

Samples of the patients were sent for testing after symptomatic treatment, results of which came negative, he said in a tweet. Both have left for their homes, he added.


الحمداللہ بلوچستان میں کرونا وائرس کے دو مریض مکمل صحتیابی کے بعد ہسپتال سے ڈسچاج۔
دونوں مریضوں کی صحتیابی کے بعد سیمپل لیبارٹری بھجوائے گئے جو منفی آگئے۔
دونوں مریض اپنے گھروں کو روانہ۔#CoronaFreePakistan

— Liaquat Shahwani (@LiaquatShahwani) March 27, 2020


7:30pm: G-B's coronavirus tally soars to 103 with 16 new cases

Another 16 people were tested positive in Gilgit-Baltistan as the region's tally of coronavirus patients rose to 103 on Friday.

"With three patients recovered and Dr Usma Riaz's death, the tally now stands as 103," said Adviser to CM on Information Shams Mir during a daily briefing at Gilgit Press Club on day five of the lockdown in the region.

The adviser said results of 300 tests were pending at NIH, Islamabad and other hospitals.

Mir further said the G-B would continue to receive edible items and medicine from rest of the country as agreed during a recent conversation between Chief Minister Hafeezur Rehman and Prime Minister Imran Khan.

Law Minister Aurangzeb Khan, who was also present in the presser, said the region would receive another 76 pilgrims from Taftan border, adding that things are being sorted out about how and where they would be screened, tested and stayed in G-B.

About dozens of G-B students stranded in Karachi following the coronavirus lockdown, the law minister said they were being brought back by special buses, adding the total number students entering G-B on Thursday was 630, who will be screened for coronavirus as per procedure.

"We hope they would cooperate with us."

By Shabbir Mir in Gilgit




7:00pm: Air chief donates one month's salary to coronavirus relief fund

As an earnest gesture towards a noble cause, Pakistan Air Force (PAF) has decided to contribute to the coronavirus relief fund.

Chief of the Air Staff Air Chief Marshal Mujahid Anwar Khan would donate his one month's salary to the fund, which has been established by the government to fight the pandemic, according to a PAF statement issued on Friday.

"Keeping the precarious situation of the country in view, it has been decided at the air staff level, that all rank and file of PAF would contribute in the fund.  Besides the air chief, officers of the rank of air commodore and above would donate their three day salary; whereas, the officers of group captain and below ranks would donate two day salary for the national cause," read the statement.

"Moreover, airmen and civilians would also chip in their one day salary in the Corona Relief Fund."




6:30pm: Sindh CM orders closure of grocery shops at 5pm from Saturday  

Sindh Chief Minister Syed Murad Ali Shah has ordered reducing operating hours of grocery shops and stores by three hours to stem the spread of coronavirus in the province, which jumped to 440 on Friday.

Grocery shops were earlier allowed to operate between 8am to 8pm amid ongoing lockdown.

From now on, shops and stores selling basic commodities and food items will be closed at 5pm.

He said the local transmission of coronavirus cases has climbed to 10 per cent of the total confirmed cases in the province. "This is a dangerous trend… we have to contain it from spreading any further by observing necessary precautionary measures and honouring the government's decision of lockdown," said the chief minister.

"Therefore, I have decided to reduce the operating hours of all grocery shops and stores by three hours from Saturday," he announced.

Read full story here.




5:30pm: 'Corona relief tiger team' to be formed for food distribution amid complete lockdown: PM

Prime Minister Imran Khan, while speaking to media persons over his government's measures to control the spread of COVID-19 disease in the country, announced on Friday forming a 'corona relief tiger team' to distribute food among deserving families during a possible complete lockdown in days to come.

PM Imran, who chaired a meeting of National Coordination Committee on coronavirus in Islamabad earlier in the day, said that all provinces and Gilgit-Baltistan have decided that the transportation of food items would be completely exempted from all restrictions in place across the country right now to stem the spread of the virus.

"Secondly we have decided that factories that are associated with food items and essentials commodities will continue to function… and in this regard we are formulating a mechanism," he added.

The prime minister said that a youth team would be formed in case a complete lockdown is inevitable. "We will register them through the citizenship portal," he added.

The "corona relief tiger team" will be formed to distribute food during the complete lockdown, said the PM, adding that the registration process through the Pakistan Citizen Portal will begin from March 31.

"From the very first day, I was afraid that our daily wagers, roadside vendours and downtrodden segment of the society would face immense difficulties if we right away imposed a complete lockdown," said the premier.

"Till now there is no coronavirus case linked to China in the country… 70 per cent of our cases are linked to Iran," he said. "We should however be prepared as we cannot predict that after two weeks the coronavirus cases would not spike," he added.



He said overseas Pakistanis will also be approached to submit donations in a State Bank of Pakistan account, which will be formed by the next week to ease the pressure on foreign exchange reserves.

"During these testing times, I want our overseas Pakistanis to come forward and help their countrymen," he remarked.

PM Imran also assured that there is no food and flour shortage in the country.

"Ghabrane ki zarorat nahi hai (there's no need to panic)," he reiterated.

The prime minister also asked the authorities concerned to release all those arrested for violating lockdown restrictions.


Live Stream: Prime Minister of Pakistan Imran Khan Media Talk in Islamabad (27.03.2020)#PrimeMinisterImranKhan #Pakistan 🇵🇰 #COVID19 #Coronavirus @ImranKhanPTI https://t.co/tOhAW1M9v1

— Prime Minister's Office, Pakistan (@PakPMO) March 27, 2020
This will be updated...


5:00pm: Erdogan Trust joins Pakistan's fight against COVID-19

A hospital Turkey gifted to Pakistan is assisting the government in its battle against coronavirus in the remote areas of Punjab.

The Recep Tayyip Erdogan Hospital Trust in Muzaffargarh district, some 380 kilometers (236 miles) from the provincial capital Lahore, has designated its newly-established 250-bed wing for suspected COVID-19 patients.

Prime Minister Imran Khan had inaugurated the facility in February this year.

Read more here.




3:45pm: Congregational prayers held in Karachi mosques despite ban

The Sindh government 's decision regarding a ban on congregational prayer could not be implemented fully on Friday as people flocked to various mosques in Karachi and other districts to attend the congregational prayers.

In a video, which went viral on social media, the station house officer (SHO) of Kharadar can be seen inside New Memon Masjid in the port city's Kharadar locality appealing to the people to return home as the mosque is closed.


Read full story here.
3:20pm: 120 people arrested in Quetta

Around 120 people defying the lockdown in the province were arrested by the Quetta administration.


Quetta administration retains 120 people on streets... pic.twitter.com/mFvx0u4jW6

— Jam Kamal Khan (@jam_kamal) March 27, 2020
3:15pm: People defy congregation ban in Sindh


Sukkur Police takes into custody people defying the congregation ban in Sindh. PHOTO: SOCIAL MEDIA


03:00pm: 19 news cases reported in Sindh

A total of 19 new cases of the novel coronavirus have been reported across Sindh taking the total in the province to 440.

Eleven new cases of local transmission were reported from Karachi while another was reported from Hyderabad.

As many as seven cases have been reported amongst pilgrims from Iran in Larkana.


12:20pm: Punjab restricts congregational prayers

The Punjab government issued a notification limiting the number of people in Friday congregations to five, following similar measures taken by Sindh and Balochistan.

The notification states that between three to five people, including the prayer leader and muezzin, will be allowed to pray in the mosque, while all others should offer prayers at home.


علماء کرام کی رائے و رہنمائی اور طبی ماہرین کی ہدایات کے مطابق پنجاب بھر کی تمام مساجد میں صرف 3 سے 5 افراد (خطیب/امام/مؤذن/خدمت گار) نماز جمعہ و نماز پنجگانہ ادا کریں گے تاکہ اس موذی مرض سے بچا جا سکے#PunjabCoronavirusUpdate pic.twitter.com/frIRCdF2NX

— Government of Punjab (@GovtofPunjabPK) March 27, 2020


11:50am: President Alvi to offer Friday prayers at home

President Arif Alvi will offer his Friday prayers at home, repeating his practice from last week.

He added that his prayer will be for forgiveness and to "help us overcome this Corona pandemic".


Like on the previous Jumu'ah I will pray Zohar at home. I follow a very considerate Prophet ﷺ who allowed people to pray in their homes to avoid rain or cold weather or even to avoid a sickness. My prayer is that 'May Allah forgive us and help us overcome this Corona pandemic'.

— Dr. Arif Alvi (@ArifAlvi) March 27, 2020


11:05: Two doctors test positive for COVID-19 at DG Khan quarantine centre

Two doctors performing duties at the DG Khan quarantine centre have tested positive for COVID-19.

According to the provincial health department, the doctors have been shifted to isolation wards and are said to be in stable condition.




9:50am: Mosques to remain open: Qadri

Minister for Religious Affairs and Interfaith Harmony Dr Noorul Haq Qadri has said that mosques will remain open across the country but has advised children and people above the age of 50 to be barred from offering daily and Friday prayers in congregations.

Briefing the media following a meeting with President Dr Arif Alvi, the minister stated mosques would remain open but the number of people praying should be minimum as a precautionary measure to curb the spread of the virus.




1:05am: Balochistan restricts congregational prayers

After Sindh and the federal government, Balochistan also restricted attendance of congregational prayers. A notification issued early Friday said the government was exercising powers under Section (2) of The West Pakistan Epidemic Disease Act 1958 and decided that only three or five persons, designated for Masjid, will offer prayers in congregation and the general public will offer their prayers at their respective homes.


March 26, 2020


12:08am: Punjab reports thirds COVID-19 death

Punjab Chief Minister Usman Buzdar announced the province's third death on Friday.

"Sadly, we have lost 3 precious lives to coronavirus in Punjab so far," he wrote. "Total number of cases tested positive are 408."


Details: DGK quarantine has 207 cases, Multan Quarantine 19, Lahore 103, Gujrat 22, Gujranwala 8, Jhelum 19, Rawalpindi 14, Multan 3, Faisalabad 3, Mandibahuddin 3, Mianwali 2 and Narowal, RYK, Sargodha, Attock and Bahawalnagar have 1 case each. 2/2

— Usman Buzdar (@UsmanAKBuzdar) March 26, 2020