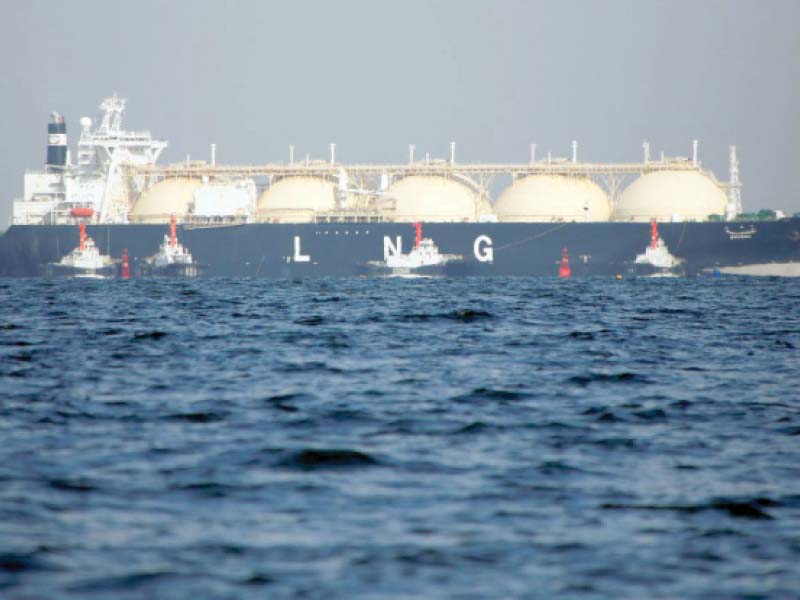 ---
ISLAMABAD: Pakistan is facing growing calls to declare force majeure in its liquefied natural gas (LNG) deal with Qatar following a sharp dip in consumer demand in the wake of coronavirus-related lockdown.

Officials told The Express Tribune that different quarters were discussing and suggesting that Pakistan should declare force majeure in its long-term deal with Doha in order to halt imports that were expensive amid lower demand.

Officials pointed out that the power sector calculated only the energy cost while working out the economic merit order and ignored the capital cost of projects. They suggested that the capital cost should also be assessed while setting the merit order.

The officials revealed that an LNG ship from Qatar docked in Karachi on Tuesday but power producers had expressed their inability to lift the imported gas, calling it expensive and below the merit order.

Three LNG-based power plants had been installed by the previous Pakistan Muslim League-Nawaz (PML-N) government and these plants were meant to consume the imported gas. They were set up on a "must-run" basis.

However, the power sector now says LNG is expensive and LNG-based power plants are out of the merit order. Therefore, these plants remain shut for most of the time.

Apart from the power sector that is not ready to consume LNG, Sui Northern Gas Pipelines Limited (SNGPL) has also refused to take supplies. The issue was taken up in a meeting of the oil and gas sector, chaired by Special Assistant to Prime Minister on Petroleum Nadeem Babar, on Monday.

"PSO will have to pay $28 million if we do not accept the cargo, and if we accept, local gas supply will have to be stopped or demand has to be created," an official said, adding that Babar promised to coordinate with the power sector in a bid to shut down coal-power plants and create gas demand. Officials said second LNG cargo would reach Pakistan on March 30 despite the drop in gas demand.

SNGPL was taking 350 million cubic feet per day (mmcfd), of which 200mmcfd was being used by the industry. The industry and other sectors would also stop consuming the imported gas due to near-lockdown in the country, officials said.

They added that the second LNG cargo would build pressure on the companies to take these supplies.

"The government should take up the matter with Qatari government and declare force majeure in order to reduce supplies from Doha," the official said, adding that the other option was that all power plants should run on LNG.

However, according to the officials, Qatar may oppose the force majeure in the current situation when many countries were flooding the market was gas supplies, triggering price shocks. They said LNG producers were losing their clients due to falling demand in the wake of coronavirus pandemic.

When contacted, Babar said the issue had been addressed.

SNGPL officials said LNG import contracts were inked for the power sector but now it was not ready to take LNG supplies. They pointed out that almost the entire country had been shut down and LNG demand would fall further.

Petroleum Division version

In response to the request for comment, the Petroleum Division said the COVID-19 pandemic has affected almost the entire world including Pakistan. "It has impacted gas demand in China and a similar situation is being faced by Pakistan. In Pakistan, the demand for gas has reduced drastically with reduced offtake mainly in the power sector, besides industrial and commercial sectors, as a result of restrictions to stem the spread of COVID-19," the Petroleum Division said.

It pointed out that Pakistan has LNG import contracts on a "take-or-pay" basis and it is importing about eight LNG cargoes per month as per the contracts. Lower gas consumption has posed challenges with increasing possibility of attracting heavy financial penalties/demurrages (to the tune of millions of dollars) in case of delay in receiving LNG cargoes or cancellation of cargoes, it said.

"To meet these take-or-pay challenges, the government is trying to maximise LNG consumption in power and fertiliser sectors besides switching some of the power plants to LNG from other fuels like coal.

"Other option may be to curtail indigenous gas production, where technically possible and agreements also allow."

The Petroleum Division said LNG importers, particularly PSO, are trying their best to convince LNG suppliers to reduce or defer volumes in the wake of severe offtake problems due to COVID-19 pandemic. The force majeure provision, available in the sale and purchase agreement between PSO and Qatargas, only relates to import facilities. The force majeure provision does not cover any unexpected changes in the downstream gas market like the reduction in gas sales due to decrease in demand, it said.

Besides, according to the Petroleum Division, invoking force majeure provision is seldom straight forward and even a potentially relevant event (eg pandemic, or quarantine restrictions) would not guarantee the force majeure relief.

Published in The Express Tribune, March 25th, 2020.

Like Business on Facebook, follow @TribuneBiz on Twitter to stay informed and join in the conversation.
COMMENTS
Comments are moderated and generally will be posted if they are on-topic and not abusive.
For more information, please see our Comments FAQ