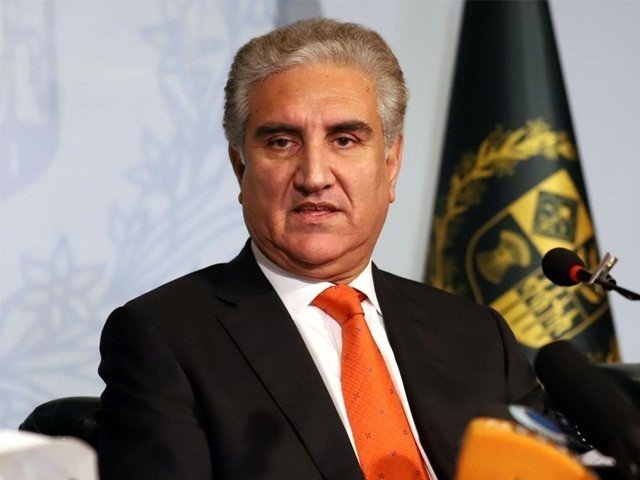 ---
ISLAMABAD: Foreign Minister Shah Mahmood Qureshi on Tuesday spoke with his Bangladeshi counterpart on the phone and reiterated Islamabad's readiness to host a video conference of the South Asian Association for Regional Cooperation (Saarc) health ministers to enhance cooperation between member states in their efforts to stem the tide of the novel coronavirus outbreak.

The minister also spoke with his French and Spanish counterparts and stressed the need for an international coordinated response to fight against the disease.

In his conversation with Bangladeshi Foreign Minister AK Abdul Momen, Qureshi suggested that Saarc should evaluate the economic and social disruption caused by COVID-19 and experts from the member states should immediately start working together to tackle the situation.

The minister also underlined the need for immediately lifting the sanctions on Iran and enabling the country to utilise its resources to curb the virus spread.

Qureshi said developing countries were facing immense economic challenges because of the viral outbreak and that was why Islamabad had requested that they should be facilitated in the payment of their loans.
The Bangladeshi foreign minister welcomed Pakistan's suggestion to raise the matter at the UN's G-77 forum.

Qureshi had also expressed Pakistan's readiness to host the Saarc health ministers conference in his telephonic conversation with his Sri Lankan counterpart Dinesh Gunawardena on Sunday.

Speaking with his French counterpart Jean-Yves Le Drian on the phone, Qureshi said COVID-19 had spread to almost all countries of the world and the situation demanded a coordinated global approach.
Expressing deep concern over the loss of lives, the minister lauded the steps being taken by the French authorities to contain the virus and thanked him for looking after the 13 Pakistani patients in France.

Qureshi raised the issue of Iran with the French foreign minister and also expressed deep concerns over the continuing communication and movement lockdown in the Indian Occupied Jammu and Kashmir, which was depriving eight million Kashmiris of critical information and essential medical supplies needed to effectively contain the pandemic.

The French foreign minister agreed with Qureshi's assessment of the situation in Iran and the need to provide debt relief to developing countries.

He expressed his intention to raise the issue of Iran with the IMF and debt relief to developing countries at the G-20 forum.

Qureshi also telephoned his Spanish counterpart Arancha Gonzalez Laya and conveyed his condolences over the loss of lives in Spain due to the coronavirus outbreak.

The foreign minister visited the Italian embassy and expressed deep grief and sorrow over the loss of human lives in one of the world's worst virus-affected countries.

Talking to Italian Ambassador Andreas Ferrarese, he called upon the global community to chalk out a joint strategy to cope with the challenge.

Ferrarese thanked the foreign minister for visiting the embassy and expressing solidarity with the people of Italy.
COMMENTS
Comments are moderated and generally will be posted if they are on-topic and not abusive.
For more information, please see our Comments FAQ