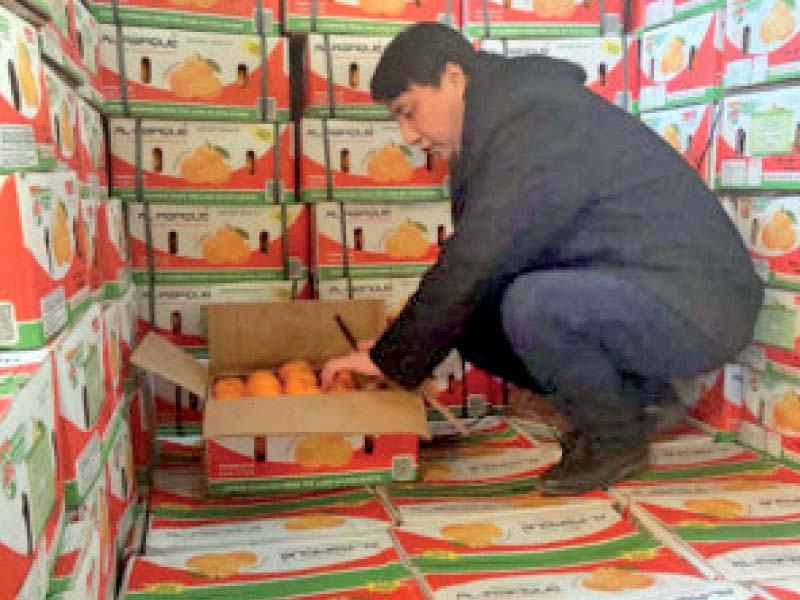 ---
BEIJING: The kinnow from Sargodha, available at Rs25 per kg, are now being sold for 19.96 yuan on the e-commerce platforms in China. This translates to about Rs455, around 18 times the price in Pakistan.

After a month-long sea transport, 2,650 boxes of Pakistani kinnow reached northeast China's Dalian port for customs clearance on February 21.

This marks the first successful and effective entry of Pakistani kinnow into the Chinese market in the past three years. China suffered COVID-19 epidemic while Pakistan was infected with locust plague.

Hafeez Adnan, a Pakistani graduate with a master degree of Orthopedic Surgery at Dalian Medical University, told China Economic Net (CEN), "There are 21 companies in Pakistan which are qualified to process citrus meant to be exported to China. I started contacting those companies one by one since the beginning of last kinnow season, that is, the autumn of 2018," he said. "Initially, no one was willing to do it or dared to do it."

He pointed out that the firms feared failing the inspection in China due to its strict quarantine standards.

Kinnow exports to go down this season

He added that the situation was the same everywhere with regard to cold chain transportation. There are few containers with a probe thermometer and it is hard to get in touch amid the epidemic, he said.

"Maersk (container carrier) has no feedback and its online offer is twice as expensive as the one we find now," said Adnan.

Adnan explained to the CEN reporter why Pakistan was cautious while exporting kinnow to China.

He said that if the kinnow, released by Pakistan's quarantine department, failed to pass China's quarantine inspection, they were likely to be destroyed on the spot and then Pakistani citrus exports would be re-inspected and re-evaluated.

"Apart from all kinds of economic losses, Pakistani quarantine officials are likely to be dismissed due to joint liabilities," he stressed. "China-Pakistan friendship is a big thing in Pakistan. No one dares to make a single mistake."

He recalled that an official from the Ministry of Food, Agriculture and Livestock in Lahore helped him.

"Impressed by my sincerity for the business of citrus export, the official told me that he had inspected all the 21 companies and one of them had high processing quality and if this company doesn't accept my order, there will be no one else," said Adnan. "Then I contacted this company, it agreed but told me there was no room for bargaining because the risk was high."

The protocol on phytosanitary requirements for the export of citrus fruit from Pakistan to China was signed 15 years ago on April 5, 2005 between General Administration of Quality Supervision, Inspection and Quarantine of People's Republic of China, now merged into the General Administration of Customs of the People's Republic of China, and Ministry of Food, Agriculture and Livestock of the Islamic Republic of Pakistan.

There are 15 articles in the text of the protocol and article nine stipulates that if bactrocera dorsalis or bactrocera zonata is found alive when Pakistan's citrus exported to China arrives at the designated entry port, the citrus shall be returned or destroyed.

At the same time, the Chinese side shall notify Pakistan to suspend citrus exports to China and request Pakistani side for rectification.

If other pest listed in the annex of the protocol is found, China shall decide to suspend the export qualifications of relevant processing plants and exporters according to the interception and both sides shall carry out investigations.

"Generally speaking, a worker can process several containers of citrus per day, but for Chinese orders, only 200 to 300 boxes can be processed in a day," said Adnan. "Pakistanis think that the citrus export standards for Russia, Malaysia and Indonesia are very strict, however, these are not comparable to those of China's."

He was of the view that it was not exaggerating to say that there were risks of dismissal of officials and termination of businesses.

Zhao Yong, General Manager of Youlianfeng Trade Dalian, is Adnan's Chinese partner. He told CEN, "I mainly run e-commerce business but the citrus is of high quality and quickly released by the customs," he said. "The loss during transportation is only 3% while generally 3% is already regarded as good. They must have been perfect when they were loaded in Pakistan."

Zhao recalled that when he started planning to import citrus from Pakistan at the beginning of last year, it was the customs expert group that recommended him to do cold treatment during shipping.

"We found out that in early 2017, cold treatment was not done on a container of Pakistani citrus until it reached port and one month's sailing time coupled with over 20 days of cold treatment made the citrus quality deteriorate."

Sargodha continues to face challenges in kinnow production

Citrus must be cold treated against pests in the container, that is, cold killing as Zhao said.  Cold killing is done to keep pulp temperature at 1.67 degrees for 17 consecutive days or 2.2 degrees for 21 consecutive days.

"The cold storage data is not available to the public which is the shipping company's regulation. This time, Orient Overseas Container Line, which was acquired by China Ocean Shipping Company two years ago, helped a lot," Zhao said. "There is a slight deviation in our cold storage data, but according to the protocol between the two countries, the range of plus or minus 0.1 degrees is allowed."

During interviews in Pakistan earlier, it was learnt that the price of kinnow in Pakistan is about Rs25 per kilogram, that is, 0.56 yuan per jin.

This article originally appeared on the China Economic Net 

Published in The Express Tribune, March 14th, 2020.

Like Business on Facebook, follow @TribuneBiz on Twitter to stay informed and join in the conversation.