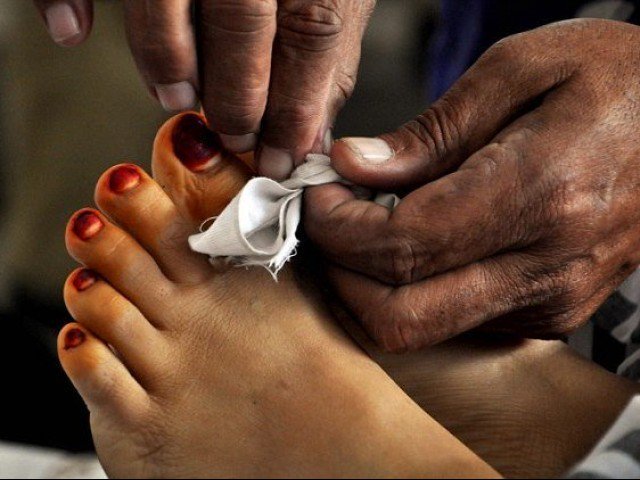 ---
HYDERABAD: A widowed woman and her four daughters were burnt to death when flames engulfed their apartment in Hyderabad's SITE area on Monday.

While the cause of the fire is yet to be established, one of the deceased, before succumbing to her injuries, told the police in the hospital that they had lit oil lamps and placed them on the floor mats.

The incident occurred in Labour Square apartments, adjacent to the regional office of the Federal Board of Revenue.

While the apartments were originally built for industrial labourers, they were occupied by those displaced by floods between 2010 and 2012, and still lack electricity, gas and water utilities.

"We had placed the oil lamps on the floor mats before going to sleep last night," 26-year-old Reshma alias Resham, the eldest daughter of Jannat Kambrani, 54, informed the police.

The others who died include Asma, 22, Neha, 18, and Sanam, 13.

Reshma's husband, rickshaw driver Arshad Dero, was earlier suspected of arson. However, moments before her death, she told the police that her husband was not responsible for the tragedy.

According to the police, Reshma and Dero, who are also cousins, had been going through marital issues. As a result, she had returned to her mother's home with her two children some months ago.

On Sunday night, hours before the tragedy unfolded, Dero took away both of the children. He was also the first person to report the incident to the police.

"He went to the apartment and took his wife, who was critically injured, to Bhitai hospital [in Latifabad], and from there he reported the incident to the police," said an official from SITE police station.

He added that Dero claimed that his mother-in-law and three sisters-in-law had already passed away when he entered the flat, while his wife was the only one still alive.

"We interviewed Dero but did not find anything suspicious," stated SITE SHO Mazhar Soomro. However, he added that the investigation was still in process and a team of forensic experts was collecting evidence from the flat.

The bodies of Jannat and her three younger daughters were also shifted to the hospital, and they were later laid to rest in Fakir Dars graveyard in SITE.

Jannat, who worked as a domestic maid to eke out a living, was widowed 12 years ago.
COMMENTS
Comments are moderated and generally will be posted if they are on-topic and not abusive.
For more information, please see our Comments FAQ