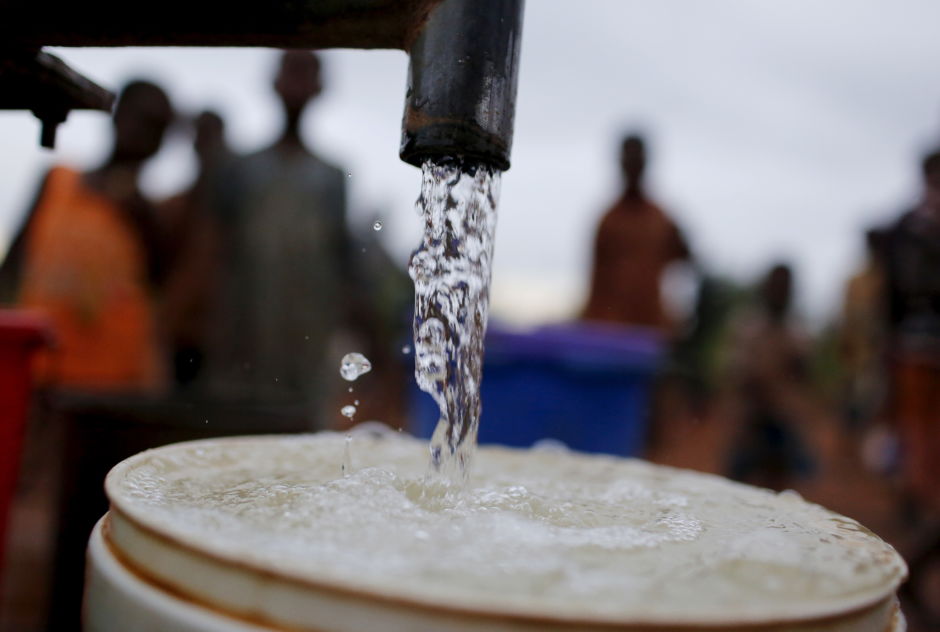 ---
KARACHI: We might talk about empowering women on social forums, but in the developing world, we still haven't reached the point where we might feel accountable for not providing women access to the very basics of life.

The scarcity of clean water is something that has often been addressed, but seldom does the debate take into consideration those who are most affected by it — the women.

In any country, the scarcity of water leaves a disproportionate effect on the lives of women. It is women who take the primary burden of collecting water for their families — an arduous, time-consuming task. According to the United Nations Children's Fund and the World Health Organisation (WHO), women and girls are responsible for collecting water in eight out of 10 households that do not have water available on their premises.

This task also has another impact on their lives — they become more likely to encounter harassment and even attacks while walking long miles to fetch water from shops or reservoirs.

And it's not just about who collects the water. Women need better sanitation and hygiene as they deal with menstruation, pregnancy and childbirth, and breastfeeding. Globally, around a million deaths every year are associated with unclean births, which also account for 26 per cent of neonatal deaths and 11 per cent of the maternal mortality.

Pakistan should focus on urban tourism

The reality of unclean water

Every day, Fatima or her daughter trudge to a shop a few streets away from their home in Qayyumabad to fetch clean water. "I do not feel safe sending my daughter to the shop, but do I have another option? Sometimes, when my son is home, I send him, but he is usually away," she says.

Fatima's husband is a driver for an online ride-share app, while her son is normally busy with school and tuition. So the task falls to the women of the family.

It's a common sight in the neighbourhood to see women and girls lugging heavy bottles of water home from the shop, which has a reverse osmosis plant installed on its premises. It's a gruelling task but, says Fatima, they have grown used to it.

"Many mothers here complain that their girls are harassed in the streets as they carry the water home. It's a shame we have to endure this," she asserts. "If the government had provided us clean water, we wouldn't be facing this." Plus, she maintains, her daughter could have gone to school along with her son.

According to several reports, many girls in localities where people live on or below the poverty line have been pulled out of school. There are two basic reasons for this. The added expense of buying clean water forces families to make a choice between this basic necessity and educating their girls. Or, there is simply no water available in the schools for the girls to be able to maintain hygiene while they are menstruating.

Kausar, 21, is very familiar with the latter problem. She says that the tap water in Akhtar Colony, where she resides, is too unclean; when she is menstruating, she is forced to use filtered bottled water for cleaning.

"My mother scolds me every time I take a mug of drinking water to the bathroom, but if I ever wash with tap water, I feel unclean all day," she narrates, adding, "My friends in the neighbourhood often suffer from urinary tract infections, which are also caused by using water from the tap, contaminated by sewage."

Spreading disease

The areas most affected by waterborne diseases in the metropolis are Surjani Town, Malir district and localities close to the Korangi and Landhi industrial zones, including small goths.

"There is no water in the area. Even the schools and hospitals run short of water, which makes matters very difficult for us," says Munawwara, a nurse at a maternity home in Malir.

According to her, with the lack of clean water, maintaining a hygienic environment for women in hospitals is next to impossible. "Many women catch infections from the hospital after giving birth," she discloses.

Meanwhile, a commission on water and sanitation, formed in 2017, revealed in its reports many complaints about women and children turning ill or even dying as a result of toxic drinking water.

'Pakistan has effective drug for COVID-19'

Why is the water unclean?

According to urban planner and environmentalist Farhan Anwar, the water being supplied to the affected localities of Karachi starts getting contaminated at the source — and it keeps getting more and more contaminated right until it emerges from the taps in households.

"Surface water is drawn from Kotri Barrage via the Kalri-Baghar Feeder Canal, which is already contaminated by the wastewater coming from the Kotri Industrial Area," he explains. "Then the water is stored in Keenjhar Lake, which is also heavily contaminated, mostly due to raw, polluted agricultural waste discharge."

Then, cross-connections, where water pipelines connect with sources of pollution during transmission and distribution, foul things up even more. This happens when, for example, sewerage water enters the water supply through cracks in the pipelines, which are old and decaying. At times, the pipes pass under garbage dumps, with pollutants seeping into them.

"Since the water supply in Karachi is intermittent and suction pumps are commonly used, vacuum and negative pressure gaps also suck in sewerage from the lines that crisscross with the water supply pipelines," Anwar adds.

And finally, after all this, water in the underground tanks of houses gets contaminated by insects and dust.

Widespread pollution

The Sindh Environment Protection Agency and the National Environmental Quality Standards both state that it is illegal to dispose of poisonous waste in open water bodies. Yet the practice continues.

Researchers and environmentalists who have tested water samples from across Karachi came to the conclusion that the water being consumed by many in the provincial capital is unsuitable for drinking.

Meanwhile, Zahra Ali, an environmentalist and the founder of urban farming initiative Crops in Pots, points out that vegetables here are also grown in contaminated soil as a result of widespread water pollution. This, she says, can be highly dangerous, especially when there are traces of heavy metals in the water. According to her, tests carried out in various areas of Karachi to check the bioavailability of these metals indicates a substantial level of toxicity.

Ignoring the women

While the effects of water scarcity on women are very real, there is a serious dearth of female-specific data for the region that highlights and specifies this daily struggle - and effective policies can only be designed if there is accurate data available.

"Gender-disaggregated data is the need of the time," states the international We Are Water foundation. "The data is essential to develop human geography in connection with water and sanitation, thus obtaining scientific knowledge on gender inequalities."

Seemi Kamal, from the Hisar Foundation and Pakistan Poverty Allevation Fund, urges women to raise their voices about water, since they are the ones affected most by these matters. "Women are the primary consumers of water, yet their problems are not addressed when we discuss water scarcity and contamination in public forums."

Ali, an environmentalist, points out that even though women are not generally the decision-makers in Pakistani society, they are still consumers. "As consumers, they deserve the availability of clean water to ensure their health," she says.

Published in The Express Tribune, February 24th, 2020.
COMMENTS (1)
Comments are moderated and generally will be posted if they are on-topic and not abusive.
For more information, please see our Comments FAQ