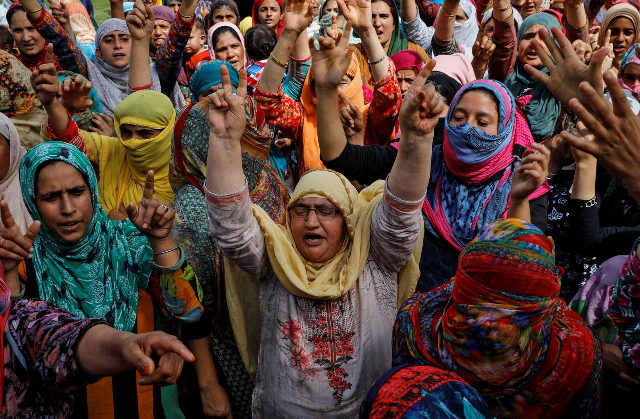 ---
Pakistan is observing Kashmiri Women's Resistant Day on Sunday (February 23), Radio Pakistan reported.

Observed since 2014, the day is marked to highlight 1991 Kunan and Poshpora mass rape and torture by the occupying forces in the Indian Occupied Jammu and Kashmir.

Indian troops had gang-raped around 100 women of all ages from eight to eighty years old on the night of February 23 in 1991 during a siege and search operation in Kunan-poshpora.

Landmark report documents use of torture by India in occupied Kashmir

Prime Minister Imran Khan also expressed his support for oppressed women of Kashmir in a tweet.


Today is Kashmir Women Resistance Day. For 7 decades, Indian forces have committed war crimes against women in IOJK. Their sufferings have multiplied after 5 Aug siege by Modi Govt. I urge world community, esp women, to become voice of resilient Kashmiri women for peace in IOJK.

— Imran Khan (@ImranKhanPTI) February 23, 2020


Torture in the region

As human rights violations by the Indian occupying forces take a darker turn, the Kashmir Media Service has reported that since 2016, more than 10,000 protestors have been shot at with pellet guns and teargassed.

Approximately 900 women have been gang-raped and molested and more than 3,000 structures, including business and residential, have been destroyed.

The Indian state uses torture as a matter of policy in occupied Kashmir with tens of thousands of civilians having been subjected to it, a report stated.

The 560-page report titled Torture: Indian State's Instrument of Control in Indian Administered Jammu and Kashmir was released by Association of Parents of Disappeared Persons (APDP) and the Jammu Kashmir Coalition of Civil Society (JKCCS) and is the first comprehensive report on torture in the region.

The report highlights different torture techniques used by India, which includes sexual torture including rape and sodomy, water-boarding, burning of body parts with hot objects, solitary confinement and electrocution to the genitals.


COMMENTS
Comments are moderated and generally will be posted if they are on-topic and not abusive.
For more information, please see our Comments FAQ