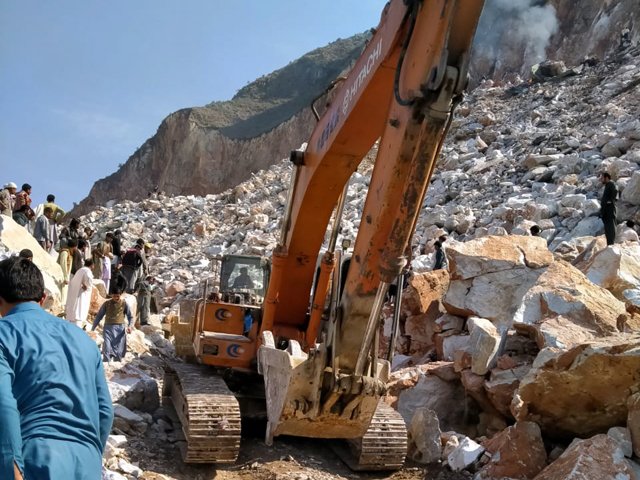 ---
BUNER: At least 10 people were killed and as many injured --- some of them critically – in a rockslide at a marble quarry in Buner district of Khyber-Pakhtunkhwa, rescue and administration officials said on Saturday.

The district disaster management officer told The Express Tribune by the telephone that rescuers have so far retrieved nine bodies and five injured from underneath tonnes of rocks in the Bampukha area of Buner. At least 30 people were believed to be trapped under the debris.

The incident occurred around mid-day, according to witnesses. Dozens of workers were mining marble when a heavy rock tumbled down, trapping the workers underneath.

The stone slide also destroyed dozens of vehicles, including trucks, excavators, tractors and other heavy machinery, at the site.

"The slide happened after a blast to break the mountain and the labourers had started the excavation work," one witness, Shaukat Khan, told The Express Tribune. A source hinted at lack of safety measures for blasts at the mine sites as a possible reason for the tragedy.

Earlier, the Provincial Disaster Management Authority (PDMA) said that 30 labourers came under the debris of rocks. It added that five injured had been shifted to the District Headquarters Hospital.

Doctor confirmed that among the five injured, four were in a critical condition while one received minor injuries. The four critically injured were referred to a hospital in Peshawar, according to local media reports.

The local administration has imposed an emergency in the mining area and the sites would remain closed until further orders. "The operation to recover the trapped people is under way," an administration official said.

Buner is among the biggest marble producers in the country. Manual mining in the mountainous areas often leads to tragedies in the district; however, because of the low scale, such incidents are not reported by the media.

K-P Chief Minister Mehmood Khan, taking notice of the incident, directed one of his aides, Riyaz Khan to visit the site at the earliest.

"We stand with the affected families in this hour of grief," he said in a statement. The chief minister also directed the officials concerned to expedite the rescue efforts and use all resources available to ensure swift recovery of those still trapped in the rubble.

The rescue efforts continued till the filing of this report.