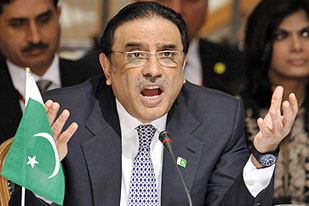 ---
President Asif Ali Zardari has committed high treason under Article 6 by holding two offices in violation of the Constitution, Advocate AK Dogar said on Tuesday.

A five-member full bench of the Lahore High Court (LHC) headed by Justice Ijaz Ahmad Chaudhry was holding proceedings of identical petitions filed by Pakistan Lawyers Forum, Engineer Ghulam Jilani and Asif Mahmood Khan Advocate. The petitions challenge President Zardari's act of holding two offices – the President and PPP co-chairperson.

The LHC bench directed counsel for the petitioners Advocate Dogar, to provide the court with all material including newspaper clippings, to prove that the President House was no more the symbol of federation and was instead being used as a centre of PPP activities.

In his arguments, Advocate Dogar said that according to Article 6 of the Constitution, any person who abrogates, subverts, suspends or holds in abeyance or attempts or conspires to abrogate the constitution, by use of force or by any other unconstitutional means shall be guilty of high treason.

He added that it is the duty of the courts to enforce the Constitution. Dogar said: "The government is committing contempt of court by not obeying the Supreme Court's (SC) orders on the Swiss cases, and appointment of Tariq Khosa for investigation into the Bank of Punjab scam." Dogar added that violation of the court order is also an offence committed under Article 6. On this, Justice Ijaz Ahmed Chaudhry said the SC would resolve the matter.

Dogar added that according to Article 43(2) of the Constitution, the President is also bound to resign from the membership of the parliament before taking oath.

"Every statement of the President seems as if he is speaking from the platform of the PPP," Dogar said.   "According to the Constitution the President is the symbol of federation and should not favour any specific party or be involved in politics," he added.

In his petition, Dogar requested that Zardari should be directed to surrender the office of co-chairperson of PPP or that of President of Pakistan.  The case has been adjourned until June 21.

Published in the Express Tribune, June 16th, 2010.