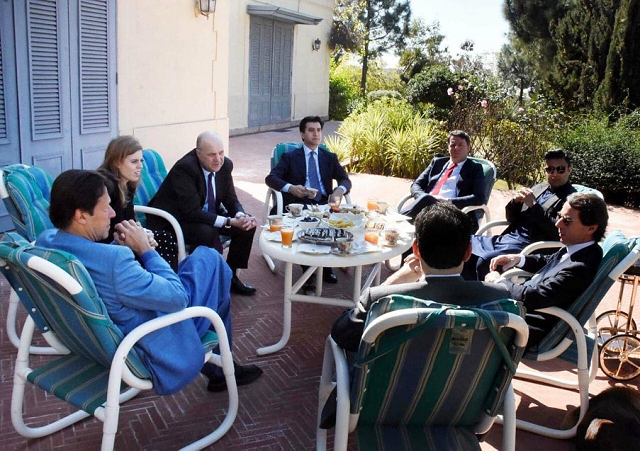 ---
KARACHI: British Royalty and former premiers of Spain and Itlay called on Prime Minister Imran Khan on the sidelines of their ski strip to the northern areas of the country.

The details of the trip emerged after PM Imran posted a photo of the visiters on his Instagram profile as he welcomed Princess Beatrice of York, ex-pm Spain Jose Maria Aznar and ex-premier Italy Matteo Renzi.

The photo also features Special Assistant to PM on Overseas Pakistanis Sayed Zulfikar Bukhari, Pakistan's honoury ambassador at-large for investment Ali Jahangir Siddiqui, Zia Chisti and Frederico Rigoni.




Princess Beatrice, who is ninth in line of success to the United Kingdom throne, is the first child of Duke and Duchess of York and fifth grandchild of Queen Elizabeth II. She is engaged to be married to British property developer Edoardo Mapelli Mozzi in May this year.

This is the second visit of British royalty to Pakistan since Imran Khan assumed office in 2018. Last year in October, Prince William and Duchess of Cambrige Catherine Middleton toured the country for five days.

Pakistan recently hosted the Karakorum International Alpine Ski Cup 2020 held at the Malam Jabba resort in Swat Valley, Khyber Pakhtunkhwa.

About 8,500 feet above the sea level, Malam Jabba is among the few skiing resorts in the country. Every year millions of tourists flock to the snowy peaks for recreation.

This year's ski event was attended by President Arif Alvi and other dignitaries while British High Commissioner Dr Christian Turner led the high commission's team that competed alongside a host of international skiers from countries including Canada, Greece, Ukraine, Afghanistan, Azerbaijan, Tajikistan, Timor Leste and Turkey.

More than 60 local skiers also participated in the tournament.

Referring to Pakistan as a "wonderful country", Turner appreciated the positive change in the northwestern region, despite the destruction caused by the Taliban.

"In a valley and resort associated with destruction by the Pakistani Taliban," he said. "It is fantastic to see the breathtaking scenery and how Pakistan is changing for the better."


Skiing in the Swat valley - honoured to lead 🇬🇧 team to 2020 Karakoram Alpine Ski Cup at #MalamJabba with @PresOfPakistan @ArifAlvi @OfficialDGISPR #GettingToKnow🇵🇰 cc @sayedzbukhari @KPGovernment pic.twitter.com/X4OxWS5j37

— Christian Turner (@CTurnerFCO) February 8, 2020