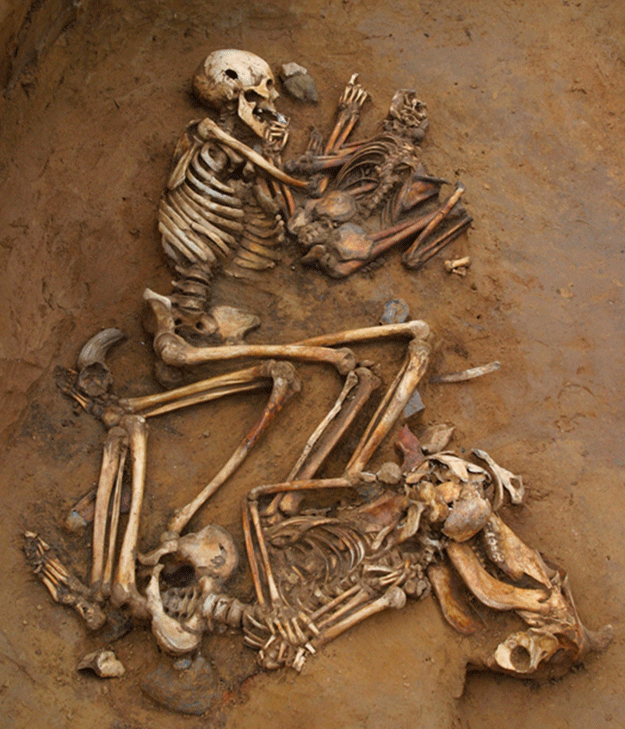 ---
KARACHI: The skeletal remains of a woman who had passed away around 12 years ago were found in a garbage heap in Karachi's Gulshan-e-Iqbal area in the wee hours of Thursday.

Upon the discovery, Johar police shifted the body to Jinnah Postgraduate Medical Centre for postmortem, later taking it to the Edhi morgue.

Gulistan-e-Johar SHO Shah Jahan Lashari told The Express Tribune that the woman, identified as 65-year-old Zakia Bibi, had died around 12 years ago, adding that samples had been sent for chemical analysis to determine the cause of death.

After her death, he said, Zakia's son Qaiser and daughter Shagufta kept the body in the apartment instead of burying it, while they themselves moved out of the apartment. Four months ago, he narrated, Qaiser had passed away, while Shagufta died 10 days ago.

On Sunday, Zakia's brother Mehboob Alam went to the apartment to clean it and discovered his sister's body lying on a mattress. He removed the body from the flat and dumped it in garbage near Nipa Chowrangi, added Lashari.

The SHO said that Alam told the neighbours and representatives of the apartment union about his discovery and informed them that he had thrown the body away. Residents informed the police, on which they arrested Alam and recovered the body.

Charred remains of three women recovered

According to Lashari, the children of the deceased were mentally ill, while Alam was also suffering from depression.

On the other hand, Alam told the media that he had not known that his sister had died.

"My nephew and niece had not been in contact with the rest of the family for many years," he stated, adding that they had both passed away recently as well.

"I do not know when my sister died."

He told that when he went to Zakia's residence three days ago, he found the body, which he threw away in order to clean the house.

CCTV footage revealed that Alam emerged from the apartment complex with the body wrapped in cloth, putting it in a car being driven by his son. The car drove away while Alam returned to the apartment.

Danish Kareem, the general secretary for the apartment complex, said that Zakia, a teacher, was last seen in 2008.

He disclosed that several complaints had been made about the stench emanating from the apartment, but nobody was allowed to enter. He added that union members tried to break the lock once, but were unable to do so.

A resident, Sarfaraz, stated that Qaiser and Shagufta previously used to come to the apartment multiple times a week and regularly paid the union fees, but had stopped visiting several years ago.