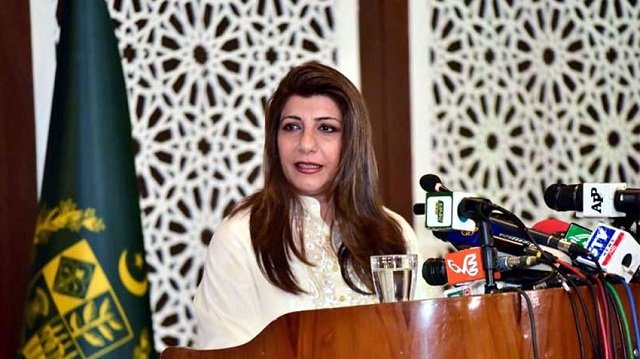 ---
ISLAMABAD: Pakistan on Thursday expressed serious concerns over the US' decision to sell an Integrated Air Defence Weapons Systems (IADWS) to India, warning that the decision would disturb strategic balance in South Asia with serious security implications for Islamabad and the region.

"Pakistan has seen the advance notice issued by United States Defence Security Cooperation Agency, notifying the State Department's approval of Foreign Military Sale to India of an Integrated Air Defence Weapons Systems (IADWS)," Foreign Office spokesperson Aisha Farooqui told the media at the weekly briefing.

"[The] sale of such sophisticated weapons system to India at this time is particularly disturbing as it would further destabilise the already volatile region," she warned.

She said the US decision would disturb the strategic balance in South Asia with serious security implications for Pakistan and the region.

She maintained that the international community was fully aware of India's aggressive policy designs against Pakistan and threatening statements of Indian political and military leaders.

"South Asia cannot afford an arms race and conflict. It is, therefore, incumbent upon international community to prevent further destabilisation of the region," Aisha said.

While expressing concern over the US arms sale to India, the spokesperson also warned the international community of a possible false flag operation that India may stage as a number of high-level visits are taking place in the region.

The spokesperson noted that there had been a consistent pattern in the BJP government resorting to some provocation or distraction around important international events.

"For a long time, we have also been warning the international community about the possibility of some false flag operation by India," she said.

"We are concerned about the possibility of India seeking to create some distraction during the forthcoming high-profile visits to the region, i.e. President Erdogan & UNSG to Pakistan and President Trump to India," Farooqui told reporters.

She said such provocations were obviously designed to divert global attention from India's state-terrorism in IOJ&K as well as from Pakistan's ongoing successful efforts in the counterterrorism arena and with respect to fulfillment of our obligations under the FATF regime.

"The RSS-inspired BJP government's tactics have become all too predictable; and are being called out and shamed even inside India," she further said.

While calling upon the international community to beware of any such irresponsible and ill-considered step by the current Indian regime, Pakistan maintains and unwavering resolve to: (a) respond most effectively and immediately to any Indian provocation; and (b) continue our march on the path to national development and regional peace and stability.

The spokesperson hoped that US President Donald Trump during his upcoming visit to India would raise the issue of Kashmir.

"President Donald Trump has offered mediation on the Jammu & Kashmir dispute on several occasions," she said, adding, "We hope to see those offers being translated into practical actions.

"We hope that the dispute of Jammu & Kashmir will be raised during President Trump's visit to India. Non-resolution of the dispute is one of the destabilising factors for peace and security in the region."

FATF meeting

Answering questions, the spokesperson said Pakistan's measures to curb terror financing and money laundering had been widely acknowledged by the international community.

"We are certainly hopeful and working closely with our partners in the international community in this regard," she said.

The plenary meeting of FATF is scheduled to kick off in Paris next week. One of the agenda items of the global watch dog on terror financing and money laundering includes discussing Pakistan's performance of the 27-point action plan.

Pakistan was placed on the 'grey list' in June 2018 after failing to take adequate steps to curb terror financing and against proscribed organizations.

Since then Pakistan has made progress on certain points. Officials are hopeful that the recent conviction of JuD chief Hafiz Saeed will help strengthen Pakistan's case.