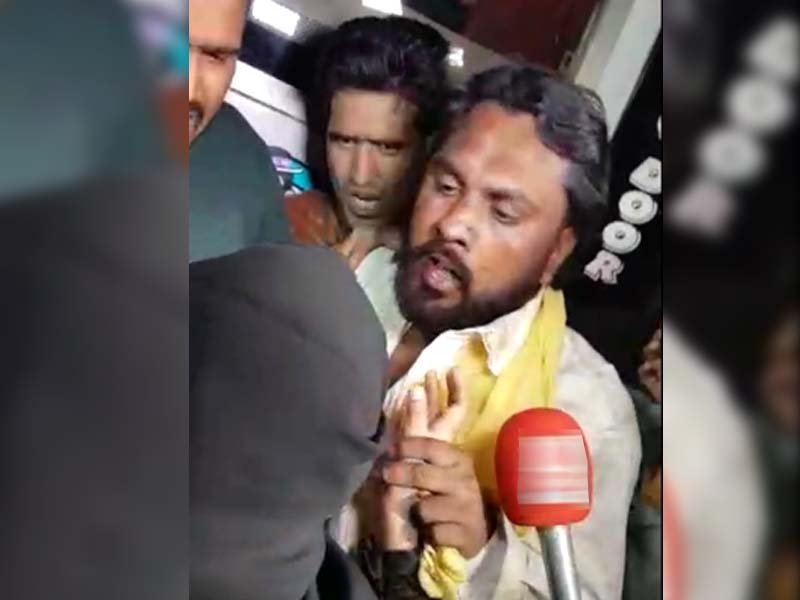 ---
KARACHI:

A man was beaten up by his first wife and her family at his wedding reception in a marriage hall at Sakhi Hassan Chowrangi, on Monday night. Reportedly, the groom's first wife Madiha gate-crashed his wedding reception with her family and brought to guests' attention that the groom, Asif Rafiq, is her husband, whom she had married in 2014.

Madiha claimed that Rafiq had married another woman, an employee of Jinnah University, without her consent, adding that when she found out about his second marriage, he apologised to her promising of only staying with her. Madiha claimed to have forgiven him only to have him leave her at her parents' house in Orangi Town and remarry once more.

Madiha and her family brutally thrashed Rafiq during the reception and tore his clothes, leaving the man to cover himself up with a table cloth. The Taimuria police arrived on the scene and arrested Rafiq after allegedly beating him, also.

When Madiha and her family arrived at the police station, they were expelled from the station under the claims that they had been interrupting the police procedure.

28 men get wives' nod for second marriage in 2018

Taimuria Police SHO and a duty officer have reportedly stated that the Central SSP has strictly ordered to keep the media and any irrelevant individual out of the police station. Meanwhile, while talking to the media, Madiha claimed that police is providing security to Rafiq and the SHO has offered him a seat inside the office. She suspected that the police would set Rafiq free after collecting bribe.

When the police station's gate opened, Rafiq tried to escape but Madiha's family and the people present around chased him down while calling him a 'thief'. As a result, Rafiq had to hide under a coaster parked near Landi Kotal Chowk, eventually being caught and beaten up once again and finally being recused by local hotel staff.

According to Rafiq, he had allegedly divorced Madiha, adding that he therefore does not require anyone's permission to remarry as he is not doing anything illegal.  "It is my right to marry four women at the same time," he asserted.

Police officials have stated that the do not have the authority to carry out any legal action against Rafiq, as it a civil dispute. Maintaining that, Madiha and Rafiq can approach the court on the matter.

Meanwhile, a letter has been issued for the medical examination of the torture inflicted upon Rafiq, and the police will register a case against whoever Rafiq nominates after the examination is completed.


First wife thrashes husband at his third wedding in Karachihttps://t.co/BYqSFASNIL pic.twitter.com/sJOj54eYcl

— The Express Tribune (@etribune) February 11, 2020