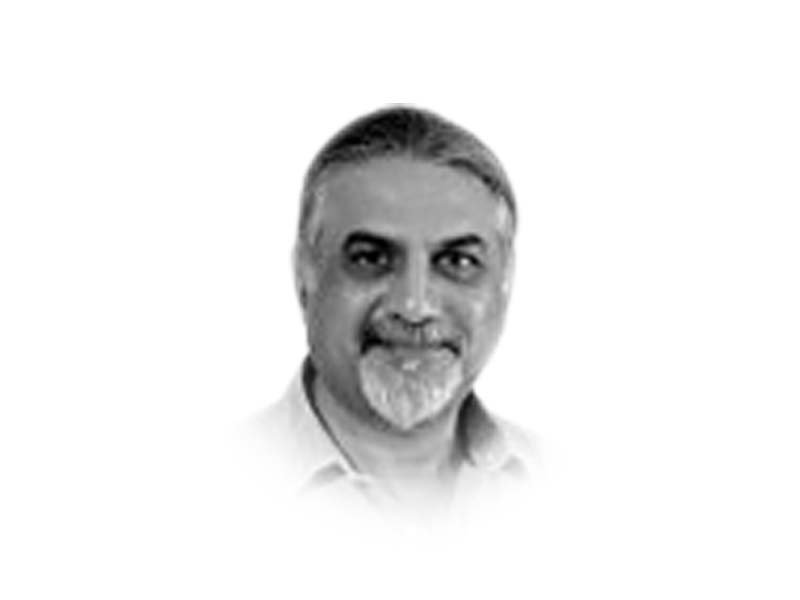 ---
Leon Festinger (1919-1989) was an American psychologist who theorised that "people attempt to change their abilities and opinions if they are not satisfied with their self-evaluation". In an another theory which he called 'cognitive dissonance', he proposed that "people are not so much influenced by a need to be correct as they are influenced by a need to be consistent." We all react to opinions and mostly do that on the scale of 'good' to 'bad' but there are times when opinions expressed are socially so unfitting that the only scale used for their judgement can be from 'correct' to 'incorrect'.

Pervez Amirali Hoodbhoy who is a nuclear physicist and a distinguished professor was over the last weekend invited to speak in Adab Festival at Karachi's Art Council. Mr Hoodbhoy may have had his own experiences and some of them it seems are bitter because he is somebody who seems to be unsatisfied with his Festinger claimed 'self-evaluation'. He was called to speak on the subject of 'battle of Pakistan's narrative' but ended up talking about our identity and nationalism. Too confused himself on why, how and who we are, he ended his talk by using the famous line that these days sounds music to the ears of our enemies, saying, "this was a country not made for the Armed forces of Pakistan, this is a country made for its people."

Some of the other claims he made were, "Pakistan is a state of confusion because it was born in a state of confusion"; "Muslims formed a separate nation" for him was an idea that was "nonsensical"; "Jinnah was never able to put down what Pakistan was to be as he didn't have an idea about Pakistan"; "In 1971 the Two Nation theory went into the Bay of Bengal". He also claimed that as a state we don't need an ideology and gave the examples of Holland and Japan that they are doing well because they don't have an ideology. Ending his speech by saying that normal countries don't have ideologies and becoming normal means you don't survive but thrive.

We all make choices and 'going along' or 'not going along' is also a choice we make but what determines the correctness and incorrectness of our choice is the social acceptance of the option we take. The few claps that Mr Hoodbhoy heard in the hall on his speech is not the reflection of that social acceptance, the true social non-acceptance of his ideas is the general resentment that his words have caused to a great majority of people in Pakistan.

Not satisfied with their 'self-evaluation' people tend to be different to get noticed. Those like Mr Hoodbhoy who experience frequent media exposures know the value of sounding different these days no matter how incorrect their opinion making is. The 'undesirable conformity of ideas' of this typical type of a group in Pakistan is challenging the very ideals on which the foundations of this nation state was laid. Why doesn't the state provide them a ticket to board a flight and go to places where there is no confusion, no ideology, and no nation? Who cares even if such people with these ideals leave Pakistan and search the very Bay of Bengal for a living, where they think the two nation theory is buried?

This is a country created by our great ancestors, dreamed about by our great national poet and scholar of international repute Dr Allama Iqbal and given the shape of reality by none other than our Father of the Nation, Quaid-e-Azam Muhammad Ali Jinnah. We travelled a long way as a nation, saw many ups and downs we yet stood up resiliently against all odds to defend and protect our identity, independence and sovereignty. Few hate speeches such as the one delivered by Mr Hoodbhoy cannot dampen our resolve to maintain and sustain a nation state that we acquired after giving huge sacrifices.

I have personally never opposed the holding of or expression of an opinion at variance with the general community or the state as something odd. This 'variance' or 'deviance' of opinion has actually been at the heart of all evolutions that take place in almost all domains — political, social economic or military. 'Paths are made by travelling' and the world's longest roads and the most frequented highways must once have been unbeaten tracks. Yet someone made a choice to be the first to discover and travel on them. Choices and ideas that are variant can be different or bad but they must not be incorrect.

Armed forces of Pakistan are our eventual safeguard against both the internal as well as external aggression. Individual of mediocre or poor skills could indulge in military bashing but not a nuclear scientist. Who appreciates threat, defines it and meets it by maintaining balance both at the operational and strategic level? As a nuclear scientist could Mr Hoodbhoy explain what role the people of Pakistan can play if they don't have a professional military that balances against the ever-evolving Indian threats of Cold Starts, surgical strikes, Cruise Missiles, Ballistic Missiles, sea-based capabilities and a huge land army? And are our soldiers not the people of Pakistan? Are they not the specialists in their profession like so many other people are in many other professions? What Mr Hoodbhoy should have actually spoken about was why the other institutions could not catch up with military in developing a transparent and across-the-board mechanism of welfare and relief not only for its living but dead (shaheeds). Maybe he could have spoken about the proliferation of politics of nepotism, patronage and corruption that thrived and held back the evolution of other institutions. Mr Hoodbhoy could have challenged the wisdom of not managing this country well over the decades but for him to challenge the very basis of its creation is disgusting, revolting and academically incorrect.

Mr Hoodbhoy gave the example of Japan that it doesn't have any ideology and that it thrives while we only survive. Japan was an imperial power and was defeated and the Americans occupied it and remade it in its own image. Yes, Japan became an economic giant and also democratised but only after it outsourced its security to USA. But geopolitics is not something that a physicist or a nuclear scientist can relate to. If he could, he would know how difficult it is to survive when squeezed between two unfriendly neighbours. The cold truth is that even Japan wouldn't be Japan if it was not an island and it switched its place with us.

Lastly, history stitches and binds the nation with the state. We in universities teach it to our next generations with great responsibility. Distorting it amounts to unstitching the very seam that binds and holds the nation together.

Published in The Express Tribune, February 9th, 2020.

Like Opinion & Editorial on Facebook, follow @ETOpEd on Twitter to receive all updates on all our daily pieces.
COMMENTS (2)
Comments are moderated and generally will be posted if they are on-topic and not abusive.
For more information, please see our Comments FAQ