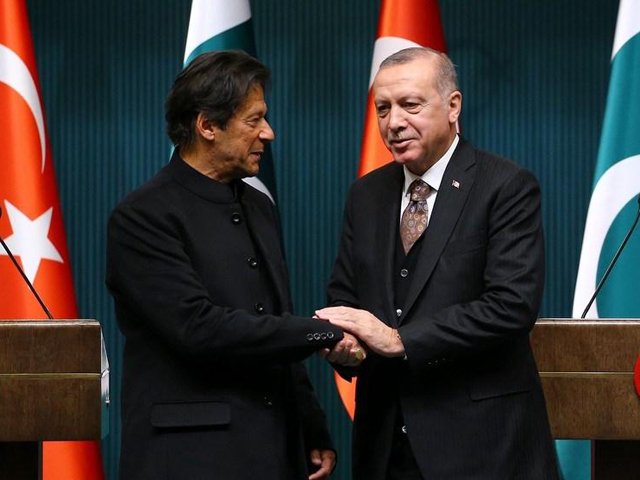 ---
Turkish President Recep Tayyip Erdogan would address the joint parliament session on February 14.

Confirming the Turkish president's address, National Assembly Speaker Asad Qaiser said Erdogan would also hold talks with various parliamentary leaders on various matters.

Earlier on Tuesday, it was reported that President Erdogan is scheduled to visit Pakistan on February 13.

Saudis pressure forced Pakistan to skip KL summit: Erdogan

In an interview with the Turkish news agency, Anadolu, Prime Minster Imran had hoped that Erdogan's visit would further strengthen bilateral ties between Islamabad and Ankara.

"Well, we are expecting President Erdogan in the middle of February and when he will arrive, he will bring opportunities for the business sector," he told Anadolu Agency. "We will have Pakistani businesses and investors meeting their Turkish counterparts."

PM Imran said the idea was to enhance trade. "There are various areas where Turkey can help Pakistan for instance in the mining sector. Pakistan is a country which is full of minerals, but we have not excavated, explored these various minerals like gold and copper."

The premier emphasised that mining was one area he wanted to stress upon during Erdogan's visit but there were others too. "We want technology transfer from Turkey in various areas. So, it will be quite a comprehensive visit. All sorts of ways of economic ties will be discussed, apart from, of course, our strategic and diplomatic ties."

The Turkish president was supposed to visit Pakistan last year in October but the trip was postponed last minute.

Pak-Turk ties

Islamabad's ties with Ankara suffered due the last minute back out of the Kuala Lampur Summit (KL Summit) in December 2019.

PM Imran meets Erdogan, reaffirms appreciation for support on Kashmir

Pakistan initially confirmed its participation at the summit but changed its mind after Saudi Arabia and other Arab countries voiced concerns over it. Riyadh viewed the summit as an attempt to create a new Islamic bloc.

Islamabad made frantic efforts to convince the Saudi leadership to join the moot but could not bridge the differences between Kuala Lumpur and the oil-rich kingdom.

During the summit, Erdogan told Turkish media that Riyadh pressured Imran to shun the KL Summit by threatening to send 4 million Pakistani workers back and withdraw billions of dollars from the State Bank of Pakistan (SBP).

Erdogan said he wanted both Pakistan and Indonesia to be present in the Malaysian capital but Saudi Arabia and the United Arab Emirates' (UAE) affected their absence.
COMMENTS
Comments are moderated and generally will be posted if they are on-topic and not abusive.
For more information, please see our Comments FAQ