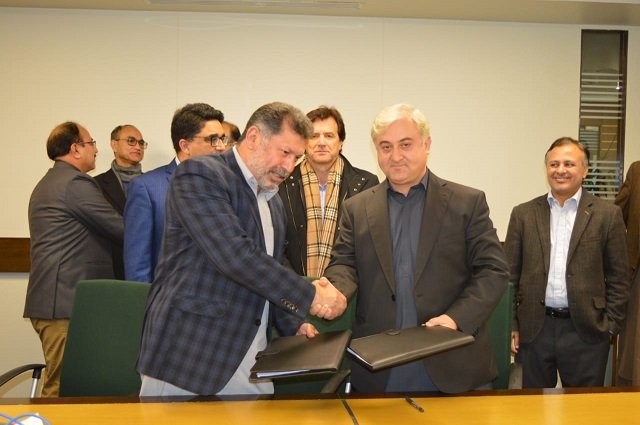 ---
GILGIT: The Gilgit-Baltistan (G-B) government on Sunday signed an agreement to develop agricultural land through construction of water channels in parts of the mountainous region .

The pact was signed by the government through its project Economic Transformation Initiative, Gilgit-Baltistan (ETI-GB) with Aga Khan Rural Support Programme (AKRSP) in Islamabad.

"This is a five-year project worth Rs295 million meant for moblisation of community for various development related activities," said Programme Coordinator of ETI-IFAD Dr Ahsanullah Mir, who signed the agreement on behalf of the government.

According to officials, through this initiative 'Village Agriculture Cooperatives' will be formed and registered. Since the project of ETI-G-B entails development of agricultural land through construction of water channels, the AKRSP in partnership with the local community will distribute, develop and cultivate land.

National emergency declared to combat locust

Speaking on the occasion, Vice Chairman AKRSP Javed Iqbal emphasised that the "initiative will be impactful with the partnership of the government of Gilgit-Baltistan and ETI-GB".

Hoping that the project would introduce key innovative, Country Programme Director for Asia and Pakistan Hubert Boirard said that the "innovations will serve as a a new experience for local people".

Ibrar Hussain, additional chief secretary and secretary planning and development G-B, expressed his gratitude to see the government and development sector making synergies for the uplift of the region.

With participants believing that the success of project lies on the innovation and relevancy, CEO-AKF Akhtar Iqbal reiterated that the Aga Khan Development Network's commitments for the development of Gilgit-Baltistan. Synergies like ETI-GB and AKRSP is sighted as an effective pathway to sustainable progress.