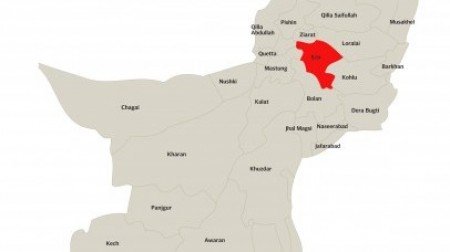 ---
QUETTA: The Balochistan government does not plan to segregate Harnai from Sibi division, a provincial minister has said.

"Those spreading rumours about the exclusion of Harnai from Sibi division only want political mileage but their attempts would be foiled," Public Health Engineering and WASA Minister Haji Noor Muhammad Dummar said at a news conference in Harnai.

The minister also pledged his full support to the movement seeking the restoration of Harnai district's provincial assembly seat.

"I won't allow the separation of Harnai from Sibi division and support the restoration of the district's provincial assembly seat," he said.

"In the last census, factors like the law and order situation were not taken into account and the figures do not show the actual population of Harnai district. It was merged with Ziarat for the provincial assembly seat," Dummar noted.

The minister also pledged to have the train service between Harnai and Sibi restored on a priority basis. "I will meet the railways minister to discuss the Sibi-Harnai railway track," he added.

Dummar said the provincial government had allocated funds for supplying electricity to the people of Harnai and the problem of power outages would soon be overcome.

The minister said the people of Harnai were the owners of their natural resources.

"I will meet with the federal petroleum and gas minister to discuss Harnai's gas supply from newly discovered gas reservoirs in Zarghoon Ghar."

Speaking at a separate event, the minister said the participation of the youths of Ziarat and Harnai districts in sports was a welcome sign.

"I will try my best with the resources available at my disposal for the establishment of sports grounds in my constituency," Dummar said while attending as the chief guest of a cricket match between Akhtarabad Zalmi and Kadoran Tigers in Harnai's Taakas area.

The minister said the government had allocated funds to set up various stadiums in all districts to promote sports.

Dummar gave cash prizes of Rs5,000 each to both the cricket teams and announced Rs10,000 for the cricket tour nominating committee.

Tribal notables including, Haji Jan, Chairman Abdul Baqi Tareen, Abdul Nasir Advocate and representatives of all union councils were present on the occasion.

Published in The Express Tribune, January 29th, 2020.
COMMENTS
Comments are moderated and generally will be posted if they are on-topic and not abusive.
For more information, please see our Comments FAQ