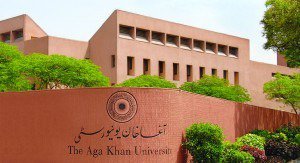 ---
The Centre for Innovation in Medical Education (CIME) at the Aga Khan University (AKU) has been accredited by the US-based Society for Simulation in Healthcare (SSIH). It is the first institute in South Asia, offering simulation-based education, to have been accredited by SSIH.

Speaking about the development, AKU President Firoz Rasul said CIME was founded with the vision to introduce state-of-the-art learning technologies to raise standards of healthcare education in the country. "There are simulation centres around the world that have been operating for decades without achieving accreditation from SSIH," he said, adding that it is a milestone for CIME to be recognised within two years of its formal inauguration.

"We're pleased to recognise CIME for meeting the highest standards in the practice of simulation in healthcare," said SSIH Director of Accredition  Kristyn Gadlage, lauding AKU for this achievement. "AKU now joins the ranks of over 170 institutions from 19 countries," she added.

As a pioneer in healthcare simulation in Pakistan, CIME is country's only facility offering aspiring doctors, nurses, dentists and allied health professionals collaborative work opportunities on a range of challenging, technology-enhanced patient scenarios.

Published in The Express Tribune, January 22nd, 2020.