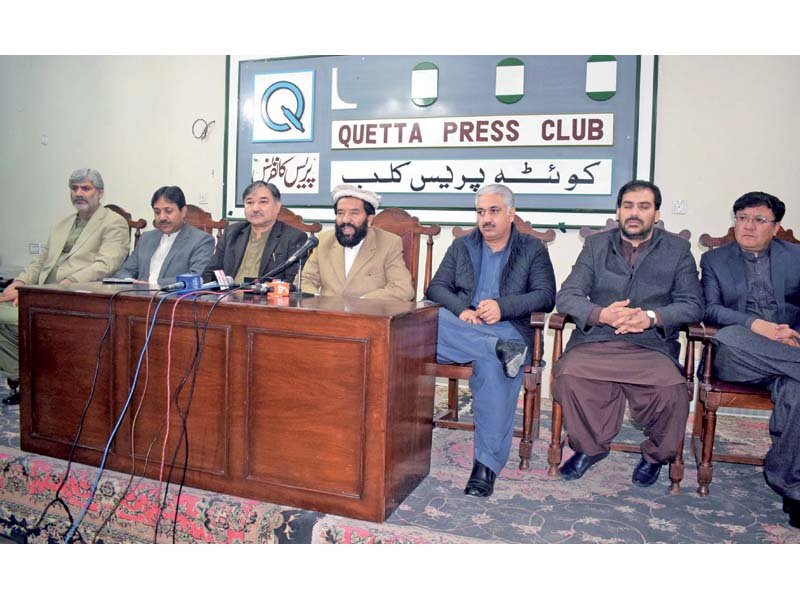 ---
QUETTA: The opposition members of Balochistan Assembly and an aide to the chief minister on Thursday announced protests against Sui-Southern Gas Company (SSGC) and Quetta Electric Supply Company (QESCO), threatening suspension of gas supply to the rest of the country from Sui if the power crisis is not resolved.

Addressing a joint news conference at Quetta Press Club, Opposition Leader Malik Sikandar Advocate, Chairman Public Accounts Committee Akhtar Hussain Langove, Adviser to the CM for Sports and Culture Abdul Khaliq Hazara, Nasrullah Zeeray, Ahmed Nawaz Baloch and Mubeen Khilji alleged that the centre was not addressing the concerns of Balochistan, demanding of the federal government to 'change its attitude.'

"When people of Quetta city are deprived of gas and electricity in the freezing temperatures, we can imagine the plight of people living in other cities of Balochistan," said Malik Sikandar Advocate while addressing a press conference, lambasting SSGC and QESCO for 'pestering citizens'.

The opposition threatened to stage protests with citizens on January 19 if SSGC and QESCO do not restore electricity and gas supply in Quetta, adding that if the demands are not met, they would suspend the gas supply to rest of the country from Sui.

At least 9 members of the provincial assembly met QESCO officials and discussed unannounced electricity breakdown while the latter pledged to install 10 further feeders in the province.

"It is QESCO's responsibility to replace damaged transformers but instead of providing relief to the people in winters, it is causing electricity and water crisis in the capital," Sikander Advocate added.

Criticising SSGC officials over low gas pressure in the capital that has made people's lives miserable, the opposition and cabinet members asked the company to shut down its offices in Balochistan if "they cannot restore the gas supply. "

"Low gas pressure has caused 12 deaths in the provincial capital in one month but the SSGC does not take any serious steps to address the issue," said the members of the provincial assembly as they announced protest outside SSGC office on January 19.

Citing Federal Minister for Energy Omar Ayub and senior PTI leader Jahangir Tareen's visit to Quetta in November last year, Adviser to the CM for Sports and Culture Abdul Khaliq Hazara said the gas pressure was initially normal for three days but since their return, the situation has worsened and the citizens of Quetta remain deprived of natural gas.

Chairman Public Accounts Committee Akhtar Hussain Langove said the opposition and government members have set aside their political differences and launched joint efforts to ensure provision of gas and electricity to the masses.

"During the recent snowfall when the mercury dropped to -8 degree centigrade, people of Quetta did not have gas. It is tantamount to oppression of the people," Langove said, adding that provincial leaders will not allow their gas to light up stoves of other provinces while their own people continue to suffer and remain deprived of it.

29 gas supply schemes

Meanwhile, the Sui Southern Gas Company (SSGC) said it is executing around 29 schemes to provide gas to newly developed localities in different parts of Balochistan.

"Currently, around 29 schemes having length of 42 kilometers [for laying transmission pipelines] are under execution to provide gas to new villages [in Balochistan]," a senior official told APP.

He said as many as 209 schemes had been approved for gasification of newly developed areas in the towns and villages where gas facility was already available, under which a network of 101-kilomter pipelines would be laid.

Currently, the official said, gas was being supplied to 19 towns and 643 villages in the province of Balochistan, with the customer base of around 280,000.

According to a report, the SSGC and Sui Northern Gas Pipelines Limited (SNGPL) were expecting that they would provide gas supply to approximately 430,695 new consumers during the fiscal year 2019-20.

Besides, they had planned to invest Rs7,161 million on transmission projects, Rs 48,288 million on distribution projects and Rs 18,556 million on other projects during the year. (With additional input from APP)

Published in The Express Tribune, January 17th, 2020.