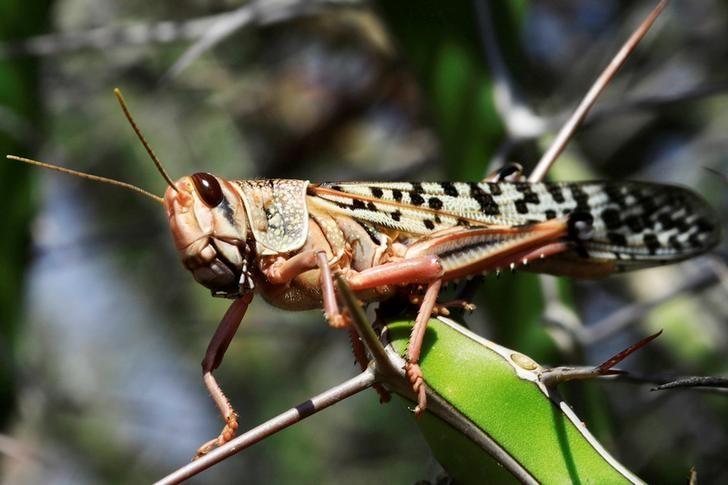 ---
ISLAMABAD: Pakistan recently faced a fierce desert locust attack and declared a locust emergency. Desert locusts are a collection of certain species of short-horned grasshoppers in the family of Acrididae.

They are one of the most harmful insect pests which, if unchecked, can play havoc with the agricultural economy of a country. They are international/ trans-boundary insect pests of crops and vegetation in Afro-Asian countries from Morocco across Africa and Arabian Peninsula to Iran and then to Pakistan, India and vice versa.

While migrating from one to other part across the continents, they destroy any green vegetation coming in their way. Pakistan lies on the route of migratory locust swarms, both from west and east.

From the western side, Pakistan faces the locust swarm attack coming from Iran, in Balochistan, while from the east coming from Indian Rajasthan, locust swarms enter Cholistan and Tharparkar deserts.

Being a periodical phenomenon, locust attack happens in decades and Pakistan has recently witnessed it after 27 years since the last attack in 1992.

Desert locust swarms invaded Saudi Arabia in January 2019, from where, despite adequate control measures, the undetected and uncontrolled gregarious locust adults migrated towards Iran in February 2019.

Ecological conditions were also conducive in Iran for locust breeding due to heavy rainfall, allowing them to lay eggs and increase their numbers.

In March 2019, locust swarms migrated from Iran to Balochistan. Despite control efforts in Balochistan by the Department of Plant Protection (DPP), the locust swarms started moving towards the summer-monsoon breeding zone of Sindh and Punjab in June 2019.

After summer breeding in Thar, Nara and Cholistan deserts of Sindh and Punjab, the locusts migrated to the Indian Rajasthan desert in July 2019 and re-entered Tharparkar in Sindh between October and November 2019.

The lifecycle of all species of locust has three main stages ie egg, nymph and adult locust.

History

Locust attacks continued to happen at irregular intervals with the main recorded outbreaks of the desert and migratory locusts occurring in Africa, the Middle East and Europe in the past two decades.

Locusts caused havoc in North and South America, Asia, Australia and even China. In Damascus, Syria locusts destroyed crops and ate most of the green vegetation in the countryside.

Desert locusts were also found in western USA and parts of Canada as early as 1875, where swarms covering an area of 198,000 squares miles attacked and destroyed vegetation.

In Asia, the locust swarms are formed in the Middle East and Africa and they travel to the east to Pakistan through Saudi Arabia and Iran. Pakistan faced locust attacks in the past, the worst being in 1952, where a single swarm size was over five km long and more than three km wide.

Locust control

Being gregarious, locust swarms are very difficult to control, however, various control measures are used to contain and control the insects.

Surveys and early warning are the best tools for effective control of locusts and to minimise the damage. Locust control is beyond the means of ordinary citizens and they could do little to protect their crops from being devastated by the insects.

Scattered efforts for monitoring and control were made in the 19th and early 20th centuries, locusts were crushed, traps were used to catch them and soil ploughed to discourage egg hatching but these piecemeal efforts proved ineffective to control large swarms.

In the 50s, chemicals such as organochloride dieldrin were used for locust control that proved more effective. However, excessive use of pesticides is objected to by the environmental watchdogs as most of these chemicals are banned under various chemical conventions.

As locusts move from one place to another and their swarm size is quite large, it is very hard to control them through manual means of spraying. Therefore, vehicle-mounted spraying machines are used for ground control and aeroplanes are used for aerial dusting.

Climate change and weather conditions play an important role in locust breeding. Increased rainfall in southern parts of Pakistan in the summer season helped in locust breeding and increasing their population. Therefore, controlling locusts became very difficult for the departments concerned.

Consequently, their stay and damage to crops also increased in Sindh and Punjab that grow offseason vegetables and economically important crops.

The recent tomato shortage was partly because of the locust attack in parts of Sindh that produce offseason tomato.

Several organisations around the world monitor the threat from locusts, however, the Food and Agriculture Organisation (FAO) is the lead agency, helping regions and countries through an extensive network of offices and giving early warnings across the world.

The FAO also helps member countries in capacity building for locust monitoring and control besides providing technical and financial support during a locust emergency.

Locust update by FAO

The recent locust attack in Africa and Asia was regularly monitored by the FAO, which reported that despite intensive control operations, hopper bands and swarms continued to form along both sides of the India-Pakistan border where an unprecedented third generation of breeding started in November.

Some swarms began their seasonal migration westwards with a few crossing the Arabian Sea to northern Oman while groups had already appeared in southeast Iran.

In the Horn of Africa, swarms were formed in Ethiopia and moved northwards, reaching the Red Sea coast of Eritrea where breeding was under way and at least one swarm crossed the Red Sea to Saudi Arabia.

Other swarms in Ethiopia moved east towards the Ogaden, supplemented by additional swarms from adjacent areas of northern Somalia where large hopper bands were formed. More swarms were expected to be formed and move to Djibouti, the Ogaden, southern Somalia and perhaps northeast Kenya.

A few swarms were formed on the Red Sea coast in Yemen and moved north to Saudi Arabia in November 2019. Adult groups and a swarm formed in the summer breeding areas of Sudan appeared on the Sudanese Red Sea coast.

Winter breeding along both sides of the Red Sea will cause locust numbers to increase further and hopper bands could be formed in some places.

The writer is a PhD in natural resources management and is a civil servant

 

Published in The Express Tribune, January 13th, 2020.

Like Business on Facebook, follow @TribuneBiz on Twitter to stay informed and join in the conversation.