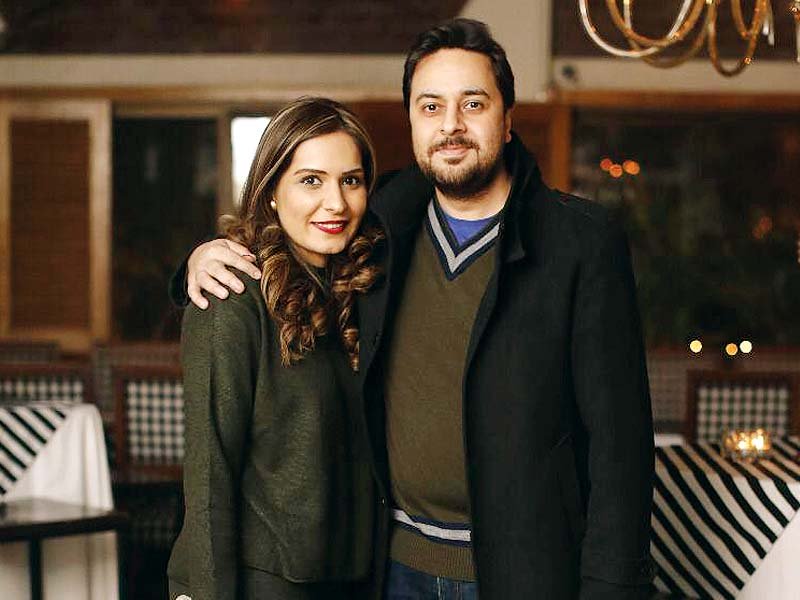 ---
Sarfraz Niazi and Sarah Sarfraz is a happy couple who inspires one another and are devoted to their family. Sarfraz is a director/ Partner at Jbnjaws Productions and is also a creative director of ThinkEpic agency. Known for his incredible sense of humour, which is the core ingredient of Epic's latest production, 'The Epic Show', being hosted by Sarfraz Niazi himself. On the other hand, Sarah is a homemaker but takes complete interest in her husband's work. The couple's marriage is an example of how a couple should live and travel together!

How and where did you both first meet?

Sarfraz: Well we met formally, so it was at Sara's place and our parents were thinking of an arranged marriage but we decided to take a more romantic turn and eventually tied the knot instead of going for an engagement and wasting money and to save my hair that was getting thinner.

Sarah: My sister-in-law saw me while travelling by Daewoo and sent a formal proposal. That is how we first met each other.

What did you like/ dislike about each other in your first meeting?

Sarfraz: Disliked actually nothing, fortunately the food was cooked by my mother-in-law- just kidding, but in the first meeting I think it was the mutual click.

Sarah:  I fell for how focused and good looking he was back then.

How long did it take to decide that he/she was the one you wanted to marry?

Sarfraz: I agree, I took my time and she was there, like hanging in believing that I won't be distracted. Actually when my elder sister got married, for almost six years I was living with my parents and was used to my freedom, living in my space, no questions asked , being an event manager and then traveling all around the world with Ali Zafar, so life was a rollercoaster. But then I wanted to move on and was ready to be more responsible and own it, the decision to tie the knot was within days. Almost 10 years now MA.

Sarah: Quite long actually as Sarfraz wasn't ready to come out of his bachelor mode that easily, I guess around a year.

How do you demonstrate your love in different ways?

Sarfraz: Always blamed for not being expressive, which is true to an extent, I am the one who is not very vocal about our relationship on social media, or taking flowers home, or putting up statuses etc, however my way of love is being extra thoughtful, planning trips, big pleasant surprises, unexpected gifts, making sure giving ample time to family.

Sarah: I like to demonstrate my love on a daily basis doing small gestures for him where as his idea of love is showing care in more substantial ways.




What frustrates you most about your partner?

Sarfraz: The fact that after almost 10 years she still expects (like almost everyday) to be extremely expressive and romantic. I guess I am romantic after all don't forget I am Gemini.

Sarah: The fact that he isn't expressive or romantic at all.

Who makes up first if you have a fight or argument?

Sarfraz: Blessed that it's rare that we fight, most of the time the heated words are exchanged over kids issues, otherwise I am a peace loving soul, but on a serious note we both believe in individual space, and respect that, also this is true that Sarah is the one who makes up first, she cuddles.. I guess she finds me very cute.

Sarah: We hardly fight though MashAllah but if we do, I guess I am the one who makes up first.

One thing you love about each other?

Sarfraz: We do understand that we are two different individuals, souls who have/had their own life, friends, likes/dislikes etc, hence we respect the space to breath, avoid suffocation, support and empowering each other, Together we have a beautiful relationship, I guess she values me as a husband and a father, and I value her as a wife and a mother and as a couple we are making a sincere effort in doing justice in keeping a balance in all relationships... all this requires a lot of patience also btw.

Sarah: The fact that we both have given each other the personal space that we require.




Something you would want to change about your partner?

Sarfraz: Change is the only constant thing in life, but I am happy and content with the way she is, I am not a very demanding person.

Sarah: I wish he'd be more expressive and vocal in our relationship.

Something you two have in common?

Sarfraz: We are very blessed to have our own good friends, mine are like brothers, common I would say food, watching films, music, spending quality time with our kids, and yes travelling. By nature we are both composed and not very hyper.

Sarah: The love for food and travelling.

Who keeps the room the tidiest?

Sarfraz: Although I feel I do but this is not a scoring game and history will prove that I surrendered.. She does.

Sarah: My husband thinks he does, whereas I disagree.

Your best memory together so far?

Sarfraz: We are fortunate to travel a lot and that means a lot of memories to cherish, but nothing when compared to the birth of our kids. Also when we performed Umrah back in 2016 is the best spiritual memory so far.

Sarah:  I think the birth of our first daughter Khadija.

Your greatest strength as a couple?

Sarfraz: I think we respect each other's wishes. And uphold the trust especially in the absence. Plus we are forgiving.

Sarah: Mutual respect.

Describe your relationship in three words?

Sarfraz: Blessed, bilss and happy!

Sarah: Trust, blessed, and beautiful.