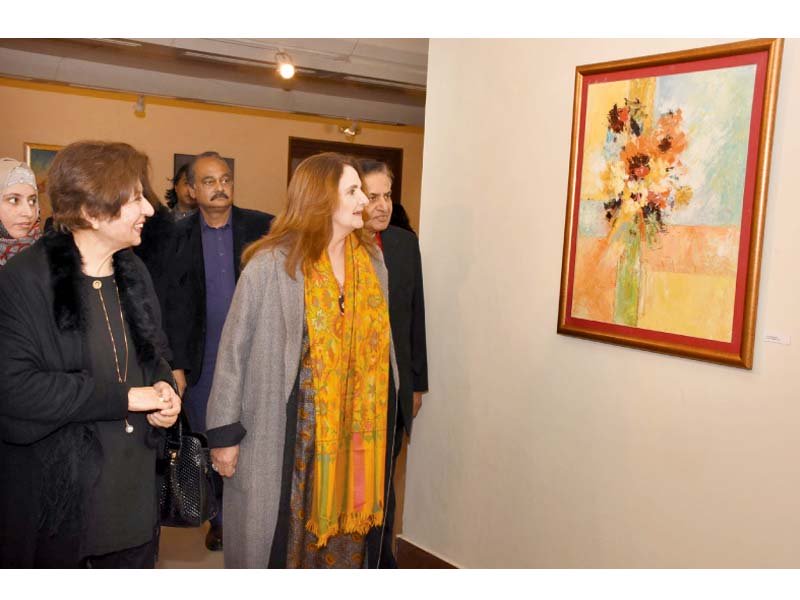 ---
ISLAMABAD: People, places and objects all help create a world. But what really adds life to each scene, the element which helps retain a flavour or a landscape is not just what is in it, rather the colours that overload our senses.

This is what perhaps can be best used to explain is what helps "define the moments" for veteran artist Nusrat Ji. Her solo exhibition of paintings, titled 'Defining Moments' opened for the public at the National Art Gallery on Monday. The exhibition was inaugurated by the First Lady Samina Alvi.

An impressionist artist who tries to set semi and sometimes fully defined shapes in more abstract settings, almost all of Nusrat's work has been oil on canvass — that staple of most artists from the post-impressionist school. She is finely skilled in manipulating the two-dimensional surfaces and puts it on full display in her pieces.

Nusrat, though, stays close to natural and earth tones but she is not shy to delve into other colours of the spectrum, especially when painting landscapes in her traditional style including a sunset through the woods, horses galloping. The colours not only add vibrancy to the image but her colour pallet helps lend infectious energy to her pieces which speak to the viewer.

She assembles these elements filtering through memory and experience using colour and tone, flatness and depth, underpinned by an elusive linear structure.

Nusrat Ji's work invites open communication with her perception and the viewer's ability to grasp it.

What made the exhibition more interesting was that for her piece with the sunset in the woods, next to it on a pedestal stood what looked to be like an Ikebana arrangement resembling the painting. The three-dimensional aspect that the arrangement lent to the piece helped make it more fulfilling.

She also broke from her usual muse of horses, landscapes and still life to paint a sporting portrait of Prime Minister Imran Khan.

After the opening ceremony and giving first lady Alvi a tour of the gallery, Nusrat Ji gifted a painting to the first lady – a full-size canvas of her trademark horses.

Alvi, meanwhile, praised Nusrat Ji's unusual impressionistic style.

Published in The Express Tribune, January 7th, 2020.
COMMENTS
Comments are moderated and generally will be posted if they are on-topic and not abusive.
For more information, please see our Comments FAQ