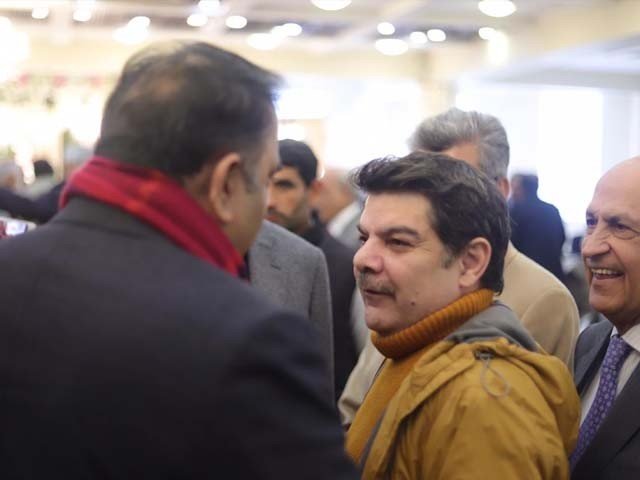 ---
Federal Minister for Science and Technology Fawad Chaudhry has admitted that he had slapped TV anchor Mubasher Lucman at a wedding for linking him with TikTok sensation Hareem Shah on his show.

Defending his move, the federal minister while speaking to a private TV channel on Sunday night said he was a human first before anything else. "Ministries come and go," he remarked.

"I will not tolerate personal attacks … we are all human beings and will react when someone makes such false allegations," he was quoted by Geo News as saying.

Earlier, the minister flayed Lucman, calling him a "sham journalist" in a tweet after reports of the slapping incident at a wedding went viral on social media.

Chaudhry retweeted a news article on the altercation with the caption, "People like Mubashir Lucman have nothing to do with journalism … and it's everyone's duty to expose him," he wrote.


مبشر لقمان جیسے لوگوں کا صحافت سے کوئ تعلق نہیں یہ وہ طوائفیں ہیں جوصحافت میں گھس گئ ہیں، ایسے صحافتی دلالوں کو بے نقاب کرنا سب کا فرض ہے۔ https://t.co/5YQhc8eQMK

— Ch Fawad Hussain (@fawadchaudhry) January 5, 2020


Speaking on Lucman's show, a fellow anchor Rai Saqib Kharal had claimed that there were several 'indecent videos' of the federal minister in possession of TikTok star Hareem Shah and he had personally seen them.

The altercation between Chaudhry and Lucman took place at the wedding of Punjab Irrigation Minister Mohsin Laghari's son in Lahore, where a large number of journalists and members of the ruling Pakistan Tehreek-e-Insaf (PTI) were present.

This is not the first time that the federal minister has settled a score with a TV anchorperson in such a manner.

In June last year, Chaudhry had slapped TV host Sami Ibrahim at a wedding.

Ibrahim had claimed that 'certain quarters' within the ruling party were conspiring against Prime Minster Imran Khan's government and the country's armed forces.

Hareem Shah made headlines in October last year after she uploaded a short video clip in which she can be seen roaming around the conference room at the Ministry of Foreign Affairs.

It stirred up a storm with even Prime Minister Imran ordering a probe of how Hareem was allowed into the consular-only premises and given the access and support required to record a video that, as expected, went viral.

Last month, she also shared an "indecent video call", purportedly from a cabinet minister in which the she be seen speaking to the federal minister. She can be heard saying: "Listen to me, have I ever revealed anything of yours until now? Then why don't you talk to me anymore?"