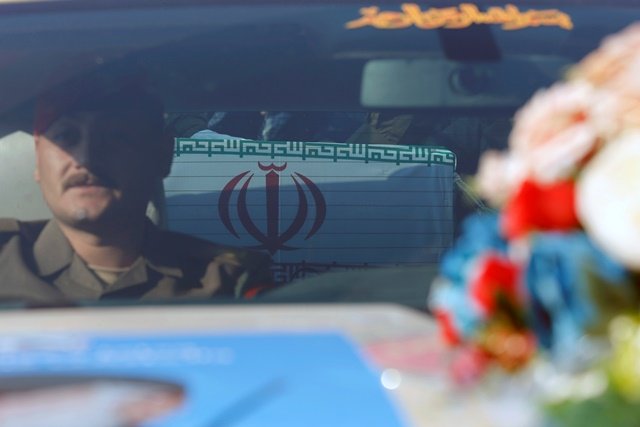 ---
BAGHDAD: Iranian military commander Qasem Soleimani will be laid to rest on Tuesday in his hometown of Kerman as part of three days of ceremonies across the country, the Revolutionary Guards said.

The US military killed Soleimani on Friday in an air strike outside Baghdad international airport that shocked the Islamic republic and sparked fears of a new war in the Middle East.

The Islamic Revolutionary Guard Corps confirmed the commander of its Quds Force foreign operations arm had been killed on Friday by US forces in an air strike on Baghdad international airport.

Iran's supreme leader Ayatollah Ali Khamenei swiftly promised "severe revenge" and declared three days of mourning.

Soleimani's body was expected to arrive in Tehran on Saturday night before being taken to Mashhad the next day for a ceremony to be held next to Imam Reza's shrine, a statement posted on the Guards website late Friday said.




"A ceremony will next be held in Tehran on Monday morning, and then the pure body of this soldier of the people and the nation will be buried in Kerman on Tuesday morning," it added.

A group of students also announced they would hold a vigil for Soleimani at Tehran University on Saturday before going to Tehran's Mehrabad airport for the arrival of his remains.

The general, who died aged 62, was one of Iran's most popular public figures.

After serving in the 1980-88 Iran-Iraq war, Soleimani quickly rose through the ranks of the Guards to become commander of the Quds Force.

In recent years he became an unlikely celebrity in Iran and had a huge following on Instagram.

Khamenei and Iran's President Hassan Rouhani paid separate visits to Soleimani's family at their home on Friday to offer them their condolences over his death.

Thousands of mourners gathered in Baghdad ahead of a funeral procession for Soleimani and Muhandis.

Friday's attack on Baghdad airport, authorised by US President Donald Trump, was a major escalation in a "shadow war" in the Middle East between Iran and the United States and American allies, principally Israel and Saudi Arabia.

The Popular Mobilisation Forces are planning an elaborate funeral procession for both men and the others who died, starting in Baghdad's heavily fortified Green Zone, moving towards Kerbala and ending in Najaf.

Mourners started gathering in Baghdad's streets in the morning ahead of the start of the procession, waving Iraqi and militia flags in a sombre atmosphere.

Earlier on Saturday, Iraq's PMF had said further air strikes near camp Taji had killed six people and critically wounded three when they hit a convoy of medics.




But both the Iraqi military and the PMF itself later denied any air strikes had taken place in the area.

The US-led coalition fighting Islamic State also said it did not conduct any recent attacks near the camp north of Baghdad.

"FACT: the coalition ... did not conduct airstrikes near Camp Taji (north of Baghdad) in recent days," a coalition spokesman said on Twitter.

US-Iranian hostilities have been playing out in Iraq since last week when pro-Iranian men attacked the US Embassy in Baghdad following a deadly US air raid on the Kataib Hezbollah, founded by Muhandis.




Iraq PM attends mourning

Iraq's prime minister attended a mourning procession in Baghdad Saturday for Soleimani and Muhandis.

Adel Abdel Mahdi joined Muhandis associate Hadi al-Ameri, Shia cleric Ammar al-Hakim and other pro-Iran figures in a large crowd accompanying the coffins.

'Act of war'

The Iranian ambassador to the United Nations described the killing of one of his country's top generals as an act of war.

Speaking to CNN late Friday night, Iranian ambassador Majid Takht Ravanchi said: "In fact was an act of war on the part of the United States and against Iranian people."

"Last night they (the US) started a military war by assassinating by an act of terror against one of our top generals. So what else can be expected of Iran to do? We cannot just remain silent. We have to act and we will act," he said.

"We can't just close our eyes to what happened last night. Definitely there will be revenge, a harsh revenge."

"The response for a military action is a military action. By whom, by when, where? that is for the future to witness," he ended the interview by stating.

The remarks follow Trump, speaking on Friday night to Evangelical supporters in Miami, saying that Soleimani was planning "a very major attack" and that he had been preparing multiple "attacks against Americans".

Friday's attack divided Iraqi opinion

Many condemned the strikes, seeing Soleimani as a hero for his role in defeating the Islamic State militant group. Others voiced approval, saying Soleimani and Muhandis had backed the use of force against unarmed anti-government protesters last year and established militias that demonstrators blame for many of Iraq's social and economic woes.

Many Iraqis criticised Washington for killing the men on Iraqi soil and possibly plunging Iraq into another war.
COMMENTS
Comments are moderated and generally will be posted if they are on-topic and not abusive.
For more information, please see our Comments FAQ