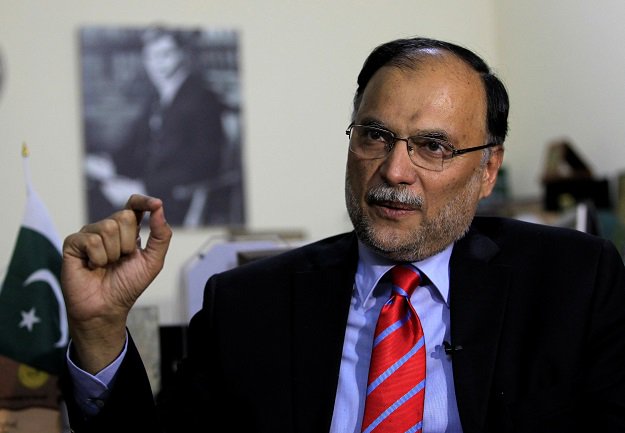 ---
ISLAMABAD: An accountability court on Tuesday remanded former interior minister Ahsan Iqbal in custody of the National Accountability Bureau (NAB) – the country's top graft buster – for 13 days.

Iqbal, a stalwart of the former ruling party, the PML-N, was arrested a day earlier from NAB Rawalpindi office where he was summoned in connection with an investigation into alleged corruption in the construction of a sporting facility in his constituency in Punjab's Narowal district.

NAB accused Iqbal of "corruption and corrupt practices" in completing the Narowal Sports City project and claimed that the PML-N leader started the Rs3 billion project illegally "inflicting billions of rupees loss to the national exchequer".

Earlier in the day, NAB presented Iqbal before Islamabad Accountability Court-II Judge Muhammad Bashir and requested a 14-day physical remand of the former minister "for completing probe into the case."

The NAB prosecutor said Iqbal was told the reason for his arrest before he was taken into custody.

Iqbal's counsel, Tariq Mehmood, opposed the NAB's request.
He said his client had never given any approval to the project as it was initiated in the last PPP government's tenure. He said NAB sent a notice to Iqbal and arrested him when he appeared before its probe panel.

"The project was approved by the Central Development Working Party (CDWP) and if NAB had any document to prove that the project was approved by Iqbal, then a 90-day remand should be granted.

"It was started either by the federal government or the provincial government. How is this Ahsan Iqbal's fault? Did he collect any commission in this project? NAB should share if he earned any monetary benefits," the counsel said.

Iqbal also addressed the court and said he had been continually elected as an MNA from his constituency since 1993 whereas his assets had decreased since then. "NAB has been conducting inquiry into the matter for the last twenty months. I ask whether they have collected any evidence against me?"

The former interior minister also asked if there is any allegation of fiscal irregularities or kickback against him. The NAB prosecutor said excessive use of authority was itself a corruption. The court after listening to the parties remanded Ahsan Iqbal in NAB custody.
PML-N spokesperson Marriyum Aurangzeb and Iqbal's family also reached the court before the hearing.

Speaking to the media, Ahsan Iqbal said, "If I have been arrested for supporting General Pervez Musharraf's sentence, then I accept this punishment.

"If I have been arrested because I have fulfilled my promise to the people of Narowal, then I accept this punishment.
"If I have been arrested for being loyal to Nawaz Sharif and PML-N then I accept this punishment."

"But if I have been arrested so that I refrain from speaking against the government of [PM] Imran Niazi, then this punishment is not acceptable," he said.