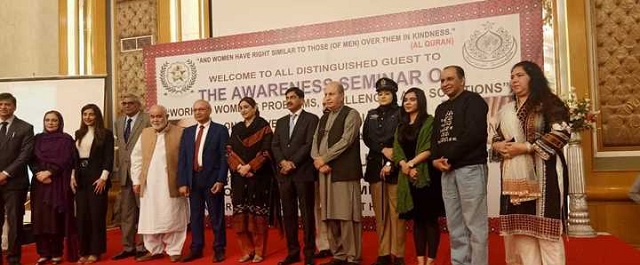 ---
KARACHI: When it comes to workplace sexual harassment in Pakistan, it is far more prevalent than most people realise. To raise awareness about the prevalence of sexual harassment at workplaces and ways to prevent it, the Provincial Ombudsman Office Sindh for Protection Against Harassment of Women at Workplace conducted a seminar to celebrate the National Working Women's Day held on December 23, 2019, in Karachi.

Titled "Working Women's Problems, Challenges and Solutions," the event was attended by political personalities, lawyers, and civil society members from all over the province.

An equal number of men and women participated in the event to discuss the role of working women and the need to provide them with a safe and secure workplace environment.

Speaking on the occasion, Chairperson Sindh Commission on the Status of Women (SCSW) Nuzhat Shirin said that despite the presence of strong laws that protect women at workplaces, together with the existence of different governmental departments that ensure the implementation of the laws, women continue to suffer.

"Even though we have the laws in place, their implementation has been a challenge because things have not been well-organised," she said.




Shirin cited the examples of sexual harassment cases in universities and lamented the lack of awareness about the existing laws.
"When a female student was harassed by her professor at a university, the commission intervened and our team visited the campus to discuss the matter with the institutional higher-ups.

Unfortunately, even the vice-chancellor was unaware of the laws on sexual harassment at the workplace," she said.

Ombudsperson, UN Women sign accord to fight harassment

She also added that it is wrongly presumed that if someone is accused of sexual harassment at the workplace, they will be directly thrown into jail.

"There will be a proper trial per the law. We will fight for women's rights but in an educated and legal way," she insisted.

The plight of women

Sexual harassment could either be subtle, so much so that it becomes harder to pinpoint and report, or coercive and intimidating. In either case, most women are reluctant to report their experiences for the fear of being judged or humiliated.

"I have not been a victim of explicit sexual harassment but one of my superiors has tried to flirt with me from time to time," Amna Ali, who works for a renowned corporate firm in Pakistan, told The Express Tribune.

"Initially, I didn't even recognise his behaviour as harassment but I learned about it after attending a safety workshop. However, I found it extremely difficult to report him because of his position and the general attitude of people towards women who speak up."

Faiza Khan, a transwoman activist and fashion designer by profession, said that things are harder for working transwomen because they have to face sexual harassment on a daily basis.

"We have to put up with harassment, catcalling, bullying and snide remarks almost every day," she said. "I pray that the problems of transgender and LGBT community in the country are taken seriously."
 
The need to educate men

"I am not going to talk to women today but would like to address the men sitting in the hall because the problem starts from them," said renowned academic, media consultant and trainer, Dr Huma Baqai.




"Pakistan has some strong laws regarding sexual harassment at the workplace along with different departments and committees to ensure the implementation of laws. Despite that, Pakistan is among the top 10 most dangerous countries for women."

Dr Baqai said that the problem persists despite the presence of laws because sexual harassment has become a structural problem.
"Sexual harassment and rape are never about a victim's age, the way they dress up, or about desire or animal instinct. It is all about power," she said. "When it comes to working women, men don't hate them just because they are earning.

They hate them when they ask for their rights and ask to change the status quo."

She also said that in order to prevent cases of sexual harassment at the workplace, more women should be allowed to assume leadership positions.

Dr Baqai urged men to bring about a change in the way they think so as to provide a safe working environment for women.

"Try to create a world that you would like to see for your daughters. Laws and departments alone cannot prevent sexual harassment. Your thinking can change everything," she concluded.

The existing laws

Shedding light on the Protection Against Harassment of Women at the Workplace Act, 2010, advocate Supreme Court Shoaib Ashraf said that per the law, every organisation is required to adopt a code of conduct related to sexual harassment at the workplace.

"It should not only be adopted throughout the organisation but guidelines must also be displayed within the company's premises," he said. "Besides, it is mandatory for every organisation to constitute an inquiry committee to enquire into complaints under the Act."
He added that if a woman lodges a complaint against someone in her office, the company's inquiry committee and human resource department is responsible to launch an initial investigation into the matter.

"Once the investigation is carried out at an organisational level and someone is found to be allegedly involved, the final decision is then forwarded to the ombudsman's office for legal proceedings," he explained.
 
Spreading awareness

Briefly explaining the procedure of lodging complaints by victims of harassment, the Provincial Ombudsman for the Protection against Harassment of Women at Workplace Justice (R) Shahnawaz Tariq said that women should be vocal if any act of harassment is committed against them.




"Women must come forward and voice their concerns. It is our job to investigate the matter and serve justice," he said.

According to the Ombudsman's Office, the provincial government is working to eradicate incidents of sexual harassment at the workplace by organising seminars and publicising the measures and action to be taken by the government.
COMMENTS
Comments are moderated and generally will be posted if they are on-topic and not abusive.
For more information, please see our Comments FAQ