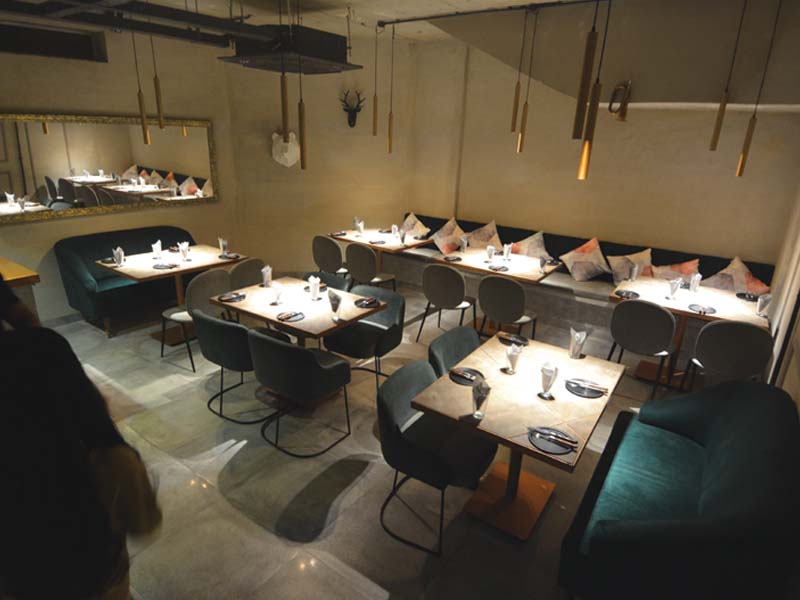 ---
The Verge is one of the newest eateries to open in Karachi's already bustling food scene but it's not just any other restaurant. It is the story of love and passion and the owners, Aman Virji and Hira Diwan have put their heart and soul into the eatery. After tying the knot, they decided to turn their dream into reality and set up The Verge. From the menu, to the interior to the ambiance, there wasn't a single detail that was left untouched. TEdit chats with Aman Virji about to get the low down on The Verge!


Tell us briefly about the concept behind The Verge?

The Verge is a lot more than a restaurant, it's a story of love and passion. I met my wife at Karachi Eat 2018 where she was running a stall "Sweet Wanderlust" selling pastries and baked goods. We started talking and she told me about her background working at Michelin star restaurants in London. As a restaurant consultant, I thought it would be great to work together. After working on a few projects, we got to know each other a little more and discovered we had a lot more in common than food. As time went by she conveyed her dreams of opening a patisserie and I had mine of a "not so exclusive, exclusive" eatery. Less than a year later, we got married and began turning our dream into a reality. We found a distinct venue, decided to split the ground floor and basement into separate yet linked spaces. Our kitchen, which is the heart of any restaurant is located in between the two floors "on the edge" – hence the name "The Verge". It also helps that it's a spinoff of my last name and instagram handle "le_verj".

How is The Verge's menu different from what others are offering?

For over a decade, I have been planning my own restaurant. How I would want it to look, the food, the music, even the bathroom! Our menu is small but specialised. It consists of all the best items I have experimented with over the years. We want our guests to have a hearty meal every time they come in. We wanted to ensure we have something for everyone, which is why we chose steak, flame-grilled chicken, salmon and lobster. Our basic proteins are then amplified by a variety of sauces which allow guests to discover different flavours while enjoying well-cooked meat.  The upstairs section will be café style with a different lunch menu and patisserie section. We plan on opening that in a few months from now.




As a restaurant consultant, how do you think Pakistan has changed in terms of spending and eating out?

I strongly believe there is a lot more exposure than there was say 10 years ago. Everyone travels a lot more, there are a lot more students who study abroad and come back after many years, bringing back diversity to their palates and acceptance to try new things. As dining out is one of the main forms of social interaction, a greater percentage of disposable income goes towards eating out in Pakistan compared to other countries.

What trends do you see shaping the food and beverage market in 2020?

As mentioned earlier, there is a lot more exposure and people are bringing many new ideas and concepts to the table. This past year we have had an incredible set of new entrants hit the market which offer various cuisines and are doing very well. A restaurant is unlike any other business, a lot of heart and soul goes into a place. One thing I do see is that there are a lot more "chef/owner driven" establishments coming in and they will be here to stay.

Talk us through how your restaurant is sustainable and how you've incorporated eco-friendly elements to it?

One of the things we feel strongly about is the environment. We may just be a small fish but every little bit helps. All of our plates and boards are made from recycled material. We try our best to use local ingredients to support the local economy. We provide glass bottles for water, eliminating the use of plastic bottles. We have also collaborated with some NGO's who collect our waste and use it for compost as well as recycling as much as we can.




What is the secret behind sustaining a restaurant in such a saturated market?

Passion, passion, passion. "Do what you love, love what you do" and everything else falls into place. Running a restaurant is very stressful and time consuming which requires 100% commitment.

What continues to motivate or inspire you to come up with new techniques and ideas for new restaurants?

My wife and I spend a lot of our free time watching food related documentaries, brainstorming with other restaurateurs and researching recipes. Travelling helps a great deal, it opens your eyes to the innovations chefs around the world are doing and allows to explore options one wouldn't normally consider. This in turn helps us tailor our recipes to something everyone will enjoy. At the end of the day, the guest is priority no. 1.

What is your least favourite culinary trend?

To be honest, I don't think I have a least favourite. I just really love food and I love learning and trying new things. Even if I don't like something in particular, I would probably appreciate an element about it i.e. aroma, texture, presentation. Every single person is entitled to their own perception of a dish and with something so sacred as food, it has to be respected. It is our job to find that balance which everyone loves.