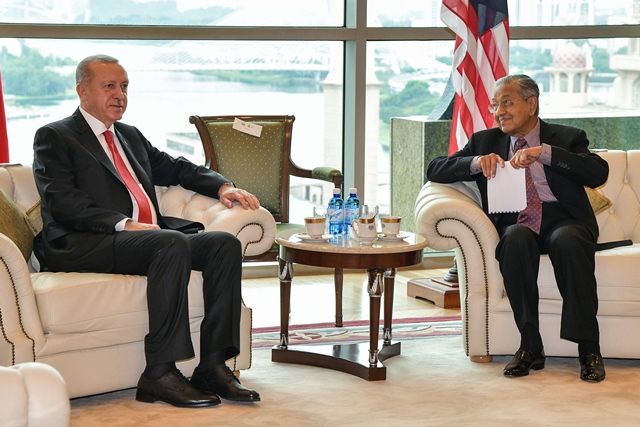 ---
KUALA LUMPUR: Leaders from many Islamic nations, including Turkey, Iran and Qatar, gathered in Malaysia on Wednesday to discuss and tackle issues that have agitated the Muslims worldwide for a summit skipped by Saudi Arabia and Pakistan.

The summit will formally begin on Thursday (today) morning in the Malaysian capital. Malaysian Prime Minister Mahathir Mohamad, Turkish President Recep Tayyip Erdogan, Iranian President Hassan Rouhani and Qatari Emir Tamim bin Hamad Al Thani are the top leaders attending the event.

Prime Minister Imran Khan told Mahathir on Tuesday that he would not be able to attend the summit. Imran held a telephone discussion with Mahathir "to inform of his inability to attend the summit," Mahathir's office said in a statement.

Mahathir also held a video conference with Saudi King Salman bin Abdulaziz to alley concerns that the summit was aimed to replace any existing Muslim body [the Organisation of Islamic Cooperation (OIC)]. The Summit is … specifically to address the state of affairs of the Muslim Ummah," it added.

"The KL Summit which is into its 5th edition is a non-governmental organisation initiative, supported by the Malaysian government and is not intended to create a new bloc as alluded to by some of its critics," it said. "The summit is not a platform to discuss about religion or religious affairs."

At a welcome dinner on Wednesday evening, Mahathir said the four-day summit would aim to "do something" to improve the lives of Muslims and overcome Islamophobia. "We need to find a way to address our shortcomings, our dependency on non-Muslims to protect ourselves against the enemies of Islam," he said.

Pakistan pulls out of KL summit to maintain 'neutrality'

Prime Minister Imran, who along with Mahathir and Erdogan had been a prime mover behind the summit, made a belated decision to skip the meeting. Some officials said he pulled out under pressure from Saudi Arabia.

However, Special Assistant to PM (SAPM) on Information Firdous Ashiq Awan said that Pakistan's skipping the gathering would not affect its ties either with Malaysia or Turkey and that the country would always remain in the forefront for the unity of the Ummah.

"Pakistan's friendly relations with both Malaysia and Turkey remain intact," she told a press conference in Islamabad. "Be it Malaysia or Turkey, we are not on a back foot," she said. "The futuristic roadmap and vision of friendly relations [with them] is intact."

Firdous stressed that Pakistan wanted to play a role for the unity of the Ummah. "Pakistan is acceptable to all alike… it has a neutral role [in the Ummah]," she said. "Pakistan will be at the forefront for unity and harmony among Muslim countries," she added.

The SAPM emphasised that Saudi Arabia had always come to Pakistan's rescue in difficult times, adding that the country had strategic interest in the region, especially with regard to the OIC. "We have to play our role in bringing the two brotherly countries together."

Saudi Arabia said the summit was the wrong forum for matters of importance to the world's 1.75 billion Muslims. Saudi state news agency SPA reported that on a call with Mahathir on Tuesday, King Salman reaffirmed that such issues should be discussed through the Jeddah-based OIC.

The Kuala Lumpur summit will deliberate on issues and find new and workable solutions to problems afflicting the Muslim world – such as governance, human resource development, corruption and Islamophobia – and seek to revive the Islamic civilisation.

"We have always reflected on how great, enriching and powerful the Islamic civilisation was. It is a chapter in history and we yearn for its return. It will remain a yearning unless we do something about it," said Mahathir, who is also chairman of the summit, in a video message.