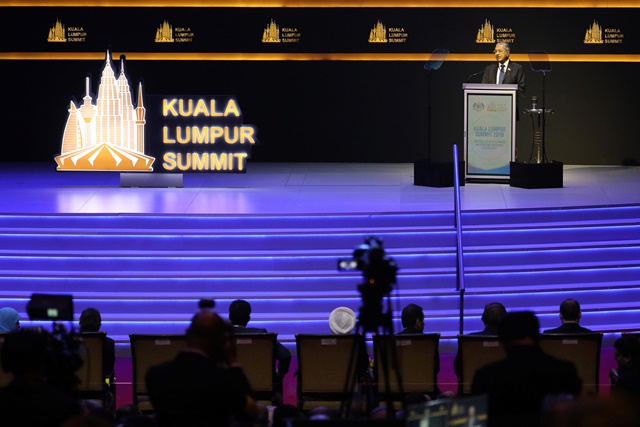 ---
I was once approached by an Imam in America asking me why I didn't frequent the mosque so much. I replied that I actually did. He inquired how come he wouldn't see me at the mosque where he was an Imam. I asked if he wanted to know if I said my prayers or if I said them at the mosque where he was an Imam. He was interested in the latter. Mosques in America get funds and the more the worshippers, the more the funds. He wanted to convert every praying Muslim into dollars. I spat at his mindset. Saudi Arabia and the UAE remind me of him.

They don't want Muslim countries to be united for a good cause under any other umbrella but the Organization of Islamic Cooperation (OIC), which has become a symbol of dysfunction. The Saudis and Emiratis have rejected invitations from Malaysia to attend the Kuala Lumpur Summit — a gathering planned for different world leaders and scholars to explore solutions to the problems the Muslim Ummah faces.

One such problem the Kuala Lumpur Summit is going to focus on is rising Islamophobia — a cause championed by Imran Khan. Khan met with Malaysian leader Mahathir Mohamad and Turkish leader Tayyip Erdogan on the UNGA sidelines in September, and contributed to the idea of the Summit. He even vowed to create a "BBC type" English language TV channel in partnership with Malaysia and Turkey, to fight Islamophobia.

The Arabs have influenced Khan into taking a U-turn and to not rub shoulders with the people they view as enemies. However, they have pledged billions of dollars in investments in India — an enemy of Pakistan. Saudi Arabia is India's fourth largest trading partner with bilateral trade hitting $28 billion. The India-UAE annual bilateral trade stands at $55 billion. Indians are the largest foreign investors in Dubai's real estate market.

These Arab countries also allowed India to attend the 46th OIC session as "Guest of Honour", despite Pakistan's vehement protests. When India annexed Kashmir on August 5, these Arab countries remained noncommittal. After the annexation, the UAE awarded Modi the country's highest civilian award, the Order of the Zayed.

On the other hand, the Malaysian leader, at the UNGA, said India had "invaded and occupied" Kashmir risking the palm oil trade with Malaysia. India was Malaysia's third-largest exporter of palm oil in 2018, with exports totalling $1.6 billion. Malaysia's total exports to India were of $10.8 billion while imports were $6.4 billion in FY2018-2019. Mahathir risked that for the Kashmir cause and clearly sided with Pakistan. Some normalcy may be returning in the trade war but the following statement by Mahathir at the UN is food for thought, specifically for Imran Khan: "We speak our minds, and we don't retract or change." He was referring to his critique of India.

Pakistan has decided to "retract or change" by staying away from the Kuala Lumpur Summit and said it is choosing to do so to avoid divisions in the Muslim Ummah. In my humble view, the Ummah would be served much better by abolishing the OIC completely. As mentioned above, the inclusion of India as "Guest of Honour" divides the Muslim Ummah more than any other factor. While at home Khan advocated for a fresh thinking and a new mindset in Naya Pakistan, he has ditched the same mindset abroad and embraced the old and rotten one. Domestically, he always said he fights against the crooked, but globally he belongs to their camp. Guess who else belongs to that camp: India.

FM Qureshi said that by not attending the Summit, Pakistan showed its neutrality. No, sir, Pakistan showed the opposite of that by siding with the Arabs. Attending the Summit would have proved Pakistan's foreign policy was indeed independent.

Published in The Express Tribune, December 19th, 2019.

Like Opinion & Editorial on Facebook, follow @ETOpEd on Twitter to receive all updates on all our daily pieces.