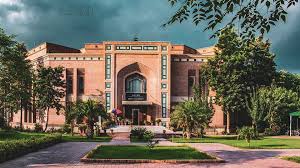 ---
ISLAMABAD: International Islamic University Islamabad (IIUI) probe committees will soon submit their findings about the events leading to the clash between two student groups which left one dead and over 20 injured.

International Islamic University Islamabad (IIUI) on Monday offered employment to heirs of the student killed in a clash between two groups of students on Thursday.

IIUI Rector Prof Dr Masoom Yasinzai said the university will give employment to the heirs of Tufailur Rehman and scholarships to all those injured in the clash.

He said that recent carnage on IIUI campus has saddened the hearts, however, the administration of the university stands committed to see that the culprits of the incident get arrested.

Tolerance and peace are the guiding principles of IIUI which encourage settling issues with dialogue.

IIUI rector while condemning the carnage that occurred on Thursday, said that it gives a lot of pain when you see a defamation campaign against a university official amid grieved times. He added that few elements have launched 'targeted propaganda' after the unfortunate happening which is disappointing.

Talking about the updates on the issue, Dr Yasinzai said that the university administration has formed high power committees that are going to submit reports on Thursday's clash very soon.

He said an operation is underway at male hostels with the help of the Islamabad administration to avoid such happening in the future.

He said that committees formed under the patronage of IIUI President Dr Ahmed Yousif Al-Draiweesh, are working hard to conclude reports on the events leading to the clash and its aftermath.

Yasinzai furthered that he is in contact with the IIUI president regarding developments on the issues. He also hailed IIUI president for his untiring efforts to maintain peace at the campus and find reasons for the carnage.

IIUI rector said that university has been a torch bearer of peace for the last four decades. He said IIUI's top priority is to discourage violence. He vowed that university will launch courses and programmes to nurture students so that they become ambassadors of peace in the society.

He appealed to the public to support IIUI saying that the institution is passing through tough times. He hoped that with the help of society IIUI will once again emerge as a full of life and peaceful education institution.

Protest warned

Islami Jamiat Talba (IJT) North Punjab Nazim Shamim Zeb on Monday announced blocking important highways throughout Punjab.

He warned of massive protests and road closures if the IIUI administration does not meet their demands.

He said IJT wants to hold a meeting with IIUI administration in next 48 hours. Jamiat demands the arrest of the accused.

Published in The Express Tribune, December 17th, 2019.