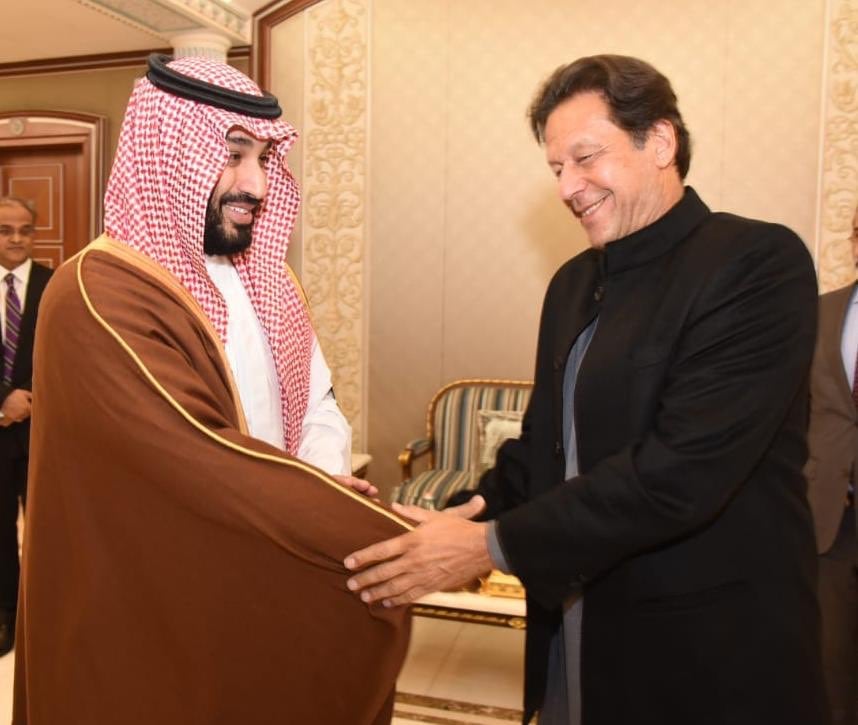 ---
ISLAMABAD: Prime Minister Imran Khan, who was in Saudi Arabia on a day-long visit, met on Saturday Saudi Crown Prince Mohammad bin Salman in Riyadh.

According to a statement by PM Office, bilateral relations and overall situation in the region was discussed during the meeting between the two leaders.


وزیر اعظم عمران خان کی سعودی ولی عہد شہزادہ محمد بن سلمان سے ریاض میں ملاقات۔

پاک سعودی دو طرفہ تعلقات اور خطے کی مجموعی صورتحال پر تبادلہ خیال۔ pic.twitter.com/VQbHGKZzyr

— Prime Minister's Office, Pakistan (@PakPMO) December 14, 2019


In Riyadh he was welcomed by governor Faisal bin Bandar bin Abdulaziz Al Saud.

Earlier, PM Imran visited Roza-e-Rasool (SAW) in Madina and offered prayers.




He was received by Deputy Governor of Madina and Consul General of Pakistan in Jeddah Khalid Majeed.


Prime Minister @ImranKhanPTI arrives at Riyadh. Governor Riyadh Faisal bin Bandar bin Abdulaziz Al Saud and Pakistan's Ambassador Raja Ali Ijaz welcome him at Airport.#PMIKinSaudiArabia #PMinKSA pic.twitter.com/Y60Ntumgsh

— Radio Pakistan (@RadioPakistan) December 14, 2019


The trip comes on the heels of a whirlwind tour of Foreign Minister Shah Mehmood Qureshi, who, accompanied by the ISI chief, visited Riyadh on Wednesday and believed to have laid the ground for the premier's visit.

Diplomatic sources said the flurry of visits by Pakistani civil and military leadership to Saudi Arabia and Iran over the past few weeks suggested that there might be 'some breakthrough' in the diplomatic manoeuvres initiated by Islamabad.

This is PM Imran's fourth visit to Saudi Arabia since May.

In October, he also travelled to Iran following his meeting with the Saudi crown prince in Riyadh and Iranian President Hassan Rouhani in New York in September.

Chief of the Army Staff General Qamar Javed Bajwa, and DG ISI Lt-Gen Faiz Hameed also visited Iran. General Qamar's visit to Tehran in November was considered significant as he, according to some diplomatic sources, was carrying an important message for the Iranian leadership on behalf of the Saudis.

Pakistan has been trying to seek a patch-up between Iran and Saudi Arabia since September when the Saudi oil facilities came under missile attacks.

At that time there was a real danger of tensions translating into some serious conflict in the Persian Gulf region, as both the US and Saudi Arabia blamed Iran for the attack. Tehran had denied the charge while the Houthi rebels in Yemen came up and claimed responsibility.

Sensing the negative fallout of direct conflict between the two key Muslim countries, Pakistan made hectic efforts to prevent any escalation. PM Imran during his visit to UN General Assembly session in New York confirmed that he was mediating between Iran and Saudi Arabia.

But later Pakistan clarified that it was only facilitating the dialogue between Riyadh and Tehran. Pakistan enjoys close relationship with Saudi Arabia but at the same time considers its ties with Iran important because of its proximity and other reasons.
COMMENTS
Comments are moderated and generally will be posted if they are on-topic and not abusive.
For more information, please see our Comments FAQ