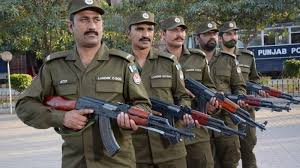 ---
LAHORE: Punjab Police have failed to devise a coherent and consistent policy on key policing issues such as strategizing check posts and posting of Station House Officers. Recent shuffle in the command has also resulted in a paradigm shift in the aforementioned domains.

An obvious split has been observed in the top brass' approach towards police pickets as a means of deterring crime.

Former Deputy Inspector General (DIG) Operations Ashfaq Ahmad Khan is wary of the idea of establishing pickets inside the city. If necessary, he suggests horizontal pickets instead of the vertical ones to prevent obstruction in movement.

A few months back in a Regional Police Officers (RPOs)conference, Former Inspector General of Punjab Police Arif Nawaz Khan had ordered the removal of all check posts in the province except for the inter-district and inter-provincial check posts. He had called for monitoring through closed-circuit television (CCTV) cameras and patrolling as opposed to police barriers and checkpoints.

Though several police officers are in favour of pickets, few officers are adamant that these are ineffective in nabbing the criminals.

A senior police officer in-charge of an important formation told The Express Tribune that he had analysed the performance data of a picket at the juncture of twin cities and was shocked that only a handful of illegal weapons were confiscated in the year.

Another police officer, who has served in the United Nation Peace Missions and has completed policing courses from the developed countries, revealed that a vertical picket is used to stop a crowd and not criminals.

"It has an origin in the colonial times," the Station House Officer asserted.

Deputy Inspector General Traffic Police Mobeen Ahmad, who was killed in a suicide blast in 2017, had even written a letter to the DIG Operations Lahore to request the abolishment of intra-city pickets, referring to it as 'one of the main factors' behind traffic congestion.

Moreover, former IGP Mushtaq Sukhera had said while addressing a meeting in Qila Gujjar Singh that permanent checkpoints do not control crime therefore mobile check posts should be set up to inhibit delinquency. After a terrorist attack on pickets in Lahore and Faisalabad, he had called off the policy of check posts inside a city and had expressed resentment over the breach of security operating procedures.

Contrastingly, the new police command reverted the policy approach and pickets can now be observed all over the city blatantly violating SOPs such as wearing helmets and bulletproof jackets.

Policing policy has also shifted regarding the appointment of SHOs.

A few days ago, newly appointed DIG Operations Lahore Rai Babar Saeed transferred 22 SHOs and appointed SHOs from the ranks of sub-inspectors.

However, in the past, former Capital City Police Officer Lahore BA Nasir had strictly stuck to the appointment of 'only' inspectors as SHOs as per the Police Order 2002 during his tenure from June 2018 to November 2019. He had reportedly developed differences with some senior members of his team over the issue.

Punjab police are in dire need of reforms and the high command should deliberate and develop a consensus on effective and uniform policing policy to inhibit crime.

Published in The Express Tribune, December 12th, 2019.