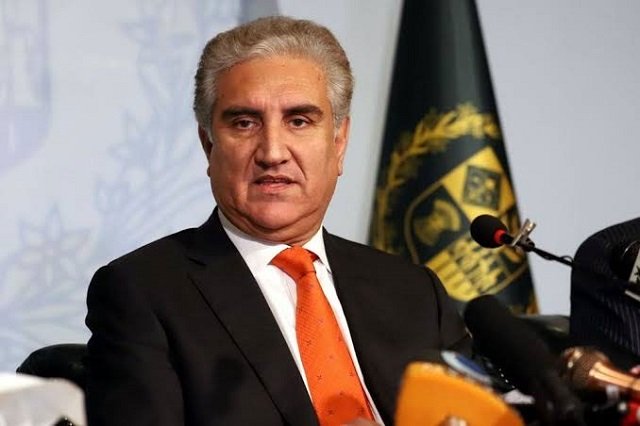 ---
ISLAMABAD: Foreign Minister Shah Mehmood Qureshi on Tuesday left for Saudi Arabia on a previously unannounced visit as part of what the Foreign Office said Prime Minister Imran Khan's policy of promoting close ties with Pakistan's friends.

In his brief stay in the kingdom, Qureshi would meet Saudi leadership, including his counterpart, to discuss bilateral ties, situation in Indian Occupied Kashmir (IOK) and other regional as well as international issues, said a Foreign Office statement.

No further details were provided regarding the visit and the agenda of the foreign minister's talks in Saudi Arabia.

Meanwhile, on the occasion of Human Rights Day, a briefing was held at the Ministry of Foreign Affairs, on the human rights situation in occupied Kashmir for members of the diplomatic corps based in Islamabad.

During the briefing, an independent media documentary highlighting the severe impact of the lockdown and media blackout in occupied Kashmir and the continuing atrocities against the Kashmiris were screened.

The Director General (SA)and Foreign Office Spokesperson, Dr Mohammad Faisal made a detailed presentation on human rights violations being committed by Indian occupation forces since India's illegal and unilateral actions of August 5, 2019.

During his briefing, Foreign Secretary Sohail Mahmood dilated on the overall situation in occupied Kashmir in its multiple dimensions, including the dire humanitarian and human rights situation, the legal aspects of the Kashmir dispute, and the implications of India's actions for peace and security in the region.

The foreign secretary rejected the Indian contentions that Kashmir was an "internal matter"; the recent measures taken by India were aimed at "development" of the Kashmiri people; and that the situation in occupied Kashmir was "completely normal.

"These Indian contentions, he underlined, defied both logic as well as the ground realities. The foreign secretary appreciated the spotlight put on the situation in occupied Kashmir by the international media; the continuous focus of the UN human rights machinery and international civil society organisations on the unacceptable conditions; the concerns expressed by world leaders; and the cognisance taken by the parliaments in major countries.

Besides the irresponsible rhetoric emanating from senior Indian leadership, he also highlighted the belligerent actions on the ground being taken by the Indian side.

The foreign secretary underlined the importance of the international community take steps to alleviate the sufferings of the Kashmiri people and facilitate a peaceful resolution of the dispute in accordance with the UN Security Council resolutions according to the wishes of the Kashmiri people.
COMMENTS
Comments are moderated and generally will be posted if they are on-topic and not abusive.
For more information, please see our Comments FAQ