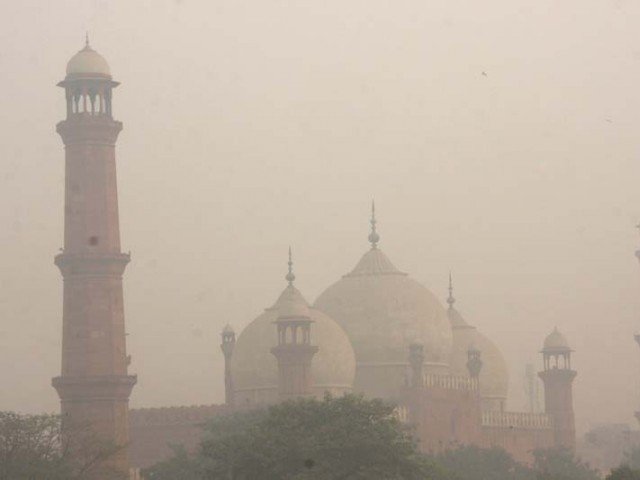 ---
LAHORE: Smog and atmospheric pollution remained in 'unhealthy' range with Air Quality Index (AQI) ranking of over 162 in the provincial capital on Sunday.

International air quality monitoring agency, AirVisual, monitors indicate atmospheric particulate matter (PM2.5) reading of over 77 µg/m³, which means that Lahore's air is contaminated with very fine particles of dust and other harmful elements of less than 2.5 micrometres.

These PM2.5 particles have a tendency to stay longer in the air due to their small size and lightweight and increase chances of humans and animals inhaling them into their bodies because particles of such small diameter can bypass nose and throat and penetrate deep into the lungs and some may even enter the circulatory system.

Health experts warn that the incessant smog is putting every resident's health at risk and people are facing more problems with each passing day. They have observed that smog was causing eye, viral infections and chest congestions to citizens. Most of the patients in hospitals are suffering from the aforementioned diseases. The smog is widely observed in the areas of Wagah, Gulberg, Walled City, Band Road and near the airport area.

Details obtained from the Meteorology Department revealed that smog mostly occurred due to the burning of crop stubble in India but no planning has been done in this regard so far. However, a few steps have been taken by the Department of Meteorology to curb smog which included imposing section 144, ban on burning of stubble and shutting down smoke-emitting factories and vehicles.

These days it is even difficult for citizens to travel on motorways at nights due to fog and low visibility.

Experts warned that if no rain showers occur in the next few days, the impact of smog may further increase. Due to that, the Lahore to Islamabad motorway is likely to close down at night.

It is observed that travelling on Canal Road gets difficult at nights due to the thick smog layers on both sides from Harbanspura to Jallo. Similarly, driving on Ring Road Lahore is also difficult because of the smog.

Citizens have been advised to coordinate with motorway helpline before travelling to G.T Road and motorway. "It is essential to have rains in Lahore so that smog could be reduced," said one of the meteorological experts.

Meteorological Department DG Riaz Khan briefed that there is no prediction of rain in Lahore and its surrounding areas for the next four to five days, therefore, the intensity of smog in the coming days could be increased. The environmentalists explained that if the intensity of smog continues to rise in the coming years, most of the people living in areas of Punjab will have a negative impact on their health.

Prime Minister Imran Khan, on Saturday, announce that the government has decided to adopt a multipronged strategy to curb smog and improve air quality in Punjab. He highlighted that around 70 per cent of the green cover of the provincial capital has been removed by cutting trees during the last 10 years, which would have very far-reaching consequences. A dense tree cover absorbs pollution particles and gives us a clean environment. However, merciless cutting of trees has caused great loss to the city's environment, he maintained.

He pointed out that burning of crop residue in fields by farmers in India and Pakistan, smoke from factories and brick kilns are all contributing factors to environmental pollution. The biggest contributor to atmospheric pollutions is vehicular smoke.

He highlighted that the government has made various decisions to combat environmental pollution. Currently, Pakistan is importing Euro 2 emission standard oil, which is 50-60% of the national consumption. The government has decided to import more clean fuel and environment-friendly oil, which will meet the Euro 4 emission standard and by end of 2020, the country will be shifted to the Euro 5 emission standard. "We believe it will have 90% impact on the quality of air," he said.

Prime minister indicated that the decision was made following detailed deliberation in a meeting with Special Assistant to the Prime Minister (SAPM) on Petroleum Division, Nadeem Babar. He highlighted that oil refineries will be given a period of three years to improve the quality of their oil products. Currently, refineries are producing low-quality fuel having a lot of pollutants, he pointed out and warned if oil refineries do not improve their product quality in a given time, the government will shut them down.

Published in The Express Tribune, December 2nd, 2019.