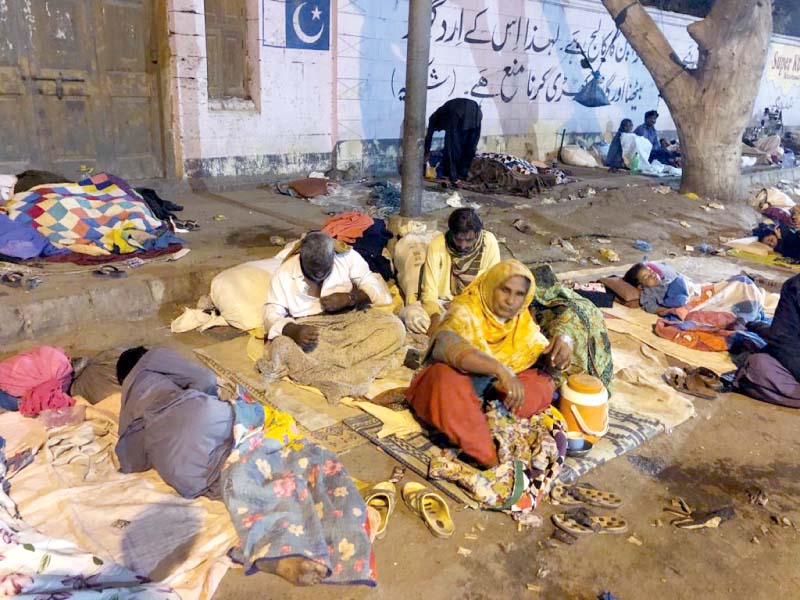 ---
KARACHI: For over a decade, Zarina Bukera's entire existence has revolved around the Sindh Institute of Urology and Transplantation (SIUT). For much of that time, she has slept next to her elderly mother on the roadside opposite the towering facility, behind the Dr Ruth Pfau Civil Hospital.

You see, Zarina, 40, suffers from complete renal failure and is dependent on the bi-weekly rounds of dialysis for survival. A resident of Gharo, she goes home once every few months to visit her elderly father - the sole breadwinner. She was married once, but her husband left as soon as he discovered her condition. "He didn't have any use for her anymore," her mother, Jamila, says with a wry laugh, pointing to the groin. "He left her when she needed him the most," she adds, dejectedly.

The roadside community

A giant portrait of Benazir Bhutto - the country's first woman prime minister and former head of the Pakistan Peoples Party (PPP), which governs Sindh - looks down upon Zarina and the dozens of other patients and their attendants who have made the roadside their permanent abode.

It is around 1am on a chilly Friday night in November when we chance upon this tiny settlement of 'the unwanted'. They lie on dirty blankets - men, women and children - undeterred by the foul smell of piss and other waste around them. Motorcycles and cars whizz past, often a little too close for comfort.

WHO team to help make hospitals patient-friendly

Over the years, the patients and their attendants have formed a kind of close-knit community. There is Jethal, 35, also from Gharo. Her husband also left after she was diagnosed with renal failure around four years ago and she now lives on the road with her mother.

There is Muhammad Ilyas from Mirpurkhas, who has been living here with his wife, Gul Naz, for the past three years. He too suffers from complete renal failure.

There is Muhib Ali, 44, from Larkana, who is living here with his wife for the last three years and undergoes dialysis twice a week.

They share their food, distribute whatever alms they receive from the few merciful souls who look their way and look after each other's patients when the attendant has to run an errand or simply go to the toilet.




The toilet conundrum

The latter task, something one would take for granted in the economic hub of the fifth-largest country in the world - is one of this community's biggest challenges. They usually aren't allowed to go into the hospital premises unless accompanying a patient for an appointment, so they can't use the toilets inside to do their business. Mostly, everyone, including the women and children must find a secluded spot in the road to urinate. While we were there, we saw for ourselves an elderly woman urinating behind a car.

There is, however, one toilet in the area that they can use. It is located inside the Dr Ruth Pfau Civil Hospital and charges Rs10 per visit. For the majority of these people, the Rs10 means a piece of bread at mealtime, so they only ever use that facility to defecate.

Saima, who has been living on the stretch for the past three years, prefers not to eat or drink much throughout the day so she doesn't have to urinate too often. Her nine-year-old son also suffers from renal failure and dialysis is his lifeline.

Hailing from Mirpurkhas, where her husband and three children still live, Saima has rarely travelled home in the last three years. "Earlier, my husband worked as a daily-wage labourer and would send us whatever money he could manage," she tells The Express Tribune. "But he fell from a roof while at work and broke his leg so there is no money anymore," she says.

A little bit of dignity

For Saima, though, the lack of a toilet is the least of her problems. "My child is sick and I am forced to make him sleep in the cold, surrounded by mosquitos and this stench," she says, her eyes welling up with tears. "What kind of existence is this? Do we not have any self-respect? Are we children of lesser Gods?"

The hospital staff, Saima says, tells them to leave as it gives them a bad name. On days when the patient has to go for their dialysis appointment, they must hide all their belongings in garbage cans, lest the police confiscate them. "We can't take these blankets and clothes inside the hospital," says Saima. On days that they don't have an appointment, they seek shelter in quiet streets during the daytime, lugging their belongings with them. It is only after dark that they are allowed to return and lay down their blankets to sleep in front of the hospital.

For his part, Eid Gah Police Station SHO Ghulam Yaseen, told The Express Tribune that they forced these people to leave in accordance with the Supreme Court's orders. "The Supreme Court has ordered that no one will sleep on the footpath," said SHO Yaseen. "We will implement the SC's orders," he added. To a question why the police confiscated their belongings, he denied the practice, saying they only warned them.

Back in her corner, Zarina shivers as she tries to keep up with the conversation. Her mother does most of the talking. "We have been living here on and off for the last 10 years," says Jamila. Originally from Gharo city, located around an hour and a half from Karachi, the duo seldom travel home to meet Zarina's father, who works as a small-scale farmer to support them. "Traveling to and fro is expensive and we must save the money for her medication," Jamila explains. Then lowering her voice to a barely audible whisper, she says something that would crush any mother's heart. "We know she won't survive for too long but we want to do everything we can," she says, her voice breaking with emotion. "I just wish we could do it with a little more dignity."

Clinging on

A little dignity is what each of these patients and their attendants crave for. They are dependent on the dialysis treatment for survival and either cannot afford to travel back and forth from home or live too far to be able to do so twice a week. The commute itself takes a toll on the patients and they prefer to live on the roadside than brave the public transport twice a week.

Public hospitals have no idea on how to dispose of their waste

The SIUT - the country's largest centre for kidney-related ailments - treats over 2.2 million patients every year - the vast majority of them free of cost. At any other facility, each round of dialysis costs north of Rs3,500 at least. That means Rs7,000 per week - something none of these patients can afford.

The situation is the same outside every major healthcare facility in the city, where patients from across Sindh are brought for treatment.

Each of these patients is very sick and does not deserve to live on the road, where they are susceptible to various infections and diseases. Each of their attendants love them very much and refuse to give up.

They hope someday, someone will come to their aid. "We don't need money. We don't need alms. All we need is a roof over our heads so we can get our loved ones treated with dignity," says Saima.

Published in The Express Tribune, November 26th, 2019.