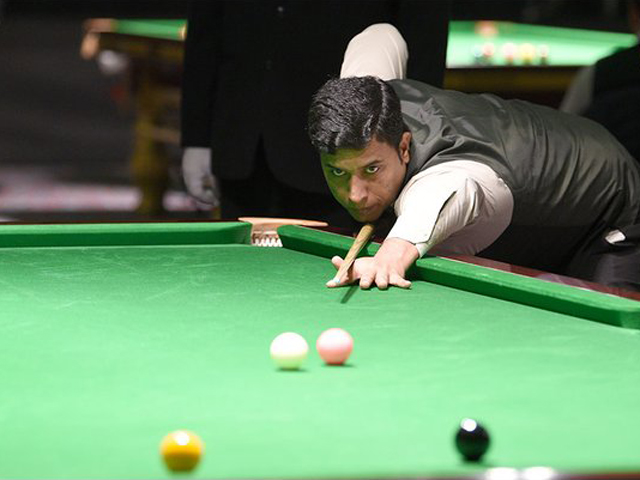 ---
Pakistani cueist Muhammad Asif won his second world title after beating Philippines player Jefrey Roda 8-5 in the final of IBSF World Snooker Championship 2019 played in Turkey's Antalya on Saturday.

He completed the best-of-15 frames triumph with scores of 68-35, 88-0, 69-17, 28-73, 5-118, 93-0, 69-1, 72-57, 10-93, 77-04, 21-65, 54-66 and 68-51.

Asif, who hails from Faisalabad, had won his first world title in 2012 in Bulgaria. His rival Roda also secured any medal for his country after a gap of 27 years.

The Pakistani cueist appeared on track to bag an easy victory after winning first three frames in a quick succession. However, the Philippines player made a strong comeback with a century break of 105 in the fourth frame, according to the match report on IBSF's official website.


Muhammad Asif of Pakistan wins his careers 2nd World Men Snooker Championship title after after 2012.
Congratulations Asif #WorldChampionships2019 #MenSnooker #Snooker #Antalya #Turkey pic.twitter.com/LOvpzEqC59

— IBSF (@ibsf) November 9, 2019


Both players then won four frames each to reach 7-5 before entering into the crucial 13th frame, in which Roda fought hard but Asif held his nerve to come on top of his opponent and won the match 8-5.

Asif defeated Thailand's Kritsanut Lertsattayathorn 7-0 in the semifinal on Friday. He completed the victory with a score of 88-41, 65-20, 86-35, 54-02, 73-17, 69-51 and 78-77.

The Pakistani cueist, in a message, said he was dedicating his victory to the Pakistani nation and the Kashmiri brethren. "This wasn't an easy event at all. But I remained focused as I was determined to win for my country," he said.

Pakistan beat India to win Asian Team Snooker Championship

In women's category, Ng On Yee of Hong Kong lifted her third world snooker title after a gap of nine years.

She outplayed Thai girl Nutcharat Wongharuthai 5-2 in the final. She was down by two frames and then rallied breaks of 42, 30, 30 68 and 60 to outclass her opponent.

In the Masters category, Suckakree Poomjang of Thailand won his maiden world snooker title by defeating Alok Kumar of India 6-2.


Muhammad Asif, On Yee Ng & Kwan PJ are World Champions 2019 #WorldChampionships2019 #Snooker #Antalya #Turkey https://t.co/1eFqNQo8o2 pic.twitter.com/s48fS713sD

— IBSF (@ibsf) November 9, 2019


Alok won first frame and was in strong position to win second but Suckakree snatched it away to level and then he went on win next four frames to lead 5-1. Even though Alok made a recovery in seventh frame with two breaks of 46 and 41 but that was too late as Suckakree made a break of 59 in 8th frame to secure the title.

IBSF President Mubarak Al-Khayarin, Vice President Jim Leacy and Executive Ajeya Prabhakar alongside President of Turkish Billiards Federation Ersan Ercan and other dignitaries presented medals and trophies to the successful cueists.

(With additional input from APP)
COMMENTS
Comments are moderated and generally will be posted if they are on-topic and not abusive.
For more information, please see our Comments FAQ