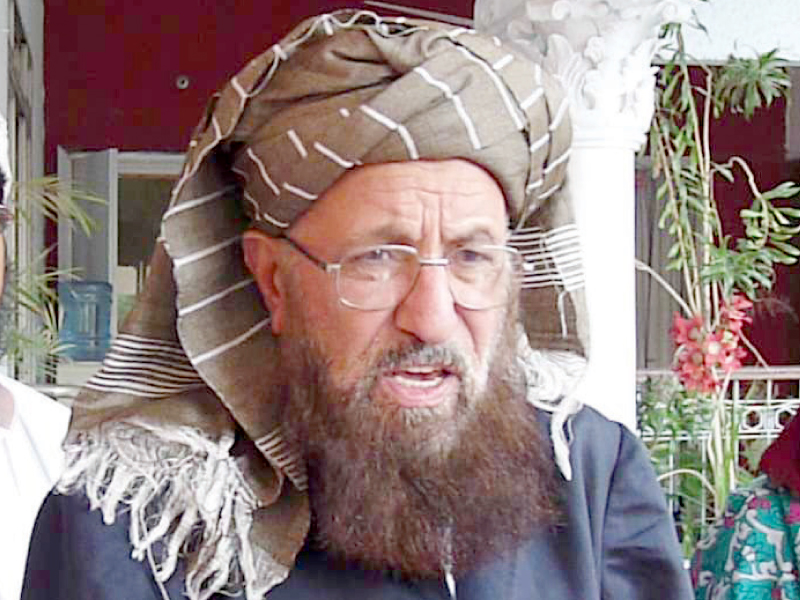 ---
NOWSHERA: A senior leader of the Jamiat Ulema-e-Islam-Sami (JUI-S) on Sunday claimed that the assassination of the group's founder Maulana Samiul Haq a year ago as part of a grand conspiracy as he urged the government to apprehend his killers.

This was stated by JUI-S ameer and Difa-e-Pakistan Council (DPC) Chairman Maulana Hamidul Haq Haqqani in at Madrassa Darul Uloom Haqqania in Akora Khattak on Sunday as they observed the first anniversary of Maulana Sami's assassination.

The JUI-S supremo had been stabbed to death inside his Rawalpindi home by unidentified assailants on November 2 last year. A driver and guard of Maulana Sami were arrested as part of the probe but were later freed on request from Haqqani. Maulana Haqqani lamented the failure of the incumbent government to apprehend those responsible for the murder even a year after the incident.

"We demand that the provincial and federal government arrest Maulana Sami's killers and hand them exemplary punishment," Maulana Haqqani said as he exhorted the government to unmask the conspiracy behind the assassination.

Maulana Haqqani, who is also Maulana Sami' son, extolled how his father steadfastly refused to budge from his principled stance on issues of security and integrity of the country. "His most remarkable role was in ousting Russian invaders from Afghan soil and also helping the Mujahideen in the country and aboard .

Published in The Express Tribune, November 4th, 2019.