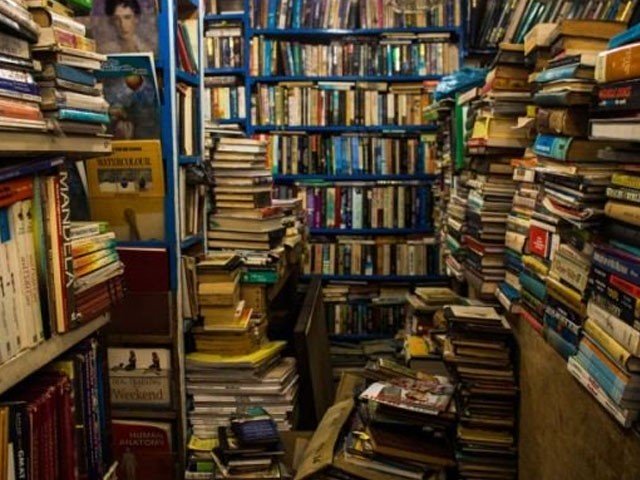 ---
KARACHI: American journalist, Carl T Rowan, rightly said, "Library is the temple of learning, and learning has liberated more people than all wars in history."

Raising awareness about libraries, Mohammad Yousuf Naeem has compiled the location and names of old bookstores in Karachi located in areas not commonly known to its residents in his book titled Karachi ke Awami Kutub Khaney [Public libraries of Karachi].

He shared his findings during a session on Karachi's Book Culture at the 7th Karachi Conference held in JS Auditorium, Institute of Business Administration, Karachi.

Habib Hussain Abbasi of Abbasi Kutub Khana, Sister Rukhsana Samuel of the Christian Bookstore, Nasir Javed of Mushfiq Khwaja Trust Library and Dr Masuma Hassan of Pakistan Institute of International Affairs gave presentations on the histories of their respective libraries. The session was chaired by archaeologist Dr Kaleemullah Lashari with Moinuddin Aqeel on the panel.

Children's literature festival concludes at Lok Virsa

The search of a book referenced in an Arabic text led Naeem to several of Karachi's public libraries and old book bazaars. His quest took him to areas of the metropolis that he had never before heard of, let alone visited. It was this journey that culminated into 'Karachi ke Awami Kutub Khaney'. Aiming to facilitate other researchers, readers and seekers of knowledge, Naeem compiled information on various repositories of books in Karachi. However, as Naeem put it, his journey is not yet over. Being an independent researcher he missed some old bookstores in his book but vows to add them in the third edition of the book.

Habib, the current manager of Abbasi Kutub Khana, told the audience about the public library located in the narrow streets of Juna Market. The bookstore is surrounded by various commercial shops, selling a variety of items from food to household.

While some might say that the remote location of the public library may prevent many from visiting it, Habib has no intention of moving the bookstore to an accessible area where more visitors could visit as the sole purpose of the library is to impart knowledge and not commercialisation.

"A seeker comes to a well," said Habib.

He shared with the audience that the library is frequented enough as it caters to readers through discussion as well as the provision of rare books on literature, history and philosophy in Urdu, Arabic, Persian, Pashto, Sindhi and English languages. The Abbasi bookstore remains open on weekends to cater working people.

Habib shared two incidents which made the existence of the bookstore vulnerable but it managed to survive. Once, its roof fell in during heavy rains in Karachi. However, the organisers managed to rebuild it without any loss to the books. Another time, a fire broke out in the chemical godown beside the bookstore.

Habib was irked by bulk publication of popular books which are not read by publishers. He suggested the formation of an umbrella foundation to head every publication and book organisation in Pakistan to ensure the authenticity of books and avoid repeated publication.

Meanwhile, the vision of the bookstore represented by Samuel is to glorify God and give hope to people.

She shared the history of the bookstore which is headed by the Institute of Daughter of Saint Paul who initiated publication in 1915 under the name of Pauline Publications.

The maiden publication of the press was a magazine and later it expanded to broadcast, briefed Samuel. Currently it is operating in 52 countries. In Pakistan, the bookstore is located in five different cities. The Karachi and Lahore branches were inaugurated in 1966 and 1968 respectively.

To spread information about the bookstore, Samuel said that books are being displayed in schools and churches.

ILF opens with book on Begum Ra'ana Liaquat Ali

Another presenter, Mushfiq Khwaja Trust Library Executive Director Nasir Javed briefed audience on the massive digitalisation projects completed by his organisation. Established in 1935, the library has successfully completed updating records of 19th and 20th century books for the British Council Library.

While Hassan emphasised on the importance of PIIA founded in 1947 is the only library which caters to researchers and readers seeking information on international affairs.

Before partition, the institute existed in Delhi under the name of Indian Institute of International Affairs. After consultation with Liaquat Ali Khan and Mohammad Ali Jinnah, Sarwar Hassan - the then in-charge of the programme - managed to transfer 3,500 books from Delhi to Karachi on the day of partition.

The institute's first home was three rented rooms of Frere Hall. However, in 1955 it permanently shifted to a new building located at the intersection of Aiwan-e-Sadar and Din Muhammad Wafai Road.

Currently, the library contains 36,000 books and subscription of 99 journals including foreign and local ones. Besides, Pakistan Horizon is a quarterly publication of the institute.

Published in The Express Tribune, November 4th, 2019.
COMMENTS
Comments are moderated and generally will be posted if they are on-topic and not abusive.
For more information, please see our Comments FAQ