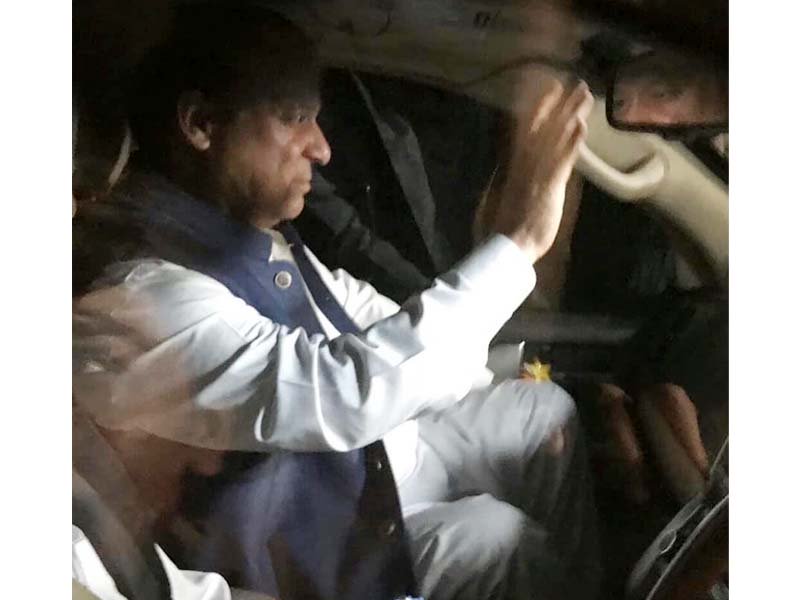 ---
LAHORE: Pakistan Muslim League-Nawaz (PML-N) leaders said on Tuesday that their party's incarcerated supreme leader, former prime minister Nawaz Sharif, who was shifted to Services Hospital on late Monday night because of drop in platelet count, was in a stable condition now.

Addressing a news conference at the National Press Club, party leaders Ahsan Iqbal and Marriyum Aurangzeb said the former premier's platelets had dropped below the 10,000 level.

"The platelet level falling below 10,000 causes internal bleeding," Iqbal said. "He [Nawaz] is feeling better now and hopefully he will recover after further transfusions in the next 24 to 48 hours," he added.

The PML-N leader accused the government of criminal negligence in Nawaz's case.

"His [Nawaz] personal physician had informed the jail authorities about low platelet count at 7pm. However, they did nothing until midnight when party activists reached there and forced them to take Nawaz Sharif to a hospital," he added.

Iqbal said he would hold Prime Minister Imran Khan responsible if anything happened to Nawaz.

"Imran Khan has introduced the politics of hatred, vindictiveness and egoism in Pakistan and has not only dented democracy, but also brought the country on verge of an economic collapse."

The PML-N leader also hit out at Special Assistant to the Prime Minister on Information Firdous Ashiq Awan for "making irresponsible comments" about Nawaz's health. He pointed out that the ruling Pakistan Tehreek-e-Insaf (PTI) had earlier ridiculed the sickness of the former premier's wife Kulsoom Nawaz, who had later died of cancer.

Speaking on the occasion, Marriyum said National Accountability Bureau (NAB) officials were lying that the medicines administered by Nawaz's personal physician were responsible for his condition.

In a press statement, NAB had blamed a blood-thinning medication for the drop in the platelet count.

Nawaz is still undergoing treatment at Services Hospital. The Punjab government has formed a six-member medical board headed by Services Institute of Medical Sciences (SIMS) Principal Professor Mehmood Ayaz to examine him. The former premier has been administered two mega units of platelets so far. However, doctors say the platelet count has still not reached a satisfactory level.

Punjab Health Minister Yasmin Rashid met Health Secretary Momin Agha at SIMS and inquired about Nawaz's condition. She later said Nawaz had tested negative for dengue. According to sources, the authorities have also sought the assistance of the vice chancellors of the King Edward Medical University and the Fatima Jinnah Medical University.

Nawaz's brother PML-N President Shehbaz Sharif visited the former premier at the hospital to inquire about his health. Speaking to reporters, Shehbaz said his brother's platelet count had dropped to a dangerous level. He demanded an inquiry into how Nawaz's condition deteriorated so rapidly.