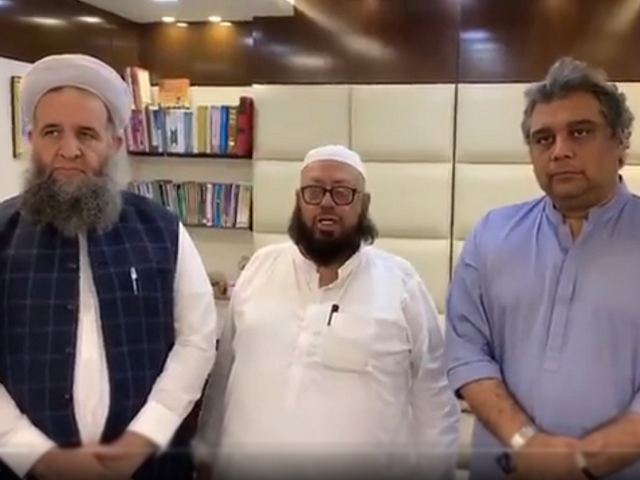 ---
KARACHI: Prominent religious scholar and Jamia Binoria international principal Mufti Muhammad Naeem has vehemently opposed the participation of seminary students in long marches and sit-ins for political gains.

Mufti Naeem, who is also a member of executive committee of Wafaqul Madaris alArabia (WMA) – the largest grouping of seminaries in the country –, said that using madrassa students in [JUI-F's upcoming Azadi March] would give a wrong message to the world.

He said this in a video message recorded after he met Minister for Religious Affairs and Interfaith Harmony Pir Noorul Qadri and Minister for Maritime Affairs Ali Zaidi at Jamia Binoria on Saturday.


تمام مدارس سے درخواست ہے کہ طلبا کو

سیاسی مقاصد کے لیے استعمال نہ کریں-

کسی دھرنے، ریلی یا ایسے پروگرام میں طلبا

کو شریک نہ کریں۔

مفتی نعیم صاحب pic.twitter.com/lUfSqvCoD9

— Ali Haider Zaidi (@AliHZaidiPTI) October 19, 2019


Jamiat Ulema-e-Islam-Fazl chief Maulana Fazlur Rehman will march on Islamabad on October 31 to "topple the PTI government", accusing it of coming into power through rigged elections. All major opposition parties including PML-N, PPP, ANP and PkMAP have already announced their support for the march.

Govt decides to ban JUI-F' s Ansarul Islam 'militia'

Mufti Naeem, in today's video message, stressed the need for keeping seminary students away from politics. He said students from 53 countries were studying at his seminary, adding that the participation of students of religious studies in politics would disseminate wrong message in all these countries.

The renowned religious scholar also assured the government delegation that he would personally request administrators of all religious seminaries to not allow their students to be used for political purposes.

"God forbidden, if any student gets hurt during the protests then we would not be able to introduce our madrassa students as peaceful students to the world."