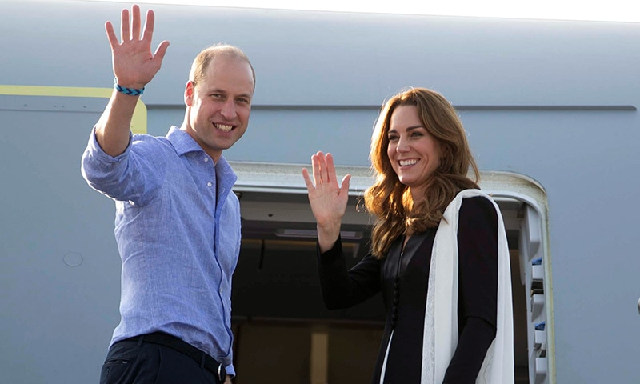 ---
The Duchess of Cambridge - Kate Middleton - gushed over 'fantastic' Pakistan towards the end of her five-day visit to the country, reported CNN.

In her first-ever television news interview about her visit, the duchess said that the royal visit to Pakistan, with Prince William - the Duke of Cambridge - has been "really special".

"It has been fantastic. We've seen a lot of Pakistan. It's been really special," Kate said.

The royal couple visited SOS Children's Village twice during their short stay in Islamabad, and also managed to visit the Northern Areas - witnessing first-hand the impact of climate change.

"It was amazing seeing some of the geography yesterday, but then to see some of the community activities today has been really special," she added.

Climate change in focus as royal couple visits Chitral

Discussing the trip to the village, Kate said "William and I really wanted to come and see an SOS Children's Village like this."

"There are so many vulnerable women here but they've really used their positivity and the support that the Village here provides them.. to support and protect the next generation of children in their care and give them the best possible start to their future lives.

The royal couple left Pakistan on Friday after visiting an army dog training school, a day after a severe thunderstorm forced them to change their schedule and stay the night in Lahore.

William and Kate also highlighted education and the impact of climate change during their stay in Pakistan.

The royal visit, which was organised on the request of UK's Foreign and Commonwealth Office, was the first since Prince Charles and Camilla Parker Bowles' 2006 tour of Pakistan.








COMMENTS
Comments are moderated and generally will be posted if they are on-topic and not abusive.
For more information, please see our Comments FAQ