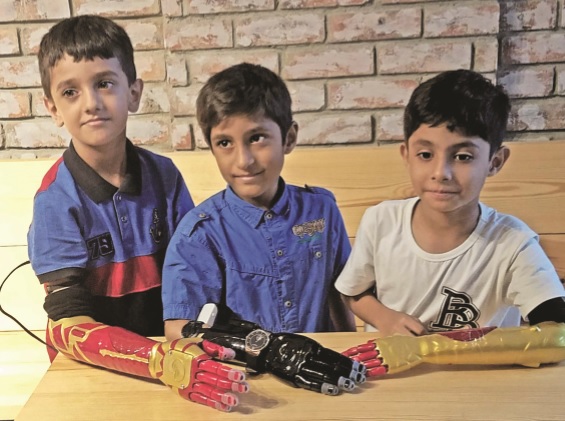 ---
KARACHI: Prosthetics have made significant advances in recent years – and are slowly changing lives and attitudes to disability all over the world.

In Karachi, two young crusaders are working tirelessly to bringing that change for many in the country and beyond.  What began as a startup, instantly catapulted Anas Niaz and Ovais Hussain Qureshi to superhero status for those in need of help.








Fresh out of a Mechatronics engineering program, the duo had just launched Bioniks, a biomedical 3-D printing startup to create artificial limbs, when a young boy, walked in seeking a robotic enhancement.  Mir Bayyan Baloch needed an arm -- a prosthetic arm.  It took the team at Bioniks three months to create the arm Bayyan needed.

Silicon Valley goes to the Vatican to talk tech ethics

With the help of the new Iron Man-inspired robotic enhancement, the five-year-old, who was born with his right arm missing, can now play with his toys for the first time.  All of this was unimaginable for Bayyan's family. For Bayyan's father, it was an emotional moment to witness his son's priceless smile.






Designing prosthetics to make life more comfortable and functional for those who are differently-abled, Bioniks ensures each patient receives the best and most feasible technological solution.

NASA unveils new spacesuit prototypes for missions

"Bayyan's arm was created free of cost," said Qureshi, one of the brains behind the startup that one day hopes to provide prosthetic solutions to millions around the world.

Rashid Zuberi is another young man who needed a prosthesis.  Rashid was born without his right arm. However, he never let the limb difference prevent him from achieving the goals he had set in life. He enrolled in a BBA degree program and later went to the UK for his Masters.

In 2012, Zuberi received his first mechanically controlled prosthetic arm.  Four years later, Bayyan's success story caught Zuberi's attention. Without wasting any time, Zuberi received an advanced form of upper limb prosthesis. His new arm has sensors that detect brain signals, providing him with precise control of the arm and fingers.

In its quest for improved prosthetic solutions, the Karachi-based startup recently launched a new range of advanced products, which they claim, were created after intense research and with the help of surgical equipment.






With generous funding from non-governmental organisations, Niaz and Qureshi's fledgling venture managed to create affordable technological solutions for more than 60 individuals.  But like any other startup, the initial months were financially challenging for them.  The duo had to bear the cost of developing, designing and researching new products.

"We've started charging so we can invest in research and product quality," Qureshi added.

Big Tech faces growing number of federal, state probes

While some medical interventions such as organ transplant command wide social acceptance, prosthetic enhancements draw undue attention in public settings.

"People with prosthetic enhancements often hesitate to show it in public because they are overwhelmed by the volley of questions regarding their disability," claimed Niaz.

With the proliferation of bionic technology, the entrepreneurs hope to remove all physical barriers faced by differently-abled individuals.

Video by: Sitara Arshad




COMMENTS (1)
Comments are moderated and generally will be posted if they are on-topic and not abusive.
For more information, please see our Comments FAQ