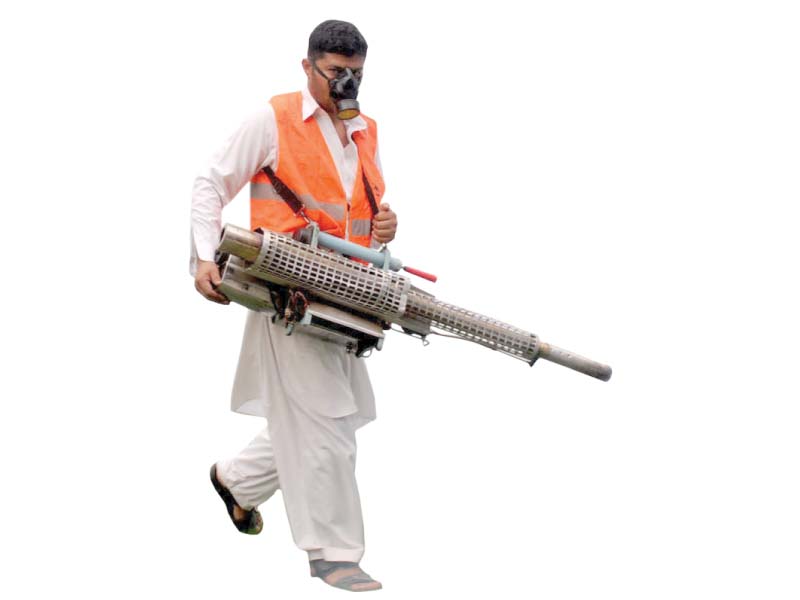 ---
ISLAMABAD: The uncontrollable dengue virus claimed another life on Tuesday pushing the death toll to 45 in the twin cities.

The 45 fatalities in the past few months due to curable dengue hemorrhagic fever have laid bare the claims of government and district authorities of making dengue prevention efforts since March.

However, the government seems clueless in controlling the virus and has pinned hopes on the early arrival of winters when dengue causing mosquitoes, Aedes, stop breeding and die off naturally.

The latest victim, 45-year-old, Fareeda Bibi, hailed from Arya neighborhood of Rawalpindi. She was under treatment at District Headquarters (DHQ) Hospital where she succumbed to the disease today.

Besides Fareeda, 121 more virus affected patients were brought to hospitals in the garrison city over the past 24-hours after which the collective figure until now has reached 6,460.

As many as 43 cases were reported from the worst-hit area of Potohar Town while 50 of them came from different parts of the Rawalpindi Cantonment Board (RCB).

The influx of patients at hospitals

In Islamabad too, the dengue mosquitos continue their attacks with impunity. Federal Government Polyclinic Hospital Assistant Executive Director Dr Abdul Wali Khan acting as Focal Person for Dengue said that as many as 584 patients were brought to the hospital during the last 24 hours of which 200 were tested positive for dengue virus.

One of the recently brought patients was in critical condition, Dr Khan said.

The focal person said that 97 patients currently under treatment in Polyclinic were getting the best healthcare facilities.

During the current season, some 4,081 out of 14,664 patients brought to the hospital for examination were tested positive for dengue virus. There have been seven deaths due to dengue in Polyclinic, he said.

Meanwhile, Pakistan Institute of Medical Sciences (Pims) spokesman Dr Waseem Khawaja said there was no decline in a number of dengue patients being brought to the hospital despite government efforts. He told The Express Tribune that Pims was receiving more than 500 patients with dengue fever symptoms every day while 70 had been found infected with dengue over the last 24-hours.

Dr Khawaja said that 70 patients were under treatment at the facility and added that no deaths have been reported from the hospital so far.

The spokesperson told The Express Tribune that more than 5,000 patients have been tested dengue positive alone in Pims during the on-going season.

RWMC awareness camp

Rawalpindi Waste Management Company (RWMC) with the collaboration of Al-Bayrak organised awareness camps against dengue in different areas on Tuesday.

The camps were established in Rahmatabad, Dhok Munshi and Dhok Chaudharian in which RWMC distributed pamphlets inscribed with precautionary measures against the deadly virus.

RWMC MD Owais Manzur Tarar said that people should ensure cleanliness in their surroundings and expressed that wholehearted participation in the awareness campaigns and implementation on their messages could help in the prevention of diseases including dengue. 

Published in The Express Tribune, October 16th, 2019.
COMMENTS
Comments are moderated and generally will be posted if they are on-topic and not abusive.
For more information, please see our Comments FAQ